This week I would like to Spotlight a place that I recently visited for the very first time, Millennium Park in Chicago.   When I was in the Windy City ten years ago, this fantastic urban oasis didn't even exist and now its a thriving part of Chicago's urban culture.  One of the center pieces of the park is the Jay Pritzker Pavilion, a outdoor concert venue showcasing many different artists and genres through free concerts.  Its great place to spread out a blanket, have a picnic, and enjoy a night of music as a family.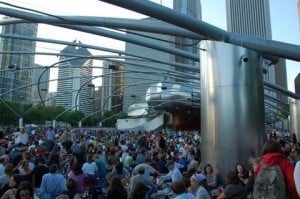 One can't spend time in Millennium Park and leave without great appreciation for the incredible art and architecture the park exhibits.  From the grand beauty of the Millennium Monument in Wrigley Square to the 110 ton elliptical wonder bean that is Cloud Gate, your family will have reflecting on and around these treasures.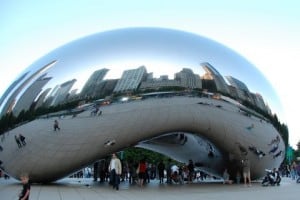 No trip to Millennium Park is complete without a splash around the Crown Fountain.  Two 50 foot glass block towers project faces of Chicago citizens.  Its especially entertaining when the faces seem to be spraying water out of their mouths.   Kids love splashing in the shallow pool between the two towers but don't let the little ones have all the fun. Kick off your shoes and have a little splash time yourself!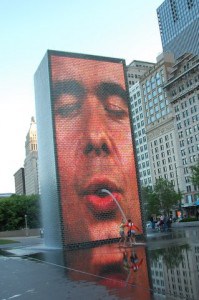 Do you have an outing that you would like to spotlight this week?  Perhaps its a post about a vacation you just took or a day trip that you think our readers should know about.  Or maybe its a post about the vacation you are currently planning and going to book through Trekaroo!  Spotlight your posts here by following the instructions here and filling out the Mr. Linky Form below.
– – – – – – – – – – – – – – –
Travel with kids to: CA |CO | DC | FL | HI | IL |MA | NC  | NY | PA | TN | TX | VA | WA