We walked towards a lone pine tree on what appeared to be the edge of oblivion. With each step closer, my grip on the children grew tighter.  And then we saw them.  Hoodoos.  Hoodoos as far as the eye could see.  The landscape seemed too incredible to be real. So unlike anything I had ever seen before.  I knew right then and there that we had to get down there and explore!
Hiking the canyon from above:  We followed the Rim Trail  from Sunrise to Sunset Point.  It is only 1.2 miles in distance, paved, and mostly level.  The views of the canyon are amazing.  The trail is a safe distance from the edge but I still encourage you to hold the hands of younger children.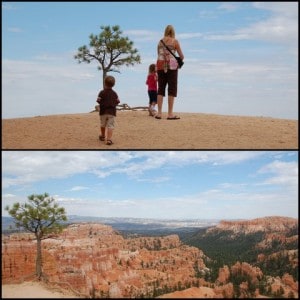 Hiking down to the canyon floor:  When we reached Sunset Point we decided that we had to take the Navajo Trail down into the canyon. The trail is only 1.3 miles long but it does have an elevation change of over 500 feet.  We were hiking with two year olds and safety was our top priority so we made sure to keep them on the inside of the trail as we climbed down the switchbacks towards the bottom of the canyon. Walking through Wall Street was amazing.  The canyon walls were so tall and narrow, yet skinny trees still managed to grow up towards the light. In my opinion, you can't truly experience the wonders of Bryce Canyon if you don't view the canyon from both the bottom and the top.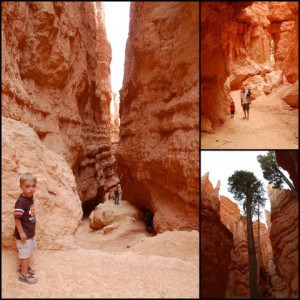 Walking amongst the oldest living things on earth:  Roads end in Bryce Canyon National Park is at Rainbow Point. This point, 9,100 feet in elevation provides some of the most incredible vistas in the park.  After being swept away by the views, be sure to take the 1.0 mile Bristlecone Loop.  Bristlecone Pines are the oldest living things on earth and seeing my children, some of the earth's newest inhabitants, stand next to some of the earth's oldest, is an experience I will never forget.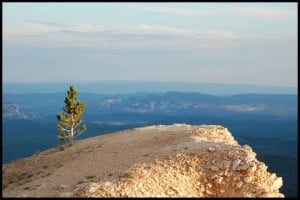 Head down into the canyon on horseback:  If hiking is not your thing, you can still enjoy the canyon floor via horseback. 2 hour and 1/2 day rides are available, and anyone at least 7 years old and under 220lbs is welcome to giddy up on down the trail.  Local cowboys provide a history and geology lesson as they lead you down to the canyon bottom and back up again.  Its a great way to see the canyon from all angles without breaking too much of a sweat.
Attend a Night Sky Program:  There are few places on earth with a more brilliant night sky than Bryce Canyon.  On a moonless night, over 7500 stars are visible!  Astronomy programs offer multimedia presentations and 1-2 hours of telescope time.  Children aged 6 and older can take a ranger lead full moon hike and see the hoodoos cast eery moonlit shadows.  A night sky without light pollution is a treasure we city dwellers don't often get to see, so be sure to make time with your children to lay down on the ground and enjoy the stars.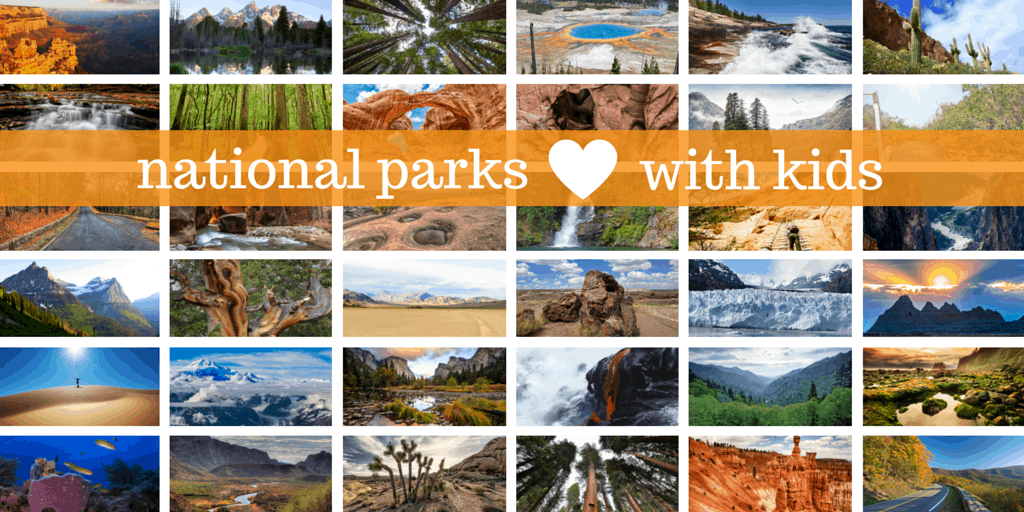 Excited to visit national parks with your kids? We are too! Visit our National Parks with Kids page for extensive coverage, tips & tricks for all our nation's National Parks.