The Tahoe National Forest offers some amazing year around opportunities for hikers.  Most visitors populate the trails during the summer months,  but during the winter these trails take on a whole new identity.  If your family decides to embark on a different kind of adventure and chooses to explore the forest during the winter months, you're going to need snowshoes.  Yes, they add a little weight, slow you down, and if you have a dog like ours will likely result in some very unpleasant leash entanglements, but they also allow you to access a world that is nothing short of spectacular.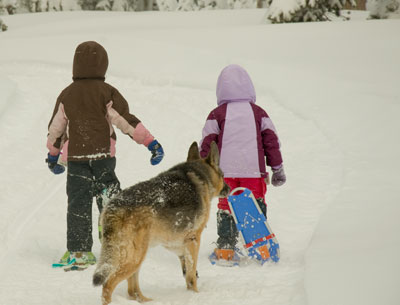 If you are snowshoeing with children, your logistics will be a little more complex but the rewards are worth it.  Here are five tips for keeping your family outing warm, safe, and fun:
Tip #1:  Make Your Family Snowshoeing Adventure Educational
While your trip is still in the planning stage, take the time to create an educational goal that will require snowshoeing in the backcountry to complete.  For many kids, the word "educational" has a negative connotation.  Have no worries, the fact that the goal is "educational" will be forgotten at the trailhead.
Examples of an educational goal could be taking a photograph of a landmark, finding a plant or animal species, or exploring a location that you may have visited in the summer months to understand how it is different in winter.  The Lake Tahoe area is loaded with opportunities to learn about conifers, animal tracks, the water cycle, mining history, and the cultural history of native people.   Expedition possibilities are limited only to your imagination.
Once you set your goal, it's time to start thinking about access.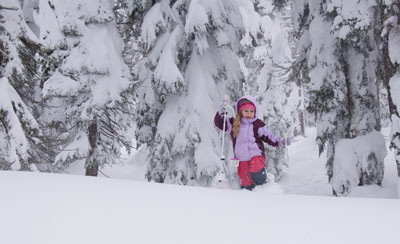 Tip #2:  Use Sno-Parks as Access Points
Our family once planned a snowshoeing trip after a large storm.  We drove to Carson Pass, but did not have a Sno-Park pass.  There was eight to ten feet of snow on either side of the road and after looking for a place to park and a searching several miles for a trail access point, we settled on a wide spot in the road near Carson Pass that we thought was created for public snowmobile access.
Long story short, we spend the day frolicking in a winter wonderland only to have it end abruptly as we were escorted off of private property by a security guard.  The person whose job it was to protect the cabin at the end of the trail we discovered recognized us for what we were (a family taking a walk) rather than potential vandals and our removal from the newly discovered winter wonderland was friendly.
You can avoid illegal adventures like ours by using California Sno-Parks as snowshoe trail access points.  Sno-Parks are great – the parking lots are plowed and restroom facilities are kept open.  You can even purchase your Sn0-Park tickets in advance here.  Once you have your pass, you will be able to avoid legal entanglements associated with trespassing and visit any of the following Tahoe Area Sno-Parks: Yuba Gap, Donner Summit, Blackwood Canyon, Taylor Creek, Echo Lake, Hope Valley, Carson Pass, Meiss Meadow, and Iron Mountain.
Now that you know where to go, you need to figure out how to keep the kids warm.
Tip #3:  Keep Kids Warm, Dry, and Hydrated
The Lake Tahoe area is world renowned for its maritime snowpack.  By "maritime", the experts mean "full of moisture"  and by snowpack, what the skiers mean is "lots of it".   Anybody who has spent time with children in the backcountry knows that the difference between a successful outing and an unpleasant "ordeal" has much to do with keeping kids warm, dry, and hydrated – no small challenge in a world renowned maritime snowpack.
Staying warm on a snowy trail is really nothing more than dressing right, drinking plenty of fluids, and snacking frequently.  Be sure to dress yourself and children in layered synthetic fibers.  Avoid cotton which will absorb water and conduct heat away from the body.  And of course, there is nothing better for morale than a thermos of hot chocolate if you do get cold.
Just make sure you take your hot chocolate break in a place where the snow stays still.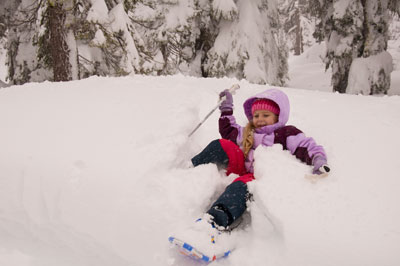 Tip #4:  Be Aware of the Avalanche Danger
Part of the fun of snowshoeing is leaving the beaten path and creating your own trails.  The potential downside of this:  wandering into an avalanche hazard.  If you spend time in the snowy backcountry, you should make sure that you have some basic avalanche awareness skills.
It's a simple thing to read an avalanche forecast and eliminate your risk of exposure completely by learning to identify where an avalanche can occur, how they are triggered, how to spot signs of previous activity, and then simply avoiding avalanche terrain.
Check with your local sporting good stores, volunteer search and rescue organizations, or ski shops to see if they offer avalanche awareness courses to the public.  Sometimes you can find them for free or for a very low cost.
Once you have this under control, you just need to make sure you don't lose the car.
Tip #5:  Make Sure You Don't Lose the Car
Before we start most hikes, I will take a moment to create a waypoint marking the location of our car with our handheld GPS.  This is especially important if it is snowing and we intend to explore off of the beaten path.
Even if you don't plan on leaving established trails or don't have a GPS, every hiker should have a system of navigation that ensures a safe return to the trailhead.  Trails can crisscross, trail signs can become buried, and the sun goes down earlier in the wintertime.    Use a GPS receiver, map, landmarks, trail signs, and established trails to make sure that you have a plan for safe return.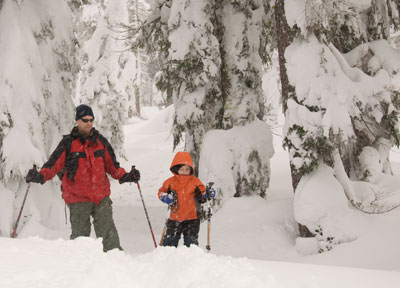 About the Author:
Mike Barlow is a dad, dog lover, outdoor enthusiast, former search and rescue volunteer, and entrepreneur.  He and his wife Sara are the founders of Trailmix.Net, a Sacramento area business that specializes in blending education with outdoor adventure.
– – – – – – – – – – – – – – –
Travel with kids to: CA |CO | DC | FL | HI | IL |MA | NC | NY | OR | PA | TN | TX | VA | WA
Comments
comments