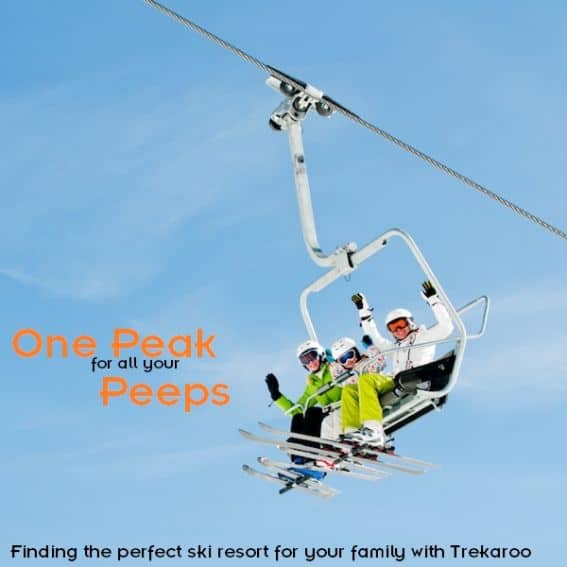 We're continuing coverage of our One Peak for all your Peeps, where we explore five amazing resorts for every family's skiing needs. Miss our intro post? Head here for introductions to our five families & to learn about their differing needs. Each family experienced their most personalized resort and are back to share their thoughts. We'd still love to hear your recommendations. Plus, by recommending a resort to one or more of our families, you can enter to win an amazing prize pack full of ski gear for you and your little ones. Head here for all the details or read on to discover Trekaroo's best rated resort for the Gorman Family.
The Gorman Family's Vermont Ski Resort Pick
Location: Smuggler's Notch, VT
Closest Town: Jeffersonville, VT
Closest Major Airport: Burlington International
Why this peak is perfect for these peeps:
1. The mountains. Smuggs offers three different mountains: Madonna, Sterling, and Morse. The trails on Morse are shorter and are kept well groomed, making it the perfect place for beginning skiers to practice their skills. There's also a beginner terrain park that's great for novice skiers with an adventurous spirit. My kids loved having an entire mountain where they could master every trail. And I loved Sterling and Madonna, which have a wide range of different kinds of skiing, from beautiful bumpy trails in the trees to long groomers that seem to go on forever.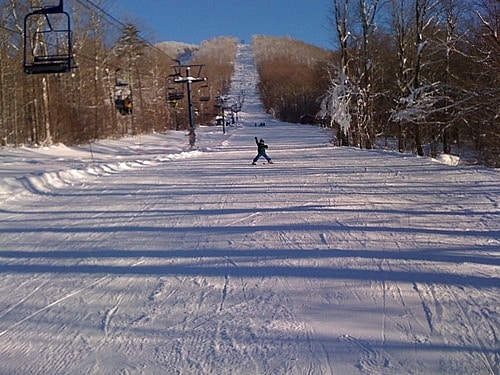 2. The family activities. Smuggs is completely dedicated to making sure families have a good time, and fun activities are integrated into every aspect of the resort. This starts on the slopes where elements like the Schoolhouse (ski through and ring the bell) and Yellow Cat's Lair (a taste of woods skiing) make kids feel like the trails on Morse Mountain are made just for them. And the huge indoor FunZone at Smuggs is absolutely epic – I'm not sure where the boys get the energy to tear through the giant inflatable obstacle course twenty times after a full day on the slopes, but they do. We also love running into our friend Rockin' Ron the Friendly Pirate, who can be found wandering through the resort's restaurants in the evenings or slopeside for hot chocolate and sing alongs at the end of the skiing day. In fact, you may have to work to fit your skiing in with all the fun options at Smuggs, from nighttime tube sledding to a year-round zipline, to indoor pools, to family karaoke night.
3. The onsite lodging. We live in Delaware, which means the drive to Vermont takes all day. Once we're at the resort, we want to spend every possible minute skiing with as little time as possible in transit. At Smuggs, there are five different communities to stay in, and you're never more than a few minutes away from a chairlift. The resort offers a wide range of accommodation options including condos with one to five bedrooms and features like fully equipped kitchens, whirlpool tubs, gas fireplaces, and washers and driers. Their on-demand shuttle service means you can park your car once and forget about it for the duration of your stay. And our boys liked riding the shuttles, where often the kids outnumber the grownups.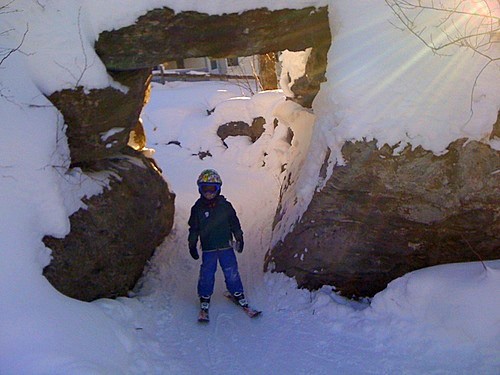 4. The ski school. When we first arrived at Smuggs, our younger son (then five) wasn't sure that he was cut out for downhill skiing. By the time we left four days later, not only was he zipping down the hill, he actually beat us to the bottom and got on the chairlift without us. His immediate improvement was attributable to the great instruction in Smuggs' ski school, which has many things going for it. First, there are the enthusiastic and knowledgeable teachers, who really get to know the students and pay attention to their individual needs. Then there's the clear system of levels that groups kids according to their ability so that they can build their skills and confidence with other children who are similar skiers. This is especially important if you've got a child like our older son who wants to ski fast and hard. And kids aren't the only ones who can benefit from lessons at Smuggs. Although I grew up on skis, on our first trip there I had hardly worn a pair for twenty years and was uncertain about heading into the woods. A couple of lessons later I was successfully skiing in the trees on a trail I never would have found without my instructor, who knew the mountain like his own backyard. I felt like a kid again myself!
One final reason Smuggs fits our family: You can get killer meals and cocktails made with locally sourced ingredients at the onsite Hearth and Candle restaurant (maple-bacon Manhattan anyone?). Best of all is that although it is more upscale than the other resort restaurants, the H and C also welcomes children in a separate dining room where you don't have to worry about spills and noise.
Read more reviews of Smuggler's Notch| Ski School
Head here for a handy guide to Vermont Vacations with Kids
Runner-up peaks:
Stowe Mountain Resort, Stowe, VT
Mad River Glen, Waitsfield, VT
__________
Got Suggestions on other resorts? Recommend and Win Ski Gear!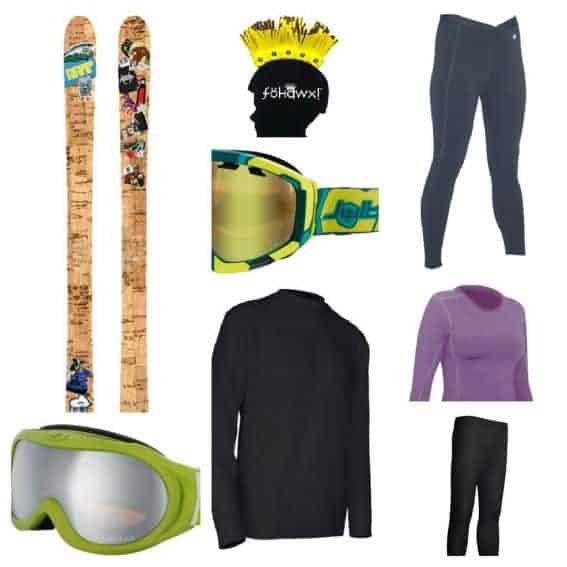 Enter to win great ski gear from our sponsors Julbo, Polarmax, Fohawx, and RAMP.
Make recommendations for any our 5 ski families or share about this One Peak for All Your Peeps ski planning series to enter.
Read the entire One Peak for all your Peeps ski series:
One Peak for all your Peeps: A Week of Ski Trip Planning with Trekaroo!
One Peak for all your Peeps Ski Gear Giveaway
One Peak for all your Peeps: Keystone Resort
One Peak for all your Peeps: Northstar California Resort
One Peak for all your Peeps: Snowbasin Resort
One Peak for all your Peeps: Smuggler's Notch
One Peak for all your Peeps: Berkshire East
This series is sponsored by Northstar California and Mountain Reservations, with gear giveaways from RAMP Sports, Polarmax, Julbo, and Fohawx.
Follow this series: #OnePeak on twitter | One Peak on Pinterest
Travel with kids to: CA |CO | DC| FL | HI | IL |MA | NC | NJ | NY | OR| PA| TN | TX | UT | VA | WA