Last Updated on
My family loves to travel, but our budget and time constraints don't usually allow for hopping on a plane to some exotic location. We love our city and generally find lots to do here in Seattle, but sometimes we just need to explore a new place and take part in new activities. Fortunately for us, there are great places to visit that are just a short drive from Seattle, but that make us feel like we've gotten far away from home! Here are a few of our new favorite destinations.
Bellingham, Washington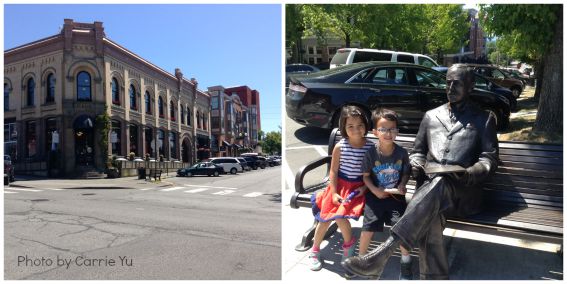 This small city is a college town located about 90 minutes north of Seattle. My family has driven through Bellingham numerous times on our way to British Columbia, but never knew that it had more to offer than just a gas station and mall right off the freeway. How wrong we were! Bellingham is a charming, historic town with tons of family-friendly activities!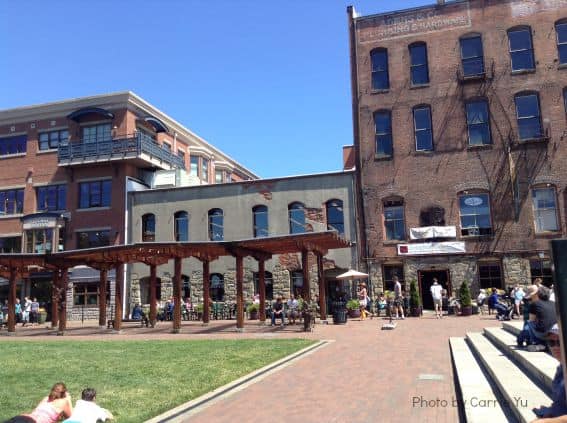 The Fairhaven Historic District is Bellingham at its most charming. My kids and I loved exploring the shops- especially Village Books, with its large kids' area, and Fairhaven Toy Garden, a store full of amazing toys. We also made a stop in an antique shop to explore and look at old toys and home decor. Later we wandered over to the Fairhaven Village Green, a large area with plenty of space to run around and sit on one of the many benches for some great people watching.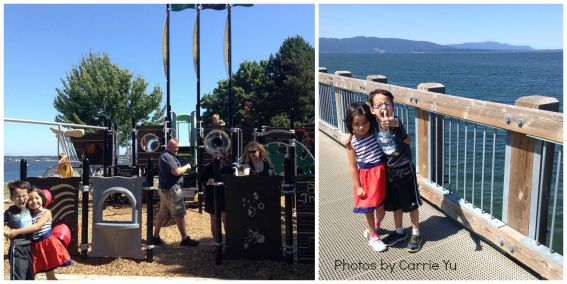 Just a short walk from the heart of Fairhaven is the beautiful, waterfront Boulevard Park. This park has a wonderful playground that's shaped like a pirate ship, rocky beach areas, a large coffee shop, and trails that lead you along the water. My kids' eyes just lit up when we drove into the parking lot and they saw all the places to play. Our time at Boulevard Park was definitely a highlight of our visit to Bellingham!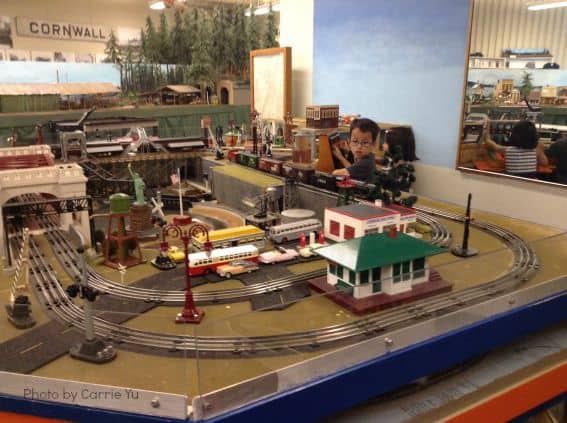 Bellingham is also home to the Bellingham Railway Museum. This museum is perfect for train lovers, and has lots of seating for those who may get done admiring the large model train layouts faster than others! My kids loved making the trains run, playing with the train table, and generally enjoying all things train!
Lynden and Birch Bay, Washington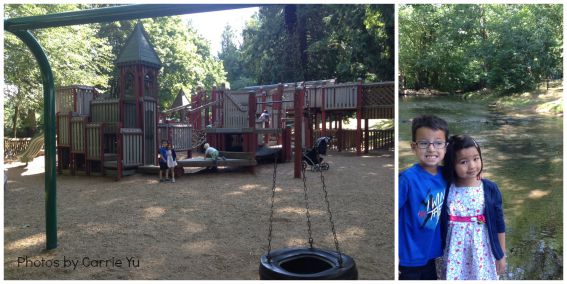 On the second day of our trip, we ventured just a bit further from Bellingham to visit Lynden and Birch Bay. The best part of this day was that almost everything we did was free! I love it when a trip is unexpectedly budget-friendly! Lynden is located about 20 minutes from Bellingham and features the best playground that my kids and I have ever set foot on. I shared photos and this opinion on Facebook and several of my friends immediately chimed in to agree! The Million Smiles Playground is huge, with separate sections for 2-5 year old kids and bigger kids. It has pretty much every piece of playground equipment that you could possibly want, plenty of shade, and a big treehouse with a slide. Best of all, the playground is located right next to a small creek which is perfect for wading.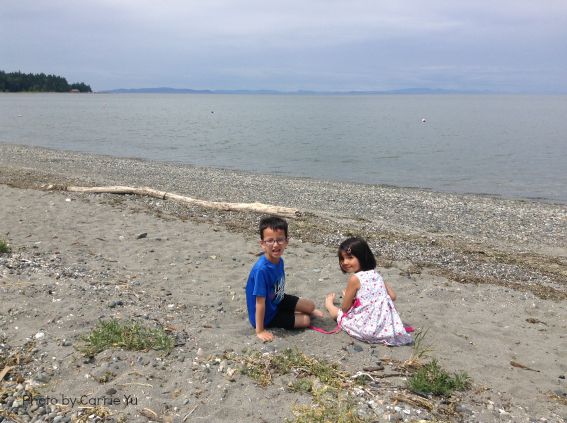 After having fun at Million Smiles, we drove west toward Birch Bay and within 20 minutes were throwing rocks into the water at the beach! Birch Bay is a charming beach town that has public beach access at various points in the town, as well as Birch Bay State Park. Beautiful views of the water abound here. I loved sitting and breathing in the fresh air and watching my kids run and dig in the sand and generally have a great time.
If your family makes its way to Birch Bay, do NOT miss The C Shop. This candy shop/restaurant has been making fantastic candy for almost 50 years now and it's all so delicious! They also make food fresh from scratch- even down to grinding the wheat that they use in their bread. Stop by, admire the rows of pretty candy and pick up lunch and dessert before you head over to the beach to play! My kids and I really enjoyed our time in Birch Bay and when we headed back to Seattle that evening, we felt relaxed and were excited to tell Daddy all about our adventures.
Stay Here
Springhill Suites offers clean, spacious rooms with comfortable beds and a seating/work area. It has a fantastic, huge indoor swimming pool as well. If you travel with kids, you know nothing is more important than a good swimming pool! In the lobby, there is a lounge area with happy hour specials in the evening and a free breakfast in the morning!
Eat Here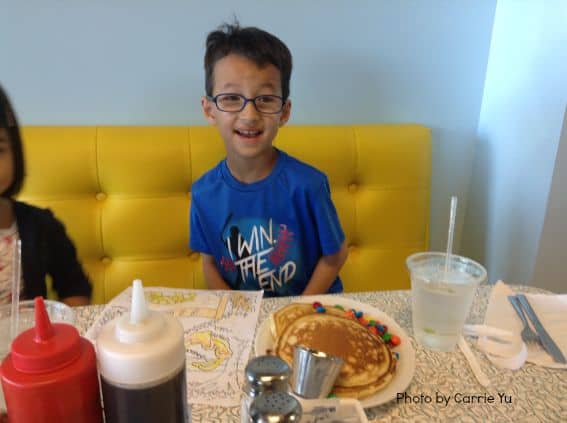 Bellingham has lots of places to choose from for meals. My family especially liked Colophon Cafe, which is located on the Fairhaven Village Green. For dessert, don't miss Mallard Ice Cream, a very popular ice cream store in downtown Bellingham. For breakfast/brunch/lunch, head to Over Easy, a new restaurant serving quality, delicious breakfast food and sandwiches. My son recommends the M&M pancakes!
Other Places to Visit
My kids and I couldn't manage to fit in all of the fun that this region has to offer in just one visit. Two places that were highly recommended to us were Birch Bay Waterslides and Trampoline Zone. Both look like a lot of family-friendly fun!
Olympia, WA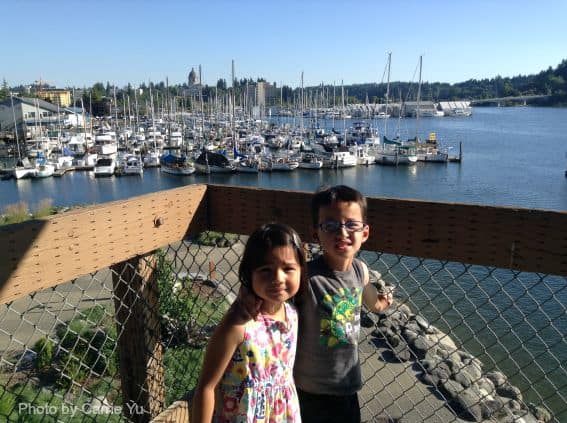 As long as you don't attempt to make the drive from Seattle at rush hour (seriously, do not try it!), Olympia is an easy 60 minute drive from downtown Seattle. Our state's capital city is a fun place to visit to enjoy nature, learn about the state's history and government, and eat some great food!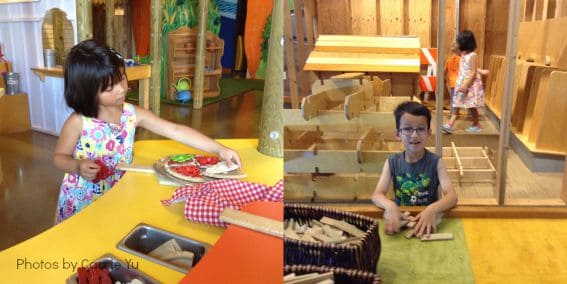 The Western Washington region has an abundance of great children's museums and the Olympia Hands On Children's Museum (HOCM) is no exception to this. This museum has only been in its current location for a couple of years now, and the beautiful new building does a great job of showing off all the fun activities it has for families inside. My kids and I have been to the HOCM multiple times, and we always find something new and fun to enjoy while we are there. There are places to climb, paint, shoot scarves into the air, put on a play, take care of stuffed animals, build boats, use a microscope, construct buildings from blocks, drive an ambulance, sell vegetables and fruit, cook a meal, and SO much more. In addition to all the fun inside, there's a great outdoor area with even more places to explore.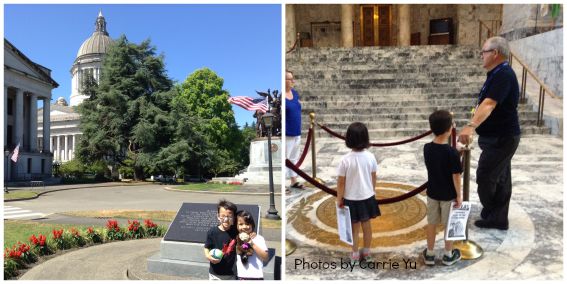 Since Olympia is the state capital, it's a great place to learn about Washington history and the way our state government works. My kids and I visited the beautiful Capitol building to take one of the free tours that is offered daily at the capitol. Our guide was a retired schoolteacher and he did a great job of explaining the beautiful building and its architecture and showing us around. The building is open daily for anyone to visit. If you don't take a tour, be sure to stop by the information desk. My kids were thrilled to find free coloring books and I liked the free education guides designed for their grade levels.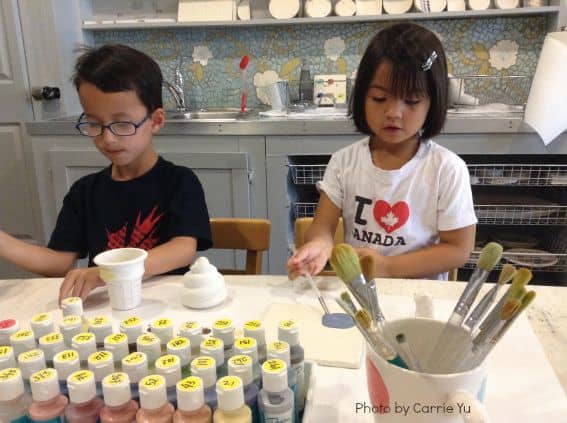 Downtown Olympia is a pretty little area with many historic buildings, one of which is now my kids' new favorite place – Captain Little. Captain Little is the type of toy store that children dream of. So many colorful items to check out. The store was so fun to explore- even if it was dangerous to my wallet! We also spent time at another store in Olympia called The Painted Plate. This is a paint-your-own pottery place and my kids and I had so much fun picking out items and colors and then decorating them.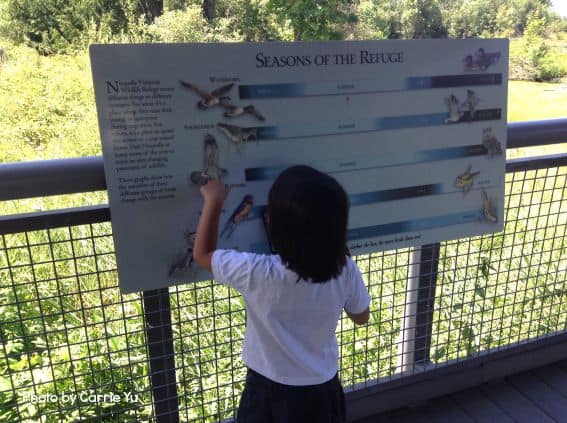 If your family loves the outdoors, Olympia is the right place to visit. The city is home to an abundance of parks, beaches, and playgrounds. One of the best is the Nisqually National Wildlife Refuge. This former farm has been turned into a beautiful place to walk and search for the local flora and fauna. We didn't see many animals on our visit, since we were there on an unusually hot day, but my kids were thrilled with the ones we did manage to spot. We also really enjoyed Priest Point Park. This park is a little bit outside downtown Olympia, but has lots of picnic tables, shaded area, walking trails, and a fantastic playground.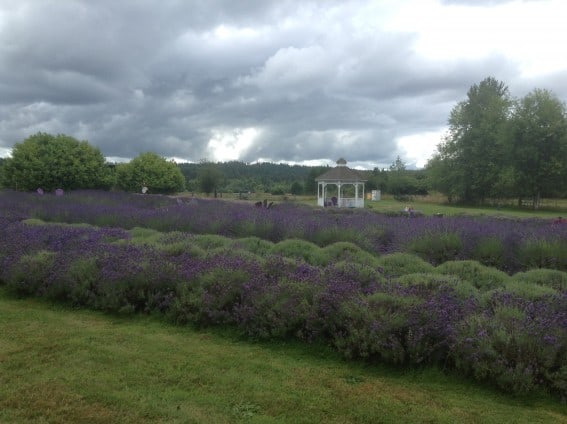 Photo by Carrie Yu
Recently, a new reason to visit Olympia was added to the existing list of reasons with the opening of the Thurston County Bountiful Byway. This 60-mile journey through beautiful farmlands, forests and towns is populated with fun places for families to stop and explore. There are farms, shops, restaurants, towns, distilleries, farmers markets, wineries and more waiting for you as you travel by car, bike or bus through this route. Bring your kids to a u-pick farm and pick some fresh produce or go for a bike ride along a country road and enjoy fresh air and family time together. In the summer, be sure to stop by Evergreen Valley Lavender Farm to enjoy the wonderful scent of lavender in the air and the view of pretty lavender blooms. In the fall, don't miss the corn maze and pumpkin patch at Schilter Family Farms. You and your family will love all the unique finds on this agrotourism route!
Stay Here
For location and family comfort, stay at the DoubleTree by Hilton. This hotel is located right next to the waterfront and offers large, comfortable rooms. And it also has the all important swimming pool! If you're looking for lots of space, book the Family Junior Suite and enjoy two separate sleeping areas and three comfortable beds!
Eat Here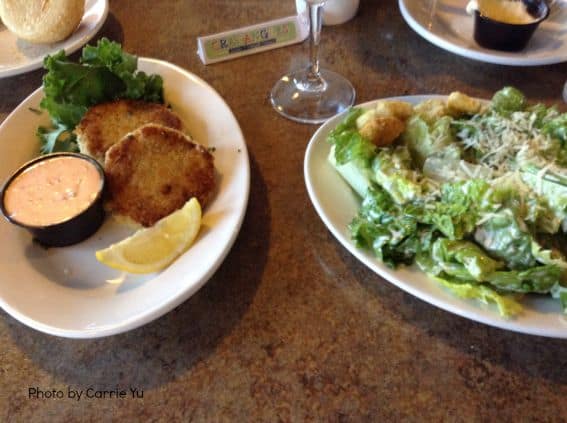 Budd Bay Cafe is located right on the Olympia waterfront and the views from the tables are really lovely. It's a nice restaurant, but still is very family-friendly. My kids had fun coloring their kids' menus while I enjoyed the views of the water and marina and sipped a glass of wine and we all enjoyed our food immensely. For breakfast, head to The Bread Peddler. This is a really popular place with locals, so you may want to take your food to go or be prepared for a bit of a wait for a table. If you're searching for a great lunch while exploring Olympia, 5th Avenue Sandwich Shop is an excellent choice. The restaurant looks small from the outside, but appearances are deceiving and the interior is large with plenty of seating and homey decor. And, the sandwiches and soup are divine! I'm still dreaming of the sandwich that I enjoyed during my visit.
My Thoughts on Small City Travel
My kids and I had two really fun trips visiting cities that we previously knew little to nothing about. Hidden fun for families can be found in the most unexpected places! Small cities usually offer good value for your money, with less expensive attractions and lodging than in the bigger cities. If you're venturing to a new city, be sure to visit the city's visitor bureau page or stop by the welcome center (most cities have one) to pick up brochures and ask for suggestions on what to do! The people who work in these places are experts on their own areas and love to share their knowledge with visitors!
*Thanks to the Bellingham and Olympia Visitors Bureaus for hosting us on these stays and providing us with lots of good ideas and passes for activities! All opinions are mine and mine alone.
Featured photo by: Bigstock/lijuan