The memories shared with your family while visiting a Disney Park can be truly magical, or –let's be honest –sometimes horrific, as you encounter long lines, the hot sunshine, and excessive wait times. Save your family from a Disney-sized meltdown and spend less time waiting in line by following these tried and true tips for saving time at Disney Parks. This article brought to you courtesy of our friends at Ridemax who have made a science of minimizing wait times.
---
[cta id="67809″ align="none"]
Work the System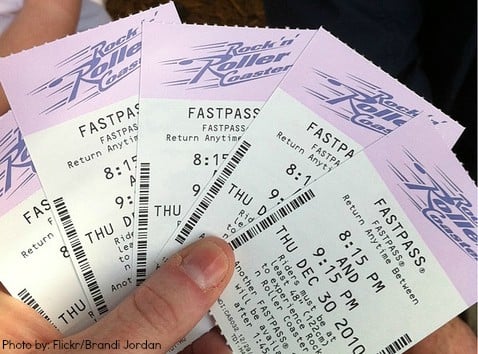 I am definitely not talking about cheating here, so don't look so stressed. Disney has put into place some pretty magical systems to ensure that your wait time for key attractions is less than you would expect.
FASTPASS at Disneyland and California Adventure
The FASPASS system at Disneyland and California Adventure essentially gives you and your family a reserved time to ride an attraction, saving your place in line while your family and you ride another ride. You'll feel like a VIP zipping past the regular line with your return ticket in hand. Best part? It's free with your admission ticket. To use FASTPASS, simply insert your park admission ticket into any FASTPASS distribution center. Follow the instructions printed on your ticket and return to the FASTPASS queue at your designated time (you will be given a return window). Instead of waiting hours to ride, you'll be whisked on board in a matter of minutes.
Note: Walt Disney World parks also use a FastPass system, but have switched the FastPass+ system. Get up-to-date information about FastPass+ and My Magic Bands now in affect at Walt Disney World.
FASTPASS rides at: Disneyland | Disney California Adventure

Tips & Guidelines for FastPass at Disneyland and California Adventure:
Keep your theme park tickets handy as they are used to get FASTPASS tickets. Many regulars keep their tickets on a lanyard for easy access, but these still need to be removed & inserted into the machine to get your FASTPASS.
Designate at FASTPASS "runner" in charge of everyone's tickets saving your whole family the trek to the FASTPASS distribution area.
Return windows are printed on your ticket and must be adhered to (this is a new regulation at Disneyland California Resort)
Although the program is free, there are limits to the number of FASTPASS tickets you can hold at one time. Your FASTPASS will tell you when you can get another one and the computers are smart- they know when you arrive too early.
Every rider must present a FASTPASS- no ticket, no ride.
Snag FASTPASSes for extremely popular rides first thing in the morning. Only a certain number of FASTPASS tickets are distributed each day for any particular ride. On busy days, the demand for these tickets can make tickets go like hotcakes. Arrive early.
Confused? Ask any Disney Cast Member (employee). They are incredible helpful workers and can point you and your family in the right direction.
RIDER SWITCH
Have a baby in tow who can't ride with big sister on Big Thunder Mountain? Have a tall-enough-but-terrified ten-year-old who won't step foot with little brother on Tower of Terror? If you are traveling with very young children, be sure to take advantage of the Rider Switch program. Instead of one parent missing out on all of these great Disney attractions while watching a child who can't –or simply is just afraid to –ride, snag a Rider Switch pass from the ride greeter. One adult can ride with the first set of little ones anxious to get on the ride. After their fun, the parent who was with the littlest ones gets a turn on the ride with a lot less wait- just hop in the FASTPASS queue (or exit, check with ride attendant) with your Rider Switch pass and you'll be on the ride in no time.
Rider Switch rides at: Disneyland | Disney California Adventure | Magic Kingdom | Epcot | Disney Animal Kingdom | Disney's Hollywood Studios
Tips & Guidelines:
While you are the "waiting" party in this transaction, you don't have to just wait. Ride a different ride, grab a refreshing treat, or watch a nearby show. Use this time to enjoy a special one-on-one with your littlest family members.
The Rider Switch pass is actually good for three people- you don't have to ride solo. My two older girls love this perk because they actually get to ride these rides twice, once with dad and again with mom.
The pass expires at the end of the day. Due to show schedules, meal times, and fussy babies, we haven't always completed the switch immediately. We have held on to our Rider Switch pass until later in the day when it was more convenient for our family to return.
Although not every ride offers Rider Switch (see lists above), most every ride will allow some sort of less formal switch if your child is fearful. Just talk to a cast member for help.
SINGLE RIDER
If you or your older/braver kids want to ride a scary ride that your little ones are quite fearful of, consider the Single Rider queue offered on some rides. This line isn't always as obvious, so be sure to ask a cast member if a single rider line exists. This (often very short) line fills in single riders into empty seats getting you on the ride very quickly if you don't care who you sit next to.
Single Rider rides at: Disneyland California Resort | Walt Disney World Resort
Tips & Guidelines:
Single Rider lines, although faster than the regular line, aren't always extremely short. Check with a cast member for approximate wait time.
SPECIAL NEEDS
Got a special kids with special needs or a physical injury/handicap? Check in with a Disney park employee relations cast member to find out if special accommodations can be made to shorten the length of lines (documentation is required).
We've got more information and tips on Visiting Disney Parks with Special Needs Children.
When to Visit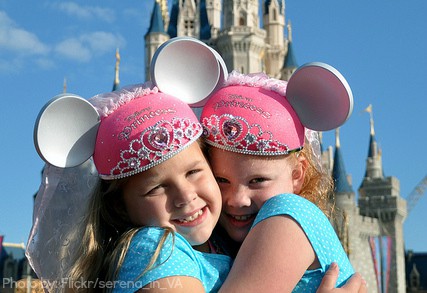 When you visit can make all the difference. In general, arrive early. If you are at the park to see the rope drop (located inside the parks past the turnstiles), you'll ride a lot more rides than you would if you showed up even one hour later. Don't forget to factor in your time from your car, through ticketing and past the gates. Although Disney magic runs year-round, some days are better than others to plan your visit. Refer to these in depth guides on the best times to visit your park:
Walt Disney World Guide | Disneyland California Guide

Visit our Ultimate Guide to Planning a Disney Vacation to find all our best tips and articles in one handy location.
The Perfect Vacation for the Entire Family at Disney Aulani
Score the Best Disney Deals for 2014

Why You Should runDisney | Disney Events to Plan Your Vacation Around
Top 10 Things to Do at Walt Disney World (Outside the Theme Parks)
Disney Dining Guide | Tips for Special Diets and Food Allergies at Disney
Visiting Disney Parks with Special Needs Children (updated)
First Timer's Guide to Disneyland Resort
First Timer's Guide to Walt Disney World Resort
Visit our Ultimate Guide to Planning a Disney Vacation to find all our best tips and articles in one handy location.