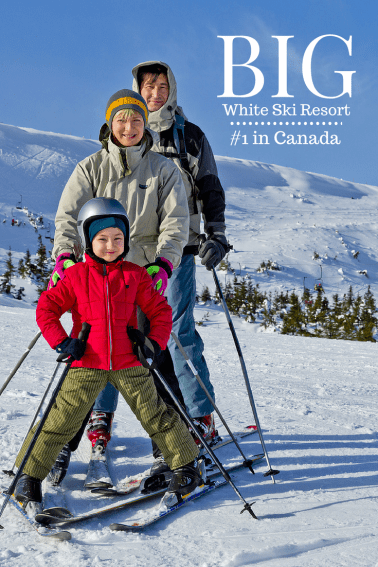 Read our review of Big White lodging, dining, and on-mountain activities in our first Big White Ski Resort post.
You could easily fill your days at Skiing at Big White Resort without ever setting foot (or ski) on the slopes, but you won't want to miss out on the fantastic snow and low crowds! Big White's location in the Monashee mountain range of BC and high elevation makes for unique snow conditions: they enjoy very consistent snowfall and light, dry 'champagne' powder. The only downfall: Big White also experiences more than their fair share of mountain fog.
Skiing on Big White: On-mountain tips for families
1. On foggy days, stay low. Big White is large enough that you won't miss access to the peak of the mountain on foggy days. Stay lower in the gladed sections of the resort, such as Black Forest and the moguls and blue runs off Snow Ghost. Generally speaking, only your first few minutes at the top of each of these lifts will be foggy. Foggy days are also a good excuse to play in the Telus Terrain Park and adjacent snow cross race track, where families can race again each other.
2. On sunny days, hit the peaks! Don't be afraid to go all the way up the Powder and Cliff chairs on blue-sky days…no matter where you go on the slopes, green (beginner) and blue (intermediate) runs exist. Families can ride the lifts together and separate as needed by ability, all meeting back up at the same place.
3. Night ski. Big White offers night skiing Tues-Sat nights, and since your day ticket is good for the evening too, families can plan to get a late start in the morning (when needed) and still get a full day of skiing or riding in. Ride the Bullet chair for green night skiing runs, or play along the lower Plaza chair or in the terrain park.
Big White Ski and Board School and Kids' Centre
Big White is focused on kids, so it's no surprise that their ski school is top-notch. Before even arriving at the resort, parents can place their kids in the correct skill level by viewing detailed YouTube videos describing skill sets necessary for each level. Once you're on-site, signing everyone in is easy. The heart of the ski school is the Kids' Centre, which is located directly across from the Village Centre Mall. (The day care is next door.)
Ski and board school starts at 9:30 am, but we were able to drop off Toby (age 8) and Calvin (age 11) as early as 8:30 (when the lifts start to turn). Arriving an hour early was no hardship: past the sign in desks and complimentary helmet rental station in the Kids' Centre is the 'kids only' section. In fact, signs emphasize that past a certain point, 'no adults allowed'. Here, kids can play or hang out while waiting for lessons. Toby immediately found a full-sized slide he could sail down (even in ski boots!) before joining fellow ski school mates at a large lego table. Full-day ski school participants also eat lunch in the Kids' Centre (their meals are made on-site by resort chefs). Half-day participants like my kids are picked up at 11:45.
I was impressed by the security at the Kids' Centre. Upon registering my kids, each were issued a sticker with a bar code that was attached to their helmets. I was given identical bar codes on a ticket, which I presented to pick them up again. (When I lost my bar code on our second day, I was pleased to see it took speaking to two attendants and answering a series of personal information questions before my kids were released to me.)
Before heading out to ski or board with their instructors, kids place their skis or board in the ski rack designated with their level's name (my kids were in Mountain Explorers and High Flyers), and are issued a GPS tracker which velcros to their leg. After each of Toby and Calvin's lessons, their instructor found me upon check-out, and gave me extensive information about their progress. In addition, the kids are given a ski level checklist with skill criteria needed to pass each level. Their instructors mark off what they've mastered each day, so kids can see how far they have to go to the next group. Every evening, the ski school emails parents a link to their kids' GPS tracker, so they can see (on a resort map) everywhere their kids skied that day. It's even possible to download a smartphone app to see kids' location in real time while skiing.
During our holiday season visit, I'd describe the Kids' Centre as 'lively', not busy. Though there were many kids and parents there at check-in and check-out, the staff (which is huge, by the way) clearly knew what they were doing. Everything was efficient and streamlined, and there was never a frantic feel to it, as can happen at some ski schools. It speaks to the skill of the instructors that my kids were both eager to return for their second half-day, and Toby even begged for a third day.
All Big White instructors are certified using Canadian and/or American ski school standards, and our kids' ski school ratios were never bigger than 7-1. (Groups start out bigger, and are split up further according to ability levels within each class.) I also liked hearing that additional instructors are always on stand-by, should they be needed. And even if ratios are already small, if kids are of different abilities, groups are made smaller still. During our three ski days at Big White, I never saw a single unhappy kid in ski school.
Ski and Board School ages: Kids age 4-12 can attend Ski and Board School. Kids 4-6 enjoy the Ski Cubs program, and kids 6-12 can attend the Snow Riders Ski and Boarding. Kids as young as 18 months can be dropped off at the Big White Tot Town Day Care (next to the Village Centre Mall.) After the ski lifts close, kids can come back to the Kids' Centre for Big White's After Dark programming!
Ski and board school pricing:
For either ski school program, cost is $94 for a full day (a discounted $63 for an additional day) and $59 for a half day like my kids enjoyed ($47 for additional day). Weekly rates are also available, and I'd recommend at least 3 days of lessons if your vacation allows for it. Prices are in Canadian dollars.
My family and I experienced Big White's ski school as guests of the resort, for the purpose of review.