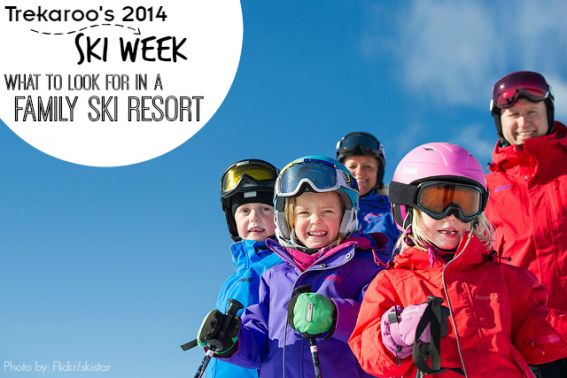 As the autumn leaves fall and the kids are well underway in school, temperatures are dropping and resorts are starting to make snow. Yes, 'tis the season to think skiing! Bringing the kids on a ski vacation can be a treat the whole family, but it can be daunting the first time around, especially if you have little snow bunnies. The crowds, the choices, the prices, and all kinds of variables should be considered (and if you're like most vacation planning parents, you want everyone to have a magical time worthy of a photo book when you're finished!).
Well, fear not, we have tips to get you from the bunny hills to the black diamonds—at least figuratively speaking. Here's what to look for in a ski resort for families with young kids.
[box border=full] Sponsored by Ritz Carlton Lake Tahoe:
The Ritz-Carlton, Lake Tahoe is the first Forbes Four-Star and AAA Five Diamond resort in the Lake Tahoe area. The 170-room resort, nestled mid-mountain on Northstar California is a contemporary mountain retreat featuring slope-side ski-in, ski-out access in winter and mountain concierge services for golfing, mountain biking and hiking in the summer. An inter-mountain gondola connects guests between the nearby Village at Northstar and The Ritz-Carlton, Lake Tahoe resort, situated a short 10-minute drive from the North Shore of Lake Tahoe. The year-round destination resort includes 170 guest rooms and 23 private Ritz-Carlton Residences. Learn more at Ritz Carlton Lake Tahoe.[/gdlr_widget_box]
A Strong Ski School Program is a Must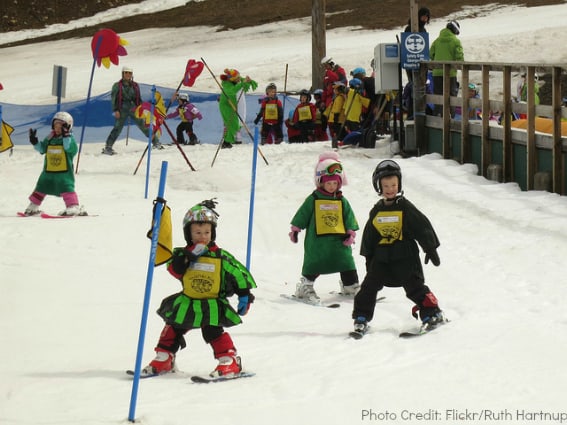 The kids are excited to be out of school, right? Well put 'em back in if you can! A kid-specific ski school is certainly the best bet for quality instruction if you're not an Olympic downhill extraordinaire yourself. Even better: find a ski resort where accommodations are adjacent to the ski school. It's worth the extra planning to pick a condo building or hotel within steps of the school meet-up place, or a resort with a ski school staging area onsite.
A fabulous ski school will have age level divisions that make sense. Having three-year-olds with eight-year-olds is going to prove to be fruitless for one of the age groups. Smaller instructor-to-child ratios are always optimal. Or, in many places you can fork over the cash for private lessons; they'll usually take any age student.
Group lessons can be a fun way for a family of beginners to get acquainted with the ski experience together. This will work best with older kids, so that the group is easy to address as a whole. Alternatively, you can send your kids to a ski camp and have them totally Skookum by the time the ski vacation rolls around if you plan in advance!
Consider a family private lesson! At most resorts, private lessons allow up to four family members. Ski with your kids during the day, and enjoy not only private instruction, but special lift line access and a guided mountain tour! –Amy Whitley, Trekaroo sponsorship editor
Tip: You should also cruise for promotions and deals common in larger ski areas. Many have Kids Ski Free or Grandkids Ski Free offerings. With each adult life ticket purchased, a kid, typically 12 and under, ski free for the same length of time.
Close Proximity, Please!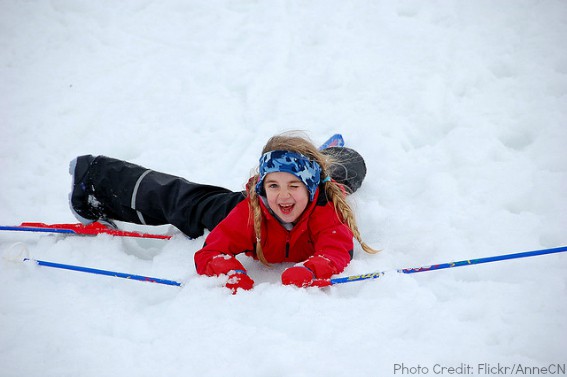 With young kids, it may be worth the expense to stay on-site at a ski-in, ski-out lodging option. If this is not possible, the next best thing is to stay in close proximity. Look for lodging with a ski shuttle or bus that can make commuting easier, equipped with space and personnel to deal with the gear passengers will be toting. Trust us…you'll be sick of stowing poles, skis, boots, bags and outer wear after a few days of fun.
If you are mobile and want to drive – make sure the slopes are not really far, especially with small kids. I remember learning the cardinal rule after becoming a mother: "Don't wake the baby!" (Under any circumstances!) So, if you have really small children in the mix and don't want them to fall asleep before arriving at the slopes, consider finding a closer spot.
The Value of Ski Butlers and Valets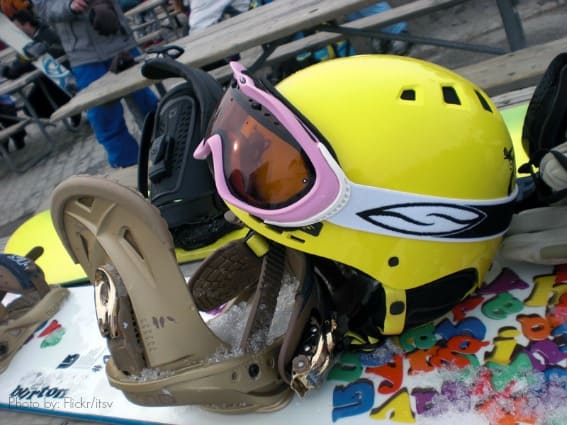 Think this is an indulgence? Think again! With young kids, staying in a resort that takes the work out of skiing makes for a happier experience for everyone…especially mom and dad. Look for a hotel or resort that will help kids put on and pull off ski boots, store skis and snowboards after use, and greet skiers at the edge of the slopes. Not having to cart skis and boards to and from a ski locker or room makes a huge difference on a daily level.
We were wowed by the ski-in, ski-out guest service at Ritz Carlton Lake Tahoe! As we skied to a stop by the private entrance right off the learning hill, they were there to greet us, grab our skis, and help us off the snow. Plus, this service isn't just reserved for guests…we got the same treatment when we stopped at the Ritz mid-ski day for a meal!  –Amy Whitley, Trekaroo Sponsorship Editor
Tip: Consider renting gear and having it delivered! This is not an option in smaller ski areas but it's a consideration if you're tight on space, short on time, or just feel like having the VIP treatment for a change – even if you're paying for it!
Alternative Action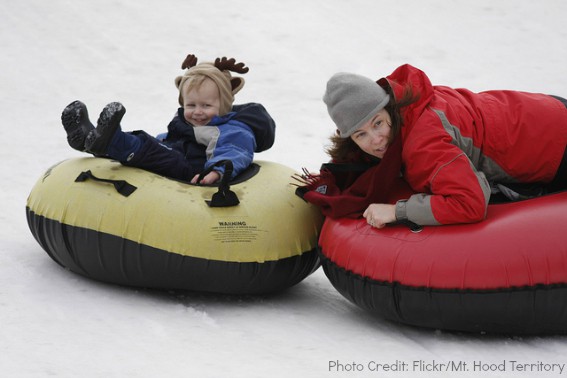 The reason you wanted to book a ski resort was to get the family out there on skis or snowboards, but even in the most snow-loving families there might be a few in the group longing for a change of pace. Embrace this. Skiing is no different than introducing and encouraging any other sport – it's not something to be forced and you will need a decent dose of patience.
Try to find a resort that has snow tubing, a kid-friendly atmosphere (even better, child-care facilities) in the lodge, or other programming to enjoy the weekend or a little break out of bindings. Some other activities that are commonly available on or near resort properties are: ice fishing, snowshoeing, sleigh rides, tubing, cross country skiing, ice skating, and in some areas even dog sledding! Other amenities that would have me booking in a heartbeat are children's game areas, pools and hot tubs on-site, family-friendly restaurants, and concierge service that can help with activities and availability.
At the end of the day, the best place to book is the place where everyone is able to have the most fun – skiing or not. Speaking of the end of the day, if you find a place that offers campfires, s'mores and hot chocolate for those that braved the elements by day, you have found a real gem!
Tip: If you're trying to cater to the younger crowd but have teens in tow, make sure there is something exciting for them as well – try a place with a terrain park to keep them busy (and happy!)
With every trip there are highlights and moments we learn from. Skiing for the first (second, third, fourth…) time with kids is no exception. You're going to pack the all of the warm gear, snacks, water bottles, even the GoPro — but you'll forget that they cannot sleep without their favorite blanket. There will be plenty of spills and thrills to even out the days on the hills. Chances are as long as you do the research in the beginning, you'll find a place that has something for everyone.
We'd love to hear your opinions on your favorite kid-friendly ski resorts. Trekaroo readers can vote for their favorites now!
For all our best family ski tips in one easy location, visit our Ultimate Family Ski Vacation Guide.
Photos courtesy of Ritz Carlton Lake Tahoe