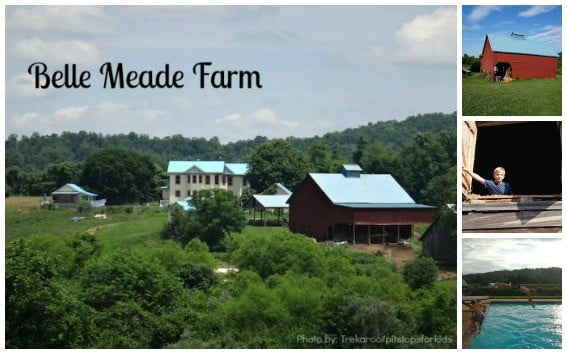 My family and I travel 2-3 weeks at a time in the summer. Normally, by week two, my mind is buzzing with all the details I need to remember, all the scheduled tours and tickets coming up, and the sound of my kids getting on one another's nerves. During a recent visit to Virginia, however, the only thing buzzing was the lone dragonfly over my head as I relaxed with a book by the edge of the picturesque pond where my kids happily swam. We'd decided to take a break from our busy travel schedule to spend two days at Belle Meade Farm, located on the edge of Shenandoah National Park.
Off the Beaten Path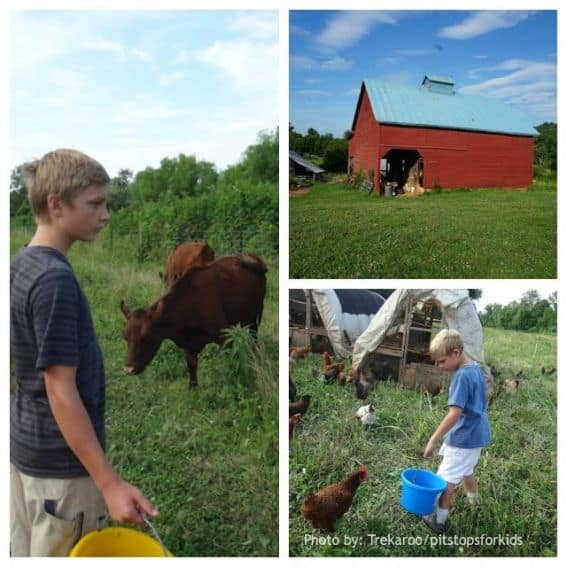 It was the best move we could have made during that trip. We arrived after a packed itinerary in Williamsburg Virginia, with plans to head to Washington DC (only 1.5 hours away) next. In-between, however, were 48 hours of outdoor play, relaxation, swimming, hiking, and what I like to call farm animal therapy.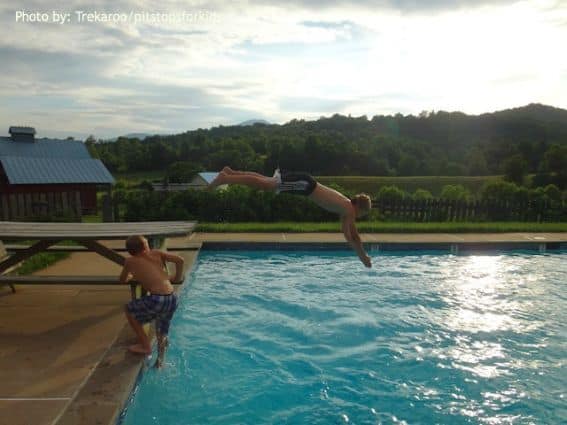 We're not new to farm stays, having visited farms in Oregon and Vermont. Every farm stay is different, and this visit was no exception. Belle Meade is a working farm, and part of the trusted Farm Stay US network. Its accommodations are best described as B&B style. Like most farm stay properties, we were free to roam the grounds at will, but unlike some, participation in farm chores is not guaranteed. We lucked out: we were free during owner Mike and Susan's rounds of animal feeding and care, and our school-aged kids were invited to help out. We learned about their holistic style of care and their meat CSA program. Younger kids can visit the animals near their pens (beware that fences are electrified in places…you'll be told where), meet the bunnies in their enclosures, and help in the gardens.
Accommodations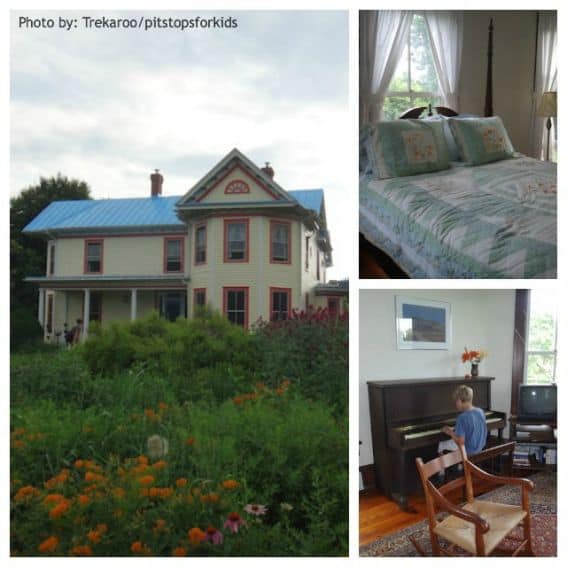 Belle Meade has a small number of rooms available in their historic farmhouse. Rooms are spacious, beautifully appointed, and thoroughly modernized. Each has its own, newly remodeled bathroom. When booking, families are placed in the right room or rooms to fit their needs. Some are on the first floor, and others on the second. Everyone has access to a comfortable sitting room with books and games, and the country dining room, where breakfast is served. Lunch and dinner is not included, so we used a small cooler with ice to store picnic items for our day at the farm, then went out to eat for dinner. This region of rural Virginia features rolling hillsides and beautiful trees, and the small towns dotting the landscape house cute eateries, BBQ joints, and casual dining.
Breakfast is included in nightly accommodations, and is a full-scale affair. Chef Anna (who lives on the property) casually quizzed my boys on their favorite breakfast foods the evening before our first breakfast, then surprised them with two types of frittatas, using eggs they'd collected the night before. The next morning, we dined on pancakes with blueberries from the garden. We only needed to snack at lunchtime!
Things to do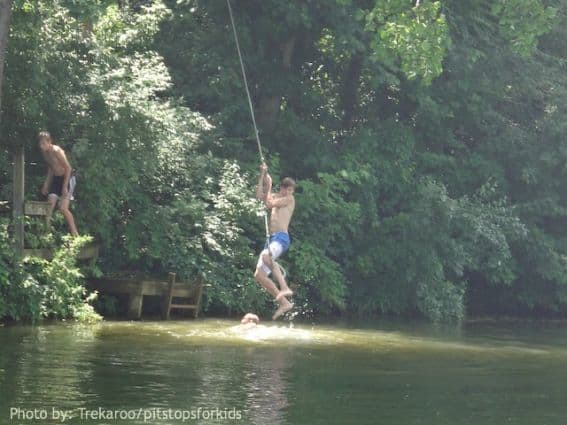 On the farm, kids can stay busy exploring the grounds, helping with feeding (as available), and swimming. Belle Meade has its own large in-ground swimming pool (with 'country' diving board…it's a picnic table!) and hot tub. During summer weekdays, the farm hosts a children's day camp, so families can expect to share the space, but we found the campers to be so well-behaved, this wasn't a problem in the least. Past the cow pastures, Belle Meade also features a swimming pond; it's here we spent most of our time on our lazy day of the buzzing dragonfly. The Belle Meade pond is tucked behind a hillside and surrounded by trees, and features a rope swing, a diving platform, a floating dock, and a mid-pond deck. Canoes are at your disposal (with life jackets).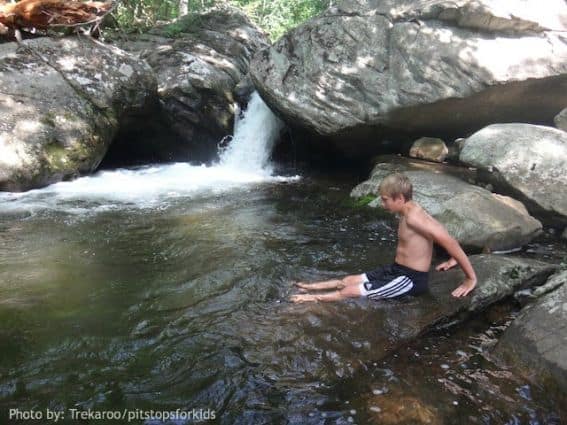 Off the farm, Shenandoah National Park awaits. From Belle Meade, the Thornton Gap entrance is only 20 minutes away. Even closer is the Old Rag Mountain trailhead (when you arrive at the parking lot, you can pay your park entrance fee right there). We didn't have time to tackle the long Old Rag climb, so on the advice of (chef) Anna, we opted for the shorter Nicholson Hollow hike, accessed from the same parking lot. This three-mile round trip hike followed a creek to swimming holes and natural water slides, all under the canopy of trees.
Whatever you do during your time at Belle Meade, be sure to budget a few hours to simple sit and relax. Talk with owners Susan and Mike: both are passionate about their farm and their quiet corner of Virginia. In addition to running Belle Meade Farm and summer camp, they operate a full-time high school on the grounds, focusing on sustainable farming and higher learning. Take a drive through the countryside to poke around the small villages, trails, and creeks, and as evening falls, take in the nighttime show of fireflies followed by a full sky of stars.
Disclosure: We were hosted at Belle Meade for the purpose of review. All opinions are our own.