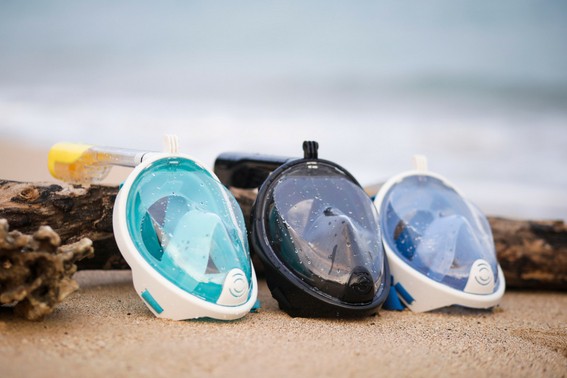 Photo Courtesy of Sharklens
When I was a kid, I wanted to be an oceanographer. Then, since I didn't have a deep desire toward photography, I learned about marine biology and that was my new calling. No matter where I set my sights, one thing was certain: I wanted to be part of Ariel's world, underwater. Being kind and encouraging, my mother planned a trip to Mexico for our family and included snorkeling in the Pacific Ocean to feed my passion for the Big Blue.
About ten minutes in, I panicked at the sight of a large fish which was "eyeballing me" and was sure I'd scrape fire coral in some of the shallow waters. Add in the tangled snorkel mask which kept fogging up and I credit this well-intended trip with my career change to wildlife biology—only terra firma from then on!
My point is—whether I'm just a big baby in the ocean (which could very well be) or if I'm a particularly sensitive diva when it comes to my gear performing as it should (which is absolutely true), the first encounter when introduced to a new sport or experience is one which can shape an entire vacation or even career! Even as an adult, I appreciate when I do not have an unnecessary struggle when I'm in uncharted territory. Having the experience go swimmingly for kids? Totally possible. Here's what you need for that to happen underwater.
Sharklens Full-Face Surface Snorkel Masks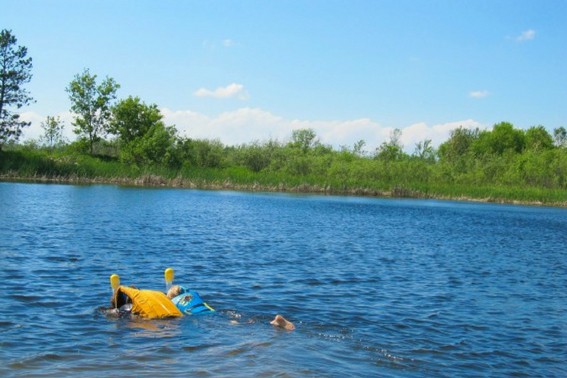 Photo by Amanda Williams
The first thing you'll likely notice about Sharklens masks is that they are full face covers—not just something for you to cover your nose and eyes like a traditional goggle. Also, the snorkel is built-in, so there isn't a dangling mouth piece and tube; it's all one unit. The likelihood of misplacing or leaving a part behind at home is far less than with traditional snorkel gear. This is a huge advantage for folks like me who travel all the time and still rely on hand-scribbled check-lists to make sure everything goes in the suitcase!
Sharklens Pros and Cons
When first putting the mask on, you notice the straps are an elastic fabric – NOT plastic! This means it's "ouch-less" for those of us with several inches (or feet) of hair. One reason I gave up on goggles entirely years ago is they always got tangled in my wet hair. When you're constantly removing them to "defog" or readjust straps, it gets a little old to rip out chunks of hair each time.
The seal around your face is soft silicone so it really does feel pretty good on your face and doesn't leave any harsh red indents where hard plastic of large heavy goggles might.
The real difference with Sharklens is seeing "in real life" – not the focused tunnel vision afforded by goggles. Seeing your periphery could mean the difference between feeling comfortable in the water and being jumpy, wondering what might be lurking left or right of you.
The mesh bags they come in make great dry and carry sacs – it is vital to dry the straps and mask before putting them into any air tight storage. I made this mistake, using the foam bag they arrive in straight after a swim and the mask fogged up quite a bit in storage. Thankfully, I was swimming every other day and caught the mistake before mildew or mold could take hold. The mesh bag prevents all that drama!
It Takes Some Getting Used To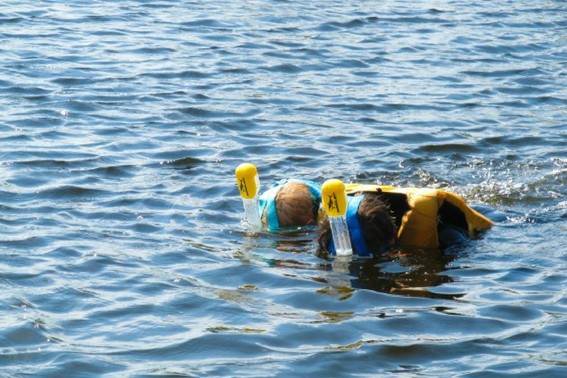 Photo by Amanda Williams
While the transition from land breathing to underwater breathing is made easier with a full-face mask, it still may take the kids some time to realize they aren't able to breathe when the top of the tube goes underwater. The Dry Top system doesn't allow water in, which rocks, but kids may not realize they need to hold their breath when they dive down. However, as long as the Dry Top is above the water one can breathe via mouth and nose, so kids take to it quickly.
This isn't a fault of the manufacturer, just something which you'll have to explain to smaller children. We have a S/M mask which fits our six-year-old perfectly, but is just slightly too large for our two-and-a-half year old. By three years, I'd say this mask should fit most kids. Since preschoolers aren't likely to know how to mouth breathe, this mask is a great piece of gear to allow the whole family to swim and spy fish and other underwater fun. My husband and I (who have significantly different sized heads) both fit into the L/XL mask comfortably. There is a handy measuring guide on the Sharklens website.
The biggest reminder is common sense – don't start out in deep water. Start out in a pool, where kids are not concerned about other life floating by or looking up at them as they swim. You'll want to remember to breathe more slowly than you would with your head unobstructed above water – you will feel a slight difference in breathing when you are exerting yourself as opposed to when you're breathing normally. Use care and adjust to conditions.
The deeper you go, the more the mask feels uncomfortable. It's not recommended to go deeper than eight feet down.
Bottom Line
These masks retail for $45.00 and have a built-in GoPro mount. Full face masks may not be for everyone, but they sure are a hit with our family. We love that our son was able to pick it up and slip it on with little to no learning curve for simple swimming and underwater retrieval in the pool and lake. We've not tried them in the salt water, so we don't know how they hold up firsthand – but we do know they were innovated in Hawaii (where there is plenty of sea water) AND a good rinse should mean they'll fare just fine. As long as you stay on or near the surface and stay far from sand, the mask should serve you as intended. For a family with young kids, this is a great option when goggles are getting them frustrated but they still want to be little fishes!
Disclosure: Sharklens provided my family with masks to try out in the water. As always, all opinions are my own.
Featured photo by: Sharklens