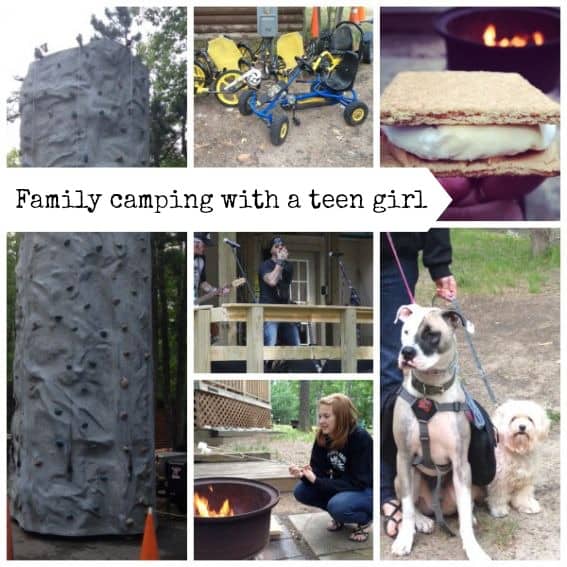 As kids get older it seems to get harder and harder to find a vacation that the entire family can agree upon. I've heard everything from, "That's boring" to, "I don't want to do that" or my personal favorite, "There's only old people there." Luckily, one thing we've always been able to agree upon is camping. We have camped at rustic campgrounds, state campgrounds, and KOA campgrounds. I was recently invited to stay at the KOA campground in Higgins Lake, MI to experience what it had to offer behind its yellow sign. My husband, teen daughter, and our two dogs, Pippie & BB, joined me for a relaxing weekend in the woods. I'm happy to share seven reasons to camp with teens at KOA so that you may never hear "I'm bored" again.
If you have a teen girl you can image that it might be quite challenging to get her to go camping. However, I have found that if there are a few great amenities I can usually get my daughter to agree. There absolutely must be spotless bathrooms and showers (outhouses are not acceptable) and there needs to be outlets in the bath house for a blow dryer and curling iron. The campground should be pet friendly and, if possible, provide free wi-fi. A nice pool and game room are always a bonus. As far as I'm concerned those are pretty easy requirements and KOA helps me meet them all.
1. Camping Cabins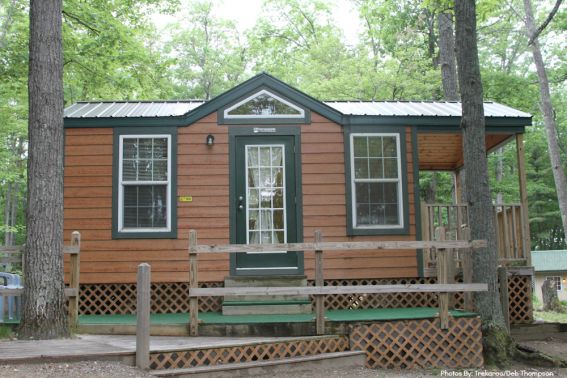 We generally tent camp, but the older I get, the less appealing this option is becoming. Tent camping has always been our teenager's least favorite and she always advocates for a camper or a cabin. Luckily, KOAs offer a nice selection of camping cabins, ranging from a simple structure with bunk beds to cabins that are similar to hotel rooms complete with bathrooms. Some KOAs even offer Yurts, TeePees, or other unique structures. We stayed in a two-bedroom cabin with a private bathroom. Our daughter thought it was the best camping structure ever. Less bugs and dirt plus her own bedroom and bathroom equals a very happy teen girl.
2. Clean Bathrooms
This is a big deal breaker for most teenagers. If the bathrooms are dirty we are leaving. I'm happy to report that not only were the bathrooms very clean, they were nicely decorated. There are large mirrors and outlets to plug-in hair styling items, both crucial must-haves for our teen.
3. Teen Activities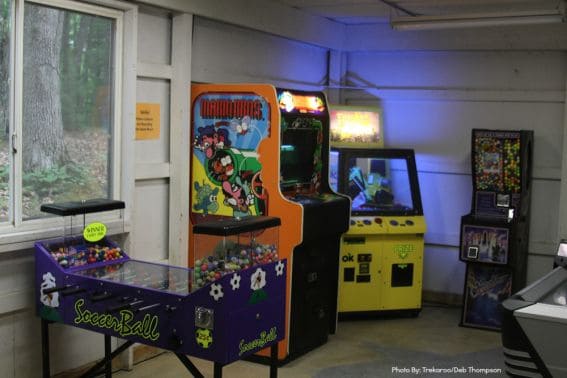 The Higgins Lake KOA has activities for teens and younger children alike. We are a pretty easygoing family and the perfect activities for us are sitting outside reading a book or taking a hike on a nearby trail. However, the activities for teens and kids are abundant. There is a rock climbing wall, arts & crafts, outdoor movie night, panning for gold, build your own sundae, an arcade, bike rentals, a small basketball court, and the all important WiFi. For younger kids there is a flashlight candy hunt, make your own stuffed toy, a bounce house, a huge inflated slide, and a playground. I may have forgotten an activity or two, but KOA seems to be good at keeping kids entertained morning, noon, and night.
4. Food
The KOA has a snack bar with an all-you-can-eat breakfast in the morning and sandwiches and pizza for lunch or dinner. The breakfast was $5 per person and included eggs, sausage, pancakes, cereal, juice, milk, and coffee. Children under 5 eat free with a paying adult. Snacks, sandwiches, and pizzas ranged in price from 95 cents (soft pretzel) to $12.50 (deluxe 12″ pizza). The camp store also has a nice supply of snack foods. I'm not going to lie, I loved this amenity. It gives Mom a break from cooking and gives growing kids a chance to nibble throughout the day.
5. Dogs Welcomed
When we go camping we take the entire family, including our furry family members. Our daughter doesn't like to travel too much if her dog can't come with her. Thankfully, KOA warmly welcomes pets to their campgrounds as long as they are well-behaved. Our campground wasn't quite half full (it was the very start of the camping season here in northern Michigan) and there were so many cute dogs out and about with their owners.
6. Special Events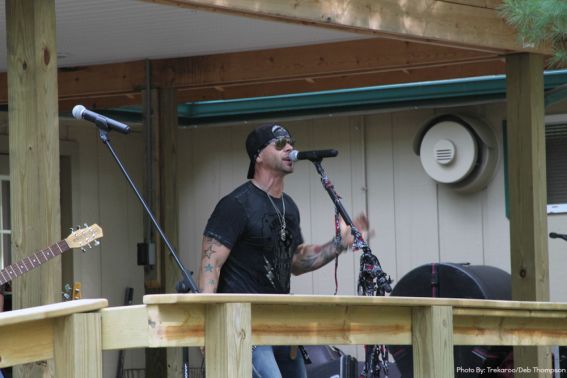 It just worked out that during our camping visit our campground was hosting a Jared Blake concert. Jared Blake was a finalist on The Voice a few seasons back and performs country music. I've yet to meet a teen who doesn't enjoy a concert. Our teen's first choice of music isn't country, but she loved this concert and even had a chance to meet Jared Blake and lead guitarist Chris Sorrenson afterwards.
7. Campfires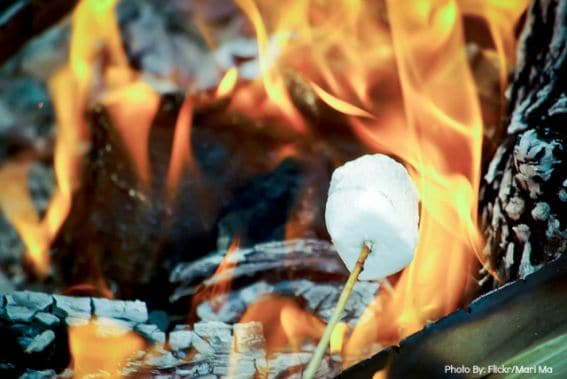 I've also yet to meet a teen that doesn't like sitting around a campfire cooking marshmallows or just watching the flames dance. We have a campfire every night (and sometimes during the day) when we camp. I try to remember to make some fire starters before we go camping. Save the cardboard toilet paper rolls and stuff them with dryer lint. Use those to start the campfire. It's a great way to recycle and make fire starting easier.
I love that KOA helps us meet our daughter's camping requirements and still allows us to share the great outdoors with her. She may never be an avid camper, but we have given her memories that will last a lifetime. The best advice she has for other teen girls that are thinking about going camping is to go with the intention of having fun, don't worry about a few bugs and it's ok to get a little dirty. She agrees that she will never be an outdoors woman, but, so far, she has thoroughly enjoyed her camping experiences.
Book a vacation with KOA today!
Ready to take a KOA family camping trip?
Learn more about "What's behind the yellow sign?" Head here to read the KOA experiences of other Trekaroo families.
Disclosure: The writer received a complimentary stay at a KOA via Kampgrounds of America. The opinions stated are her own. This is a sponsored post for Trekaroo.