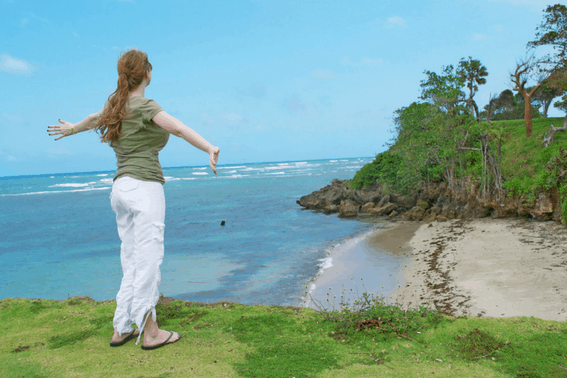 Photo by: Bigstock/Christian Baloga
On a sweltering hot day in mid-June, my two teen sons and I found ourselves in the heart of a Dominican barrio, elbows-deep in murky tubs of paper pulp. We were on a service travel to the Dominican Republic. Rapid Spanish buzzed around our ears while we tried our best to snag stray words, grasping just enough of the language to follow our instructors' enthusiastic prompts. First, strain the pulp through an 8.5″ x 11″ wooden frame, until pulp covers the surface. Next, drain the excess water, then invert the pulp out onto a drying board with one sharp rap. Set the board in the blazing sun, rinse off your frame, and start again. Repeat for 20 minutes, wiping the sweat from your face with the back of one arm. Oh, and sing and dance Dominican songs while you work, swaying your hips in time with the dozens of women's voices in boisterous harmony.
Service Travel: RePapel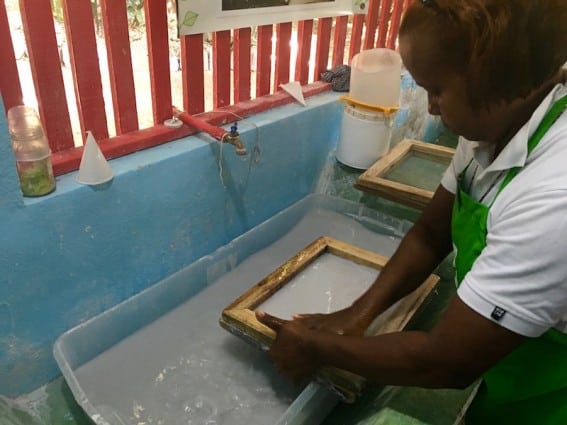 We were spending the morning at RePapel, a paper recycling co-op run by women who live in and near this neighborhood outside of Puerto Plata, Dominican Republic. We'd arrived the night before on the Adonia, Fathom Cruise Line's passenger cruise ship dedicated to what they call 'impact travel'. In practical terms, this means your cruise is formed around volunteer opportunities in port, and most of your time is spent working alongside locals, not lounging on pool decks. In more abstract terms, it means meaningful cultural exchange on a large-scale.
We spent several more hours at RePapel, learning all the stages of paper recycling. With no organized recycling programs available in this region, the women who formed this co-op help their local environment while making money from the recycled paper they produce. Instead of traveling to Santiago or Punta Cana to work, which would mean leaving their family behind for weeks at a time, they work within an hour or less of their homes.
Learning about paper making helped us piece together the economic and social issues women in the more isolated, northern section of the Dominican Republic face. And sure, we did lend a hand, adding to their workforce for the morning, but far more useful to both Fathom cruisers and locals was the cultural exchange. With broken Spanish, we asked the women about their lives, and in turn, they practiced English as they asked about ours.
Service Travel: Chocal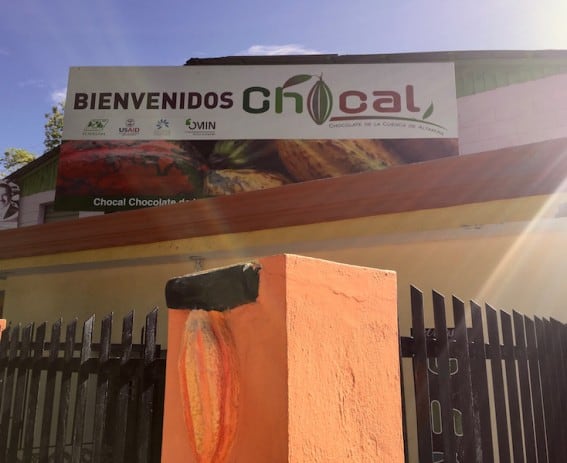 The next day, we traveled by bus high into the mountains to the tiny community of Alta Mira, where another group of women have founded a chocolate-making co-op called Chocal. Again, we went to work after instructions from the locals, and again, we made the tasks lighter with conversation and attempts at understanding each others' way of life. While we were at RePapel and Chocal, other Fathom cruisers were teaching English in community centers, planting trees, making water filters, and assisting in children's summer camps, among other activities.
We felt much warmth and enthusiasm from all the women we worked with, as well as support from others in the community; men and older kids waved to us as we entered their neighborhood and drove along their streets. Generally, Dominicans are very friendly and open. Younger kids were more reserved and curious. As we left RePapel, kids who had been playing in the street, paused their basketball games to watch us with solemn eyes. Always, tourism police were a presence where we worked and even where we explored on our own. We believe their primary job was to discourage locals from trying to sell trinkets or from panhandling.
Fathom Cruises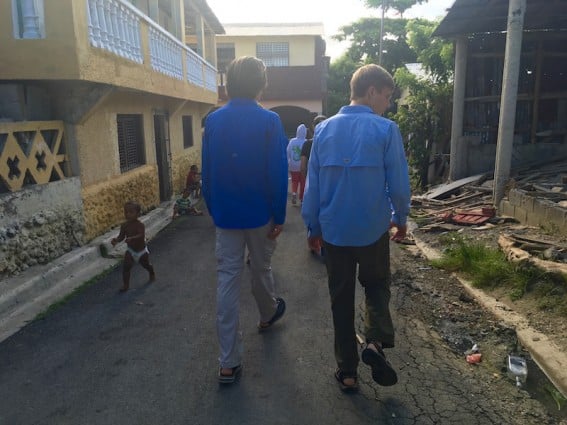 A Fathom cruise isn't only work, of course. Between impact activities, my kids and I made time for exploration and fun. We hired a local driver to take us on a tour of the nearest city, Puerto Plata, where we walked along the battlements of the fort of San Filipe, a lingering reminder of Spanish reign and pirated seas. We hiked to the waterfalls of Damajagua, where we jumped and slid and swam through beautiful pools of water in the heart of a jungle. We stepped onto beautiful Caribbean beaches and snorkeled among bright tropical fish. But unlike on other vacations, while we did these things, it was with a better understanding of our Dominican hosts. We were more ambitious in our quest to get to know them than in previous vacations, and more bold in our attempts to speak the language. This, I know, is due to our time on impact activities.
At the end of our time in the Dominican Republic, our impact activity leaders measured our work in hard data. Collectively to date, Fathom cruisers had created 3851 sheets of paper and had packaged 25,008 bars of chocolate, giving the co-op owners a useful boost in production. And these are the numbers for just two impact activities. However, I do know my hands were hesitant as I learned the skills needed, and my efforts clunky. Were my sons and I truly useful? Were we impacting these Dominicans' lives?
After much reflection, I've decided the answer is yes. Maybe my chocolate-making skills can use improvement, but Fathom's participation in Chocal and RePapel (as well as in the other projects) gives these co-ops much needed validation. Spending our vacation time in these places increased our understanding of the people who live there and created the opportunity for genuine cultural exchange. Our presence boosted their businesses in less tangible ways than I'd anticipated: it legitimized their efforts in the eyes of their own community, and it created many extra jobs as Fathom hired young Dominicans as interpreters, guides, and leaders (primarily through local NGOs).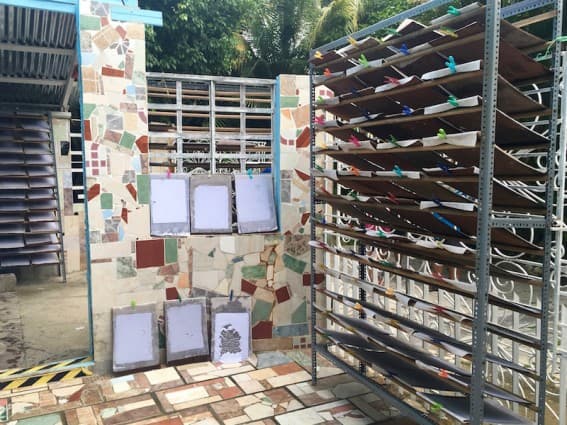 Can you travel with impact without going on a Fathom cruise? Yes, but it certainly takes more effort and commitment. There's a lot of logistics that go into organizing these volunteer efforts on the ground in the DR, which Fathom has forged through diplomacy, NGOs, and years of research. If you're looking to do something more than just vacation when you travel, a Fathom cruise is a 'turn key' option for you. They've done the hard part, the part that maybe, as an individual, you simply can't organize on your own. By booking through them, you have a ready-made trip, and arrive to find the opportunities to travel in a meaningful way already in place.
The Details
Fathom is a sister company of Carnival Cruise Lines. Its ship, Adonia, holds just over 600 passengers, making it much smaller than the standard cruise. It sails out of Miami, cruises to the Dominican Republic, and are seven days long. Amber Cove, DR, is Adonia's only port of call, and passengers spend the 3.5 days there with a combination of impact activities and free time to explore on their own.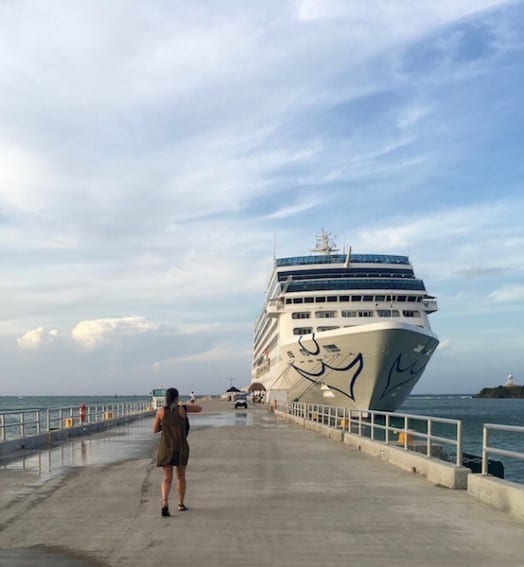 Dates and pricing are listed here, and as you price cruise vacations, you'll see that Fathom is very affordable. This may be because the ship is smaller and lacks some of the on-board activities families have come to expect on cruises, such as climbing walls and Broadway shows, but we found we loved the friendly, family atmosphere on the ship. Fathom makes you part of the community, with assigned leaders teaching impact groups about the DR before arrival, plenty of classes, games, and programs to join, and plenty of lounges, bars, and deck fun.
Trekaroo readers can use this link for an even better Fathom discount!
Fathom requires that kids be eight years old or up for an impact cruise, which I think is a good rule of thumb for serious volunteering in foreign countries. While families with young kids will need to wait, older kids and teens will definitely meet other kids onboard, and make friends on this small ship.
Learn more about what to expect on a Fathom cruise!
Photos by Amy Whitley unless otherwise stated.
Disclosure: we were guests of Fathom Cruises for the propose of review of this brand new itinerary. All opinions are my own.