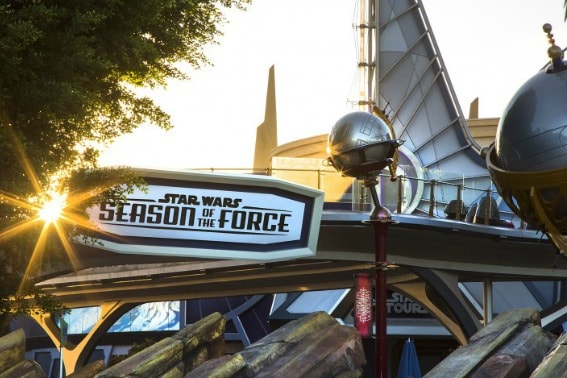 Have you heard that there is a new Star Wars movie is coming out? It's kind of a big deal. Such a big deal, in fact, that Disneyland is building an entire new land dedicated to Star Wars. Unfortunately, Star Wars Land will not be complete by the time Star Wars: The Force Awakens premiers on December 18th but fortunately, Disneyland has come up with plenty of exciting new attractions to get us amped up for the new movie and hold us over until the new land is complete. The Season of the Force at Disneyland begins on November 16 and with it comes new thrills, attractions, dining options, and character encounters.

Hyperspace Mountain
Do your kids love both Star Wars and Space Mountain? Then they will be absolutely thrilled with Hyperspace Mountain! The classic ride has received a Jedi facelift with exciting battles between Rebel X-wings and Imperial TIE Fighters taking place in the dark skies of Space Mountain. The coaster itself is still on the same track but the Star Wars music, exciting action, and darkened space certainly makes things feel faster and more thrilling.
Watch Trekaroo editors Sharlene Earnshaw and Katie Bodell ride Hyperspace Mountain for the very first time!

Star Wars Launch Bay
Located on the first floor of the former Innovations building, Star Wars Launch Bay is THE place to geek out about all things Star Wars. The Dark Side Gallery features authentic replicas of Stormtrooper armor and Sith lightsabers while the Light Side Gallery holds Jedi lightsabers and rebel helmets. Models of various starships can also be found inside the galleries. Be sure to stop by the famous cantina from the original Star Wars (is the music in your head yet?) to pose for pictures, then head over to get a hug from cuddly Chewbacca or stand bravely next to Darth Vader. Don't be surprised if you find yourself a bit star struck! Star Wars Launch Bay is also the place to create a custom Star-Wars-themed cell phone cover, purchase exact replica costumes, and even bring home your very own life-size Stormtrooper statue.

Photo by: Disney Parks
Star Tours- The Adventures Continue
Fans of Star Tours, a Disneyland fixture since 1987, will happy to discover that this ride has also received a facelift in celebration of the new movie coming out. New music, characters, and scenes have been added to an already thrilling and fully immersive multi-dimensional experience. The scene I experienced (there are a few different options) took us on-board our Star Speeder to the desert planet of Jakku, in and around the massive star destroyer crash landing, a location that is featured prominently in the upcoming and highly-anticipated release of Star Wars: The Force Awakens.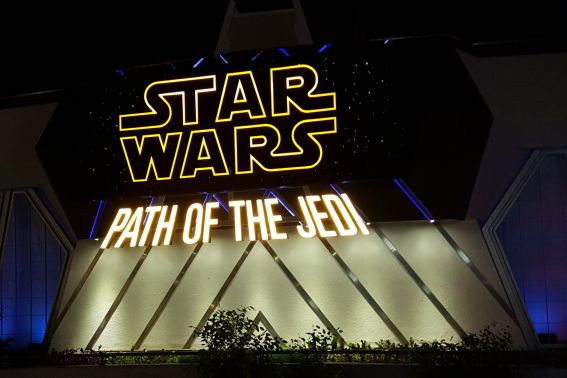 Star Wars– Path of Jedi
Does your family need a refresher course on the story of the Jedi before heading out to see Star Wars: The Force Awakens? The Path of the Jedi airs in the Tomorrowland Theater, the former home of Captain EO. This short film compiles iconic scenes from the six previous movies as well the trailer from the new movie to tell the story of the Jedi. Even though my family is in the middle of rewatching the films in anticipation of the newest saga, we all agreed that the Path of the Jedi was still exciting.

Photo by: Disney Parks
Star Wars Dining
And, because no celebration is truly complete without food, The Tomorrowland Terrace has been transformed into the Galactic Grill. Breakfast will include items such as the Darth Tamale- a blue corn tortilla with chorizo, eggs, red chili sauce, and a tomatillo salsa. Lunch and dinner centers around items from the grill including First Order Burgers, Jedi Order Grilled Chicken Sandwiches, Jawa Turkey Sandwiches, and Cheese-3PO Burgers which can be washed down with Light Side and Dark Side specialty drinks. Don't miss Darth by Chocolate- a parfait of dark chocolate ganache, red velvet cake, and chocolate sponge cake topped with a chocolate Darth Vader and his signature red light saber. Pizza Port also has some Star Wars-themed meal offerings such as Forest of Endor pasta, The Fields of Naboo salad, and a Dark Side chicken curry. Special Darth Vader and Tie Fighter popcorn buckets can be found at the carts in Tomorrowland as well as a BB-8 Droid Sipper cup and Chewbacca Stein.
Pin this image to save this article for later!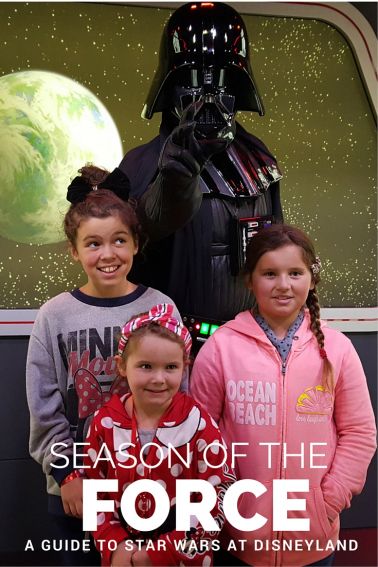 Disclosure: I received complimentary admission to Disneyland to attend the Season of the Force media event at Disneyland to cover this story for Trekaroo. All opinions are my own.