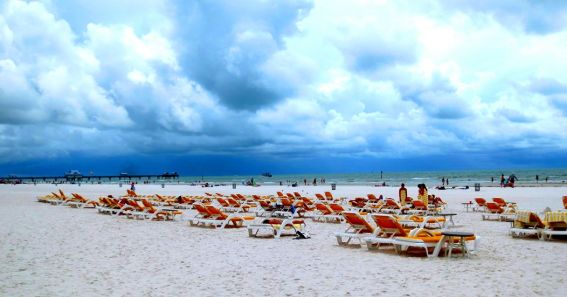 Trying out a new resort is like dating. Before booking a reservation, you try your best to pick out a keeper–one that you hope will be a good match for you and your family and one that appears to offer, at least on paper, amenities you feel are important. Yet, despite a solid pre-screening process, finding the perfect resort isn't always easy and inevitably you're bound to encounter a few duds. Occasionally though, in a sea of solid 7's, you stumble upon a resort that sweeps you off your feet–a perfect 10–and not even a seagull pooping on your head can tarnish your incredible vacation experience (true story).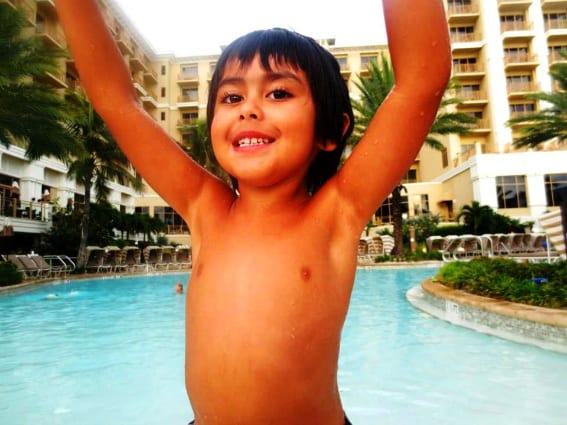 The Beauty of Simplicity
The genius of Sandpearl Resort in Clearwater Beach, Florida is its simplicity. Yes, the resort is breathtaking, but it focuses on what's important and highlights ingredients that promote family unity. Sandpearl Resort offers guests a private stretch of white sand beach, an expansive pool with beach entry, a large supply of pool and beach toys, casual dining on the seashore, a delicious breakfast buffet with ocean views, an outdoor fire pit with s'mores kits, and last but least; rooms where the bathtub has a view of the television. My child was deliriously happy at Sandpearl because all of the things that truly matter to him were always within his reach. A typical day for us consisted of breakfast at Caretta on the Gulf, swimming, napping, eating, swimming, roasting s'mores on the beach, watching The Lorax from the bathtub, and a whole lot of bonding.
TIP: October is the best month to score low rates and currently Sandpearl is offering $200 off of the price of any suite.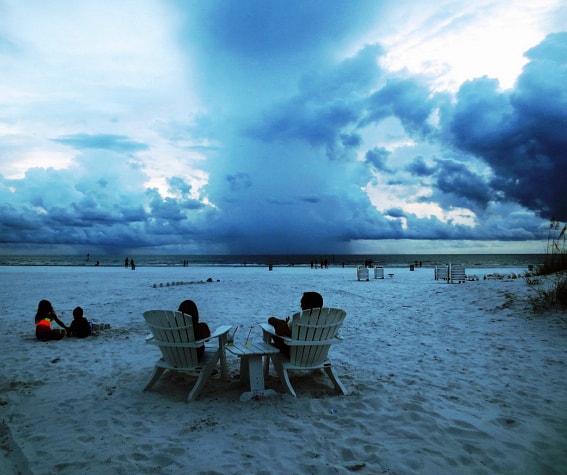 Getting There
Clearwater Beach is a year-round seaside vacation spot conveniently located 40 minutes from Tampa International Airport. I recommend allowing the resort to arrange ground transportation to and from the airport. There's no need for a rental car in Clearwater Beach. Florida Free Rides provides unlimited, complimentary transportation services for anyone who asks. Their fleet of electric cars runs 7 days a week from 9:00am-3:00am and their drivers work for gratuity only. My family used the service to catch a ride to Clearwater Marine Aquarium, home of Winter, the celebrity dolphin with a prosthetic tail and star of the movie Dolphin's Tale.
TIP: Clearwater Beach features a pedestrian-friendly mile-long Beach Walk that leads to Pier 60, an area with multiple playground structures for children. Pier 60 is only a five-minute walk from Sand Pearl Resort.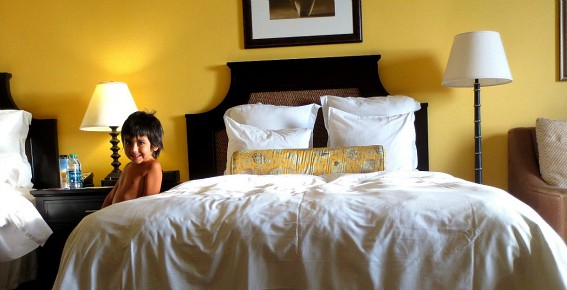 Inside the Pearly Gates
Sandpearl Resort is the most tastefully furnished resort I've ever seen. Have you ever walked into a hotel and thought, "I want to redecorate my house to look like this!"  Sandpearl will do that to you. The artwork is so beautiful; I actually stopped and took notice. In today's busy world, that says a lot. From the $60k antique piano in the lobby to the ocean-themed art decorating its walls, a lot of love was poured into Sandpearl's interior design and it shows.
The layout of Sandpearl is super convenient. At the pool, if my son became hungry, we simply walked to our right and dined on the beach at Tate's Island Grill or flagged down a waiter for poolside service. If my son needed to go potty, no sweat, our room was a short walk away. Being the caffeine junkie that I am, I loved that the hotel's coffee shop was on the way to the pool and yes, yummy Starbucks coffee drinks are offered.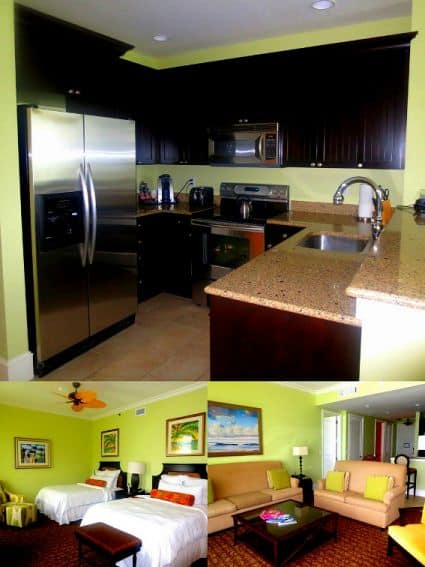 I had the opportunity to walk through a two-bedroom family suit. It's a lime green dream with a luxurious kitchen and magnificent views of the beach below. If you have a large family that requires space, you'll love it. My room, though more modest, was still extravagant. The novelty of being able to watch TV from the bathtub was so exciting for my son that when it rained on the last day of our vacation, he was happy to stay in. The kids' in-room dining menu offers steak on a stick and it's delicious! My jaw hit the floor as I watched my son gobble it down. I can't tell you how good it felt to see him eat something other than chicken fingers and fries. He's been eating steak ever since. Hooray!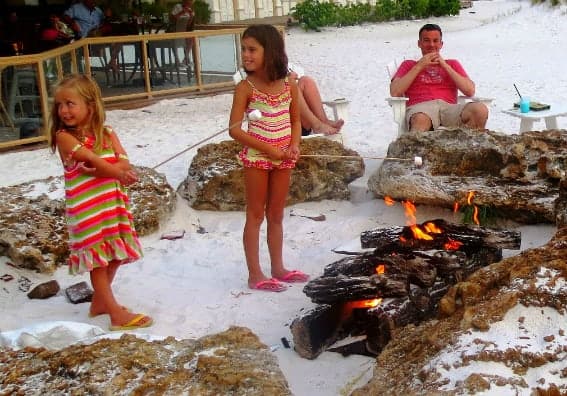 Camp Ridley
Camp Ridley is a fun children's activity program for ages 5-11. Camp Ridley costs $50 per four-hour session and additional children are $25. If you choose to enroll your little one in one of Camp Ridley's activity programs, your child will enjoy sandcastle building, hula hooping with staff, arts and crafts, scavenger hunts, and much more. Additionally, Camp Ridley provides resort guests with a large supply of free pool and beach toys such a boogie boards, tubes and rafts, and shovels and pails. Camp Ridley also sells kites, ice cream, candy, and offers sunset bell ringing to signify the end of another day in paradise.
My stay at Sandpearl was everything I had hoped it would be and more. If you're looking for a flawless vacation full of rest and relaxation, children who are too happy to whine, and stunning family photographs, Sandpearl Resort is the place for you. Just watch out for the seagulls!
Disclosure: I received complimentary accommodations and meals to facilitate this review but all opinions are my own. Sandpearl Resort is one of the best resorts I've ever had the pleasure of experiencing. You can take that to the bank.
Travel with kids to: CA |CO | DC| FL | HI | IL |MA | NC | NJ | NY | OR| PA| TN | TX | UT | VA | WA