Last Updated on
San Francisco is arguably one of the best and most famous cities in the nation. Second only to New York City in dense population, San Francisco is home to a gorgeous mix of architecture, dramatic hills, and well-known landmarks including the Golden Gate Bridge, Ghirardelli Square, Alcatraz Island, and Lombard Street. Let's not forget the San Francisco Giants! The people who live in The City love this city! If you've ever spoken to a local about their hometown, you know exactly what I'm talking about; they can't help but puff up with pride, and honestly and who can blame them? If you've ever wanted to explore San Francisco's amazing family-friendly attractions, here's your chance. Trekaroo is giving one lucky family an action-packed weekend in San Francisco valued at over $1,000. Good Luck!
A Stay at the Radisson Hotel Fisherman's Wharf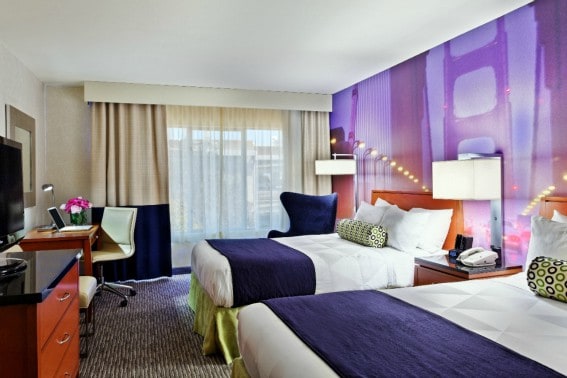 Renovated room with double bed – photo courtesy of Radisson Hotel Fisherman's Wharf
Having recently completed a multi-million dollar renovation, Radisson Hotel Fisherman's Wharf is looking superb and its location can't be beat! Radisson Fisherman's Wharf sits directly on the Wharf and is just steps away from Pier 39, the Pier 39 playground, and Aquarium of the Bay. Family-friendly amenities include free WiFi and in-room refrigerators. Radisson Hotel Fisherman's Wharf is offering a complimentary two-night stay certificate for a Deluxe Room with one king bed or two double beds. The certificate is valued at $650.00 and expires December 30, 2013. Parking is also included, a value of $42.00 per night.
Radisson Hotel Fisherman's Wharf
250 Beach Street
San Francisco, CA 94133
Tickets to California Academy of Sciences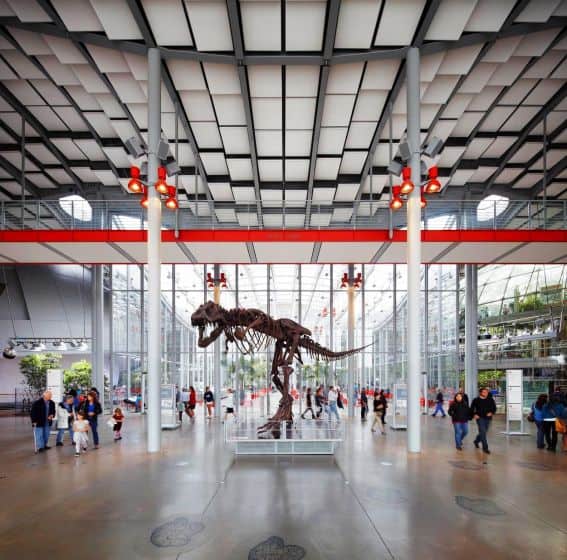 Academy Lobby by Tim Griffith
My son and I are huge fans of San Francisco's California Academy of Sciences. Every time we go, we love to strike a silly pose in front of the T. rex skeleton in the lobby. If you've never been, it's the only place on the planet with an aquarium, a four-story rainforest, a planetarium, and a natural history museum all under one roof. Now through November 15, 2012, the Academy presents Jurassic in the Park, featuring an exciting 3D film and daily programs that explore prehistoric creatures, including dinosaurs and sharks. Speaking of sharks, the shark jaw mounted on the wall at the Academy is one of my favorite pieces. I love to imagine the size of the megalodon those jaws once belonged to. I must confess I've been obsessed with megalodons ever since I was a kid. I wonder what obsessions a visit to California Academy of Sciences will spark in your child.
California Academy of Sciences has generously donated 4 general admission tickets to the winning family. These tickets allow entry to the front of the building during daytime hours. Please note that they cannot be used for NightLife or the Thursday night 21+ event. Tickets expire 6/30/2013.
California Academy of Sciences
55 Music Concourse Drive
Golden Gate Park
San Francisco, CA 94118
Ticket prices range from $19.95 to $29.95. Children under 3 are free.
Tour and Meal at Boudin at the Wharf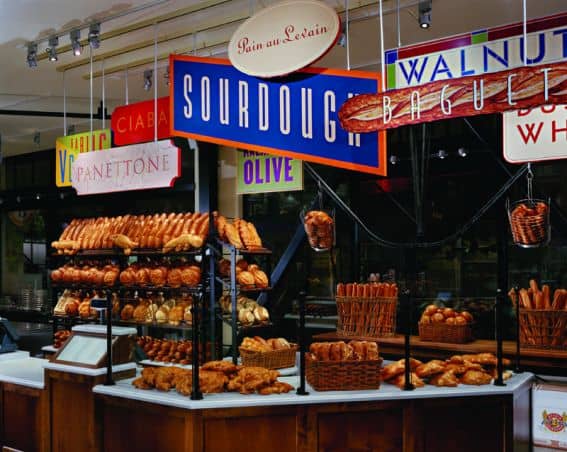 Assortment of sourdough bread – photo courtesy of Boudin
Boudin at the Wharf is a family-friendly historic bakery serving up authentic San Francisco sourdough bread at Fisherman's Wharf. This dynamic space offers a demonstration bakery and Café in Baker's Hall, a museum to learn about Boudin's history, a charming full-service restaurant and bar, and recently opened oyster bar at Bistro Boudin. The bakery is an amusing place to go for kids to interact with bakers, watch the creation of bread, and to develop a lifelong yearning for the unmistakable flavor of sourdough bread. Boudin's enlightening museum explores the entwined histories of Boudin Bakery and San Francisco from three unique perspectives: struggling immigrants, an entrepreneurial family, and a line of hardworking bakers. Each tour ends with a taste of Boudin's delicious bread.
Boudin is giving the winning family a complimentary meal at the Café in Baker's Hall and a museum/bakery tour.
Boudin at the Wharf
160 Jefferson Street
San Francisco, CA 94133
Hours of Operation:
Sun – Thur: 8 am – 9:30 pm
Fri – Sat: 8 am – 10 pm
Museum and Bakery Tour open daily 11:30 – 9:00 pm
Tickets to the San Francisco Zoo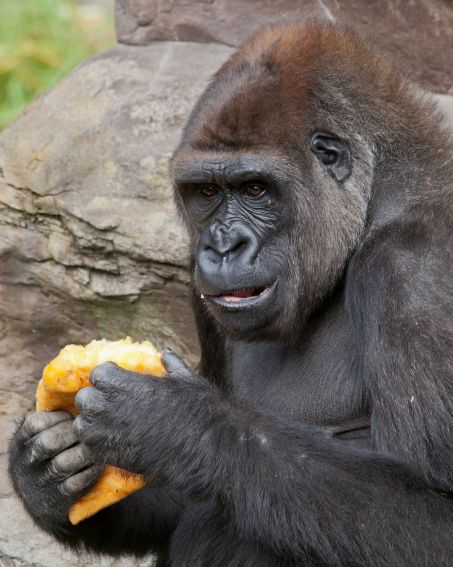 Gorilla and Pumpkin SF Zoo by Marianne Hale
The San Francisco Zoo is rich in history, fun, and provides excellent educational programs for the young and young at heart. Exotic and endangered animals, some of which cannot survive in the wild, call the zoo home. The zoo's mission is to connect visitors together with wildlife, foster consideration for nature, and support conservation action. The zoo is an urban oasis with amazing exhibits like The African Savanna, a multi-species environment with giraffes, zebras, kudu, ostriches and more. Children can come face to face with grizzly sisters Kachina and Kiona at Hearst Grizzly Gulch, see lemurs spring across the most generously sized outdoor lemur habitat in the nation, check out Penguin Island, gape at the Zoo's gorillas in their lush home, and get up close and personal with animals in the Fisher Family Children's Zoo. The 1921 Dentzel Carousel and 1904 miniature steam train have captured the hearts of visitors for generations.
The San Francisco Zoo is supplying a family 4-pack of tickets which includes ride passes and parking.
San Francisco Zoo
1 Zoo Road
San Francisco, CA 94132
San Francisco Zoo Admission Tickets
Adult (ages 15-65) $15.00
Child (ages 4-14) $9.00
Senior (65+) $12.00
A Brunch Cruise by Hornblower Cruises and Events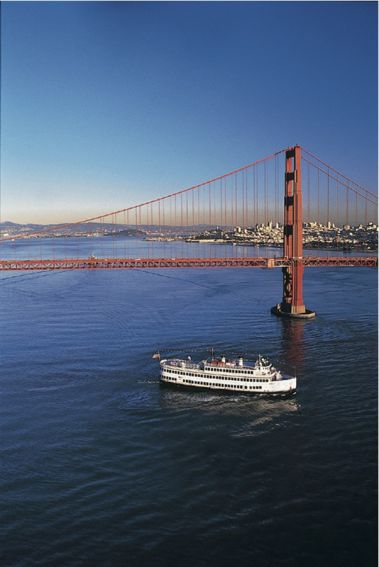 Photo courtesy of Hornblower Cruises & Events
Hornblower Cruises and Events invites you to climb aboard a 2-hour Champagne Brunch Cruise featuring seaside views of the San Francisco Bay, a scrumptious Brunch buffet stocked with traditional breakfast dishes, lunch entrées and desserts, bottomless sparkling wine, and live music. Hornblower's Champagne Brunch Cruise is the perfect way to end your family's fabulous weekend in the city. Their San Francisco fleet includes the 292-foot San Francisco Belle sternwheeler, a Bay Area landmark and the largest private charter yacht on the West Coast, and the Hybrid Hornblower, a green vessel propelled by solar panels, wind turbines, and fuel efficient marine diesel engines.
Hornblower Cruises is offering a Brunch Cruise for the winning family. Blackout dates include all holidays. This offer expires 12/31/2013.
Hornblower Cruises and Events
Pier 3, Hornblower Landing
San Francisco, CA 94111
Explore more family-friendly fun in San Francisco:
Touristy Tips | Best Bets | Alcatraz | Fun for Top 10 San Francisco | K-5 | Tweens & Teens
The Steal: Win a Family Friendly $1,000 Weekend in San Francisco, CA
Details: One very lucky winner will win:
Enter via the Rafflecopter widget below:

Rules and guidelines:
US Residents only
18 years of age and older
Deadline to enter: Sunday, November 11, 2012 at 8:59PM PST
What is Monday Madness?
Every Monday, Trekaroo announces on our blog, either a fantastic giveaway or an incredible deal. It could be a green water bottle, a hotel stay on Maui or theme park tickets. Return every Monday to the Talking Trekaroo Blog for the details. Want a reminder? Become a Trekaroo member or follow us on Facebook or Twitter.
______________________________________________________________________________
Travel with kids to: CA |CO | DC| FL | HI | IL |MA | NC | NJ | NY | OR| PA| TN | TX | UT | VA | WA