San Diego, California is a kid-friendly travel mecca! With year-round warm weather, an active harbor, theme parks, museums, and vibrant history, San Diego is a family travel gem not to be overlooked. Our San Diego Top Ten offers a to-do list ranging from zoo visits to harbor cruises, with plenty of beach time in-between. However, San Diego is not without its challenges for visiting families. Here's what we learned after a three-day stay (and lifetime visits to the city):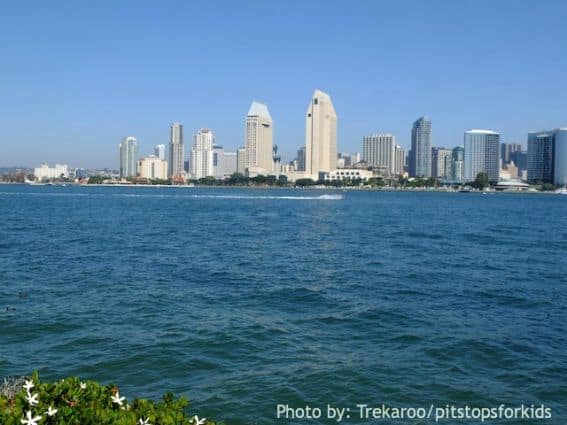 1. Base yourself on the harbor
San Diego is spread out, and the main form of transportation is by individual car. This can lead to traffic issues and long commutes to attractions for visitors. We found that by staying on the harbor, we were within walking distance to most attractions: the Gaslamp Quarter, the USS Midway, various historic harbor vessels, Coronado Island, and stops along the historic trolley system. We stayed at Manchester Grand Hyatt, where we were situated directly on the bay with great views of the Midway and Coronado Island. We easily walked to Gaslamp dining and to the Midway, and the hotel's free bike rental service was ideal for riding bikes to Coronado Island via the pedestrian ferry located just steps from the back of the Grand Hyatt. Seaport Village is literally in the hotel's backyard and older kids can explore this quaint shopping district without parents.
The trolley system stops outside the Grand Hyatt, which enabled us to explore the historic district. We only used our car to explore area beaches and Mission Bay (SeaWorld). We bypassed much stress by keeping the car with the valet!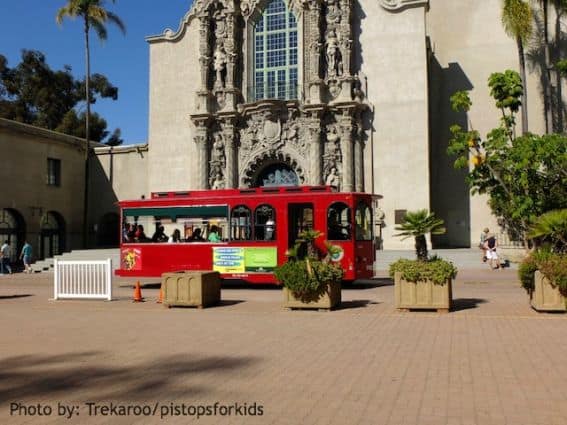 2. Use the trolley system for more than just Old Town
Many visitors assume San Diego Trolley Tours only canvas the area around the Old Town historic district. Not so! Plan to use your trolley tour tickets for a full day, and you can stop at all the historic district sites, then head to Balboa Park, PetCo Park, and even Coronado Island and the famous Hotel del Coronado. You'll need to devote all day, and plan to see big Balboa Park attractions, like the San Diego Zoo, another day. While in Balboa Park, free inter-park trolleys also make the rounds (causing some confusion), but with on-and-off privileges, the historic trolley pass is the way to go to skip any wait times.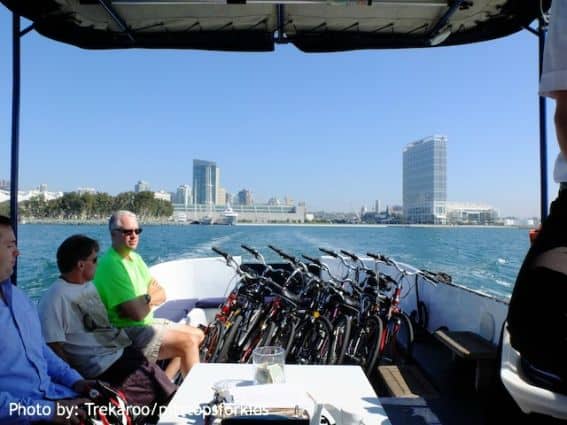 3. Plan beach visits by wave size
Not all San Diego beaches are created equal. Some offer bay-side tranquility for young children and waders, while others offer big waves for sportier types and teens. If you're looking for gentle surf, head to Coronado Island  where you'll also enjoy the fabulous views. We biked to the beaches on the far side of this small island, an easy ferry ride from the Waterfront takes you to the city-view side of Coronado. From there, bike through the beautiful neighborhoods to the ocean-side (about 20 minutes). Looking for bigger surf? Head to Pacific Beach, where the waves roll just a little bit more, and families will find even more shops and restaurants. Mission Beach is ideal for older kids with lots of energy: they can walk 3.5 miles along the sand!
4. Don't overlook harbor history and lesser-known Balboa Park attractions
The San Diego harbor and waterfront is an attraction all on its own. The center point is the USS Midway. Families can tour this aircraft carrier in a few hours. Be sure to check out all the exhibits below deck for a taste of life on-board, and stop to talk with docents…these men and women know the ship firsthand! My kids aren't huge military or ship fans, but even they were fascinated, as was I! Take a harbor tour to see various other historic ships and submarines in the harbor, such as the Star of India, and check out the active military base from the water's vantage point. You'll see plenty of marine life as well.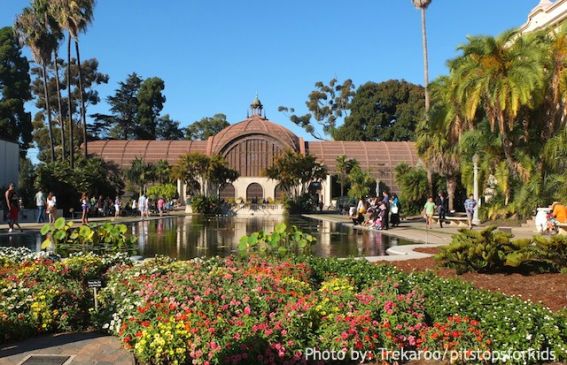 While in Balboa Park, don't overlook the smaller museums and free attractions. We love the tranquil Botanical Building, which is free to the public, and the adjacent lily pond. Street performers love this area, too! Older kids will enjoy the Museum of Photography, and young kids will learn a lot at the interactive play area in the Museum of Man (at the back!).
5. Find family-friendly dining
The trendy Gaslamp Quarter sits within walking distance of the harbor, and while award-winning and downright fabulous dining exists here, not everything is kid-friendly (or budget-friendly). Check out our list of family-friendly San Diego restaurants, or head to Old Town, where fun south-of-the-border fare reigns. We made meals out of the Grand Hyatt's club level lounge fare –  the hotel sets out healthy favorites such as yogurt parfaits, sandwiches, and appetizers for every meal time…a definite cost-saver!
Give yourself 3-4 days in San Diego and you're guaranteed a vacation with a wide variety of attractions and an experience that ranges from beach-lounging to historic touring! Enjoy San Diego!