I grew up watching baseball.  My dad had a full ride to play the sport, I played softball from almost as far back as I can remember, and one of my fondest memories is listening to the end of the '89 World Series on the radio in the backseat of our family car.
Despite this baseball tradition running deep in my veins, my three girls are pretty clueless about America's pastime.  That all changed this summer when I took my family on a baseball themed vacation in sunny San Diego, CA.
Petco Park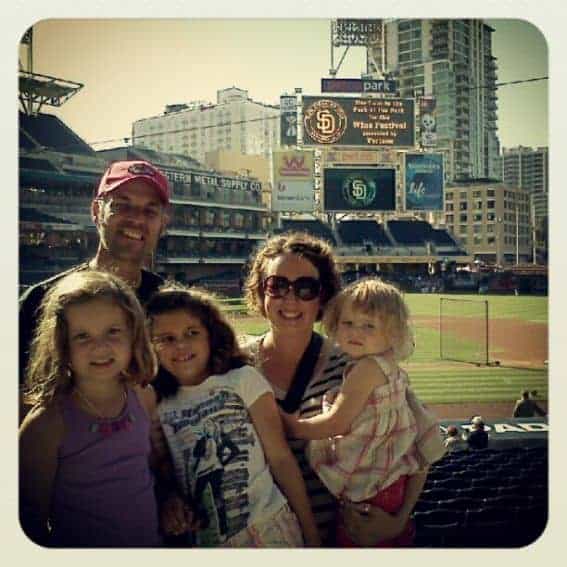 Enjoying batting practice before the game
Petco Park opened in downtown San Diego in 2004.  The home of the Padres is definitely not the most vintage park in the business, but what it lacks in longevity, it makes up for in charm.  The park is beautiful, artfully integrates historic buildings into its park, and features some amazing, kid-friendly perks. 
I was afraid my girls might be bored at the game, having no prior knowledge of baseball.  This park, however, is so kid-friendly that you don't even need to be a huge fan to enjoy a day at the ballgame.  The "Park at the Park" in center field offers kids their own baseball diamond to score big on.  Kid after kid hit an imaginary homer and ran the bases with pride – even my girls took part!  A large grassy hill allows plenty of room for running, and a sand-box style "beach" below the center field seating gives kids plenty of fun in between the action.  If that wasn't enough, behind right field rests a slew of games and baseball simulators for kids to test their pitching strength or just enjoy a mid-game diversion.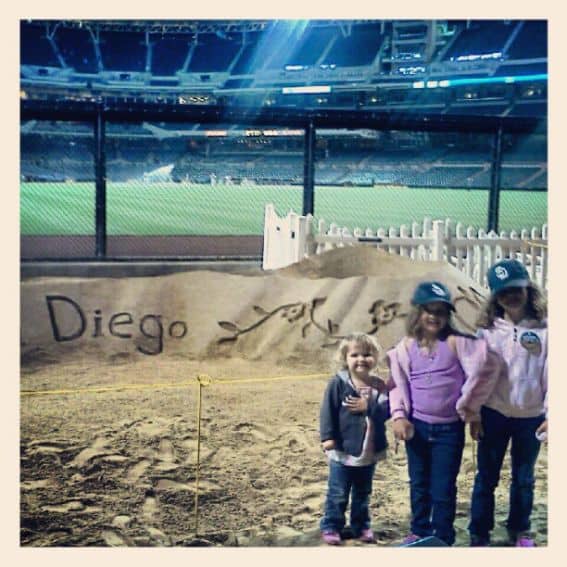 "The Beach" in center field at Petco Park
 We enjoyed a fabulous tour of the park before our game; check out my full review.
Omni San Diego
My family loves staying at an Omni.  They provide beautiful, luxururious accommodations and are exceptionally kid-friendly.  From their standard issue "Omni Sensational Kids" backpack full of toys, games, and activities, to the check in milk and cookie turn downs, Omni makes sure your youngest kids are happy so their parents are too!
The Omni San Diego is located adjacent to Petco Park (in the heart of the historic Gaslamp District), and even features an aerial walkway with direct, private access in and out of the park.  Need more than a short 7th inning stretch?  You are literally steps back to your hotel room.  The hotel also features a large collection of baseball memorabilia—the good stuff, like autographed balls from Babe Ruth!
Our room, a suite located on the 20th floor, even peered into the park giving us a bird's eye view of the game taking place outside.  We had a ball watching the teams and ground crews get ready for the night's game.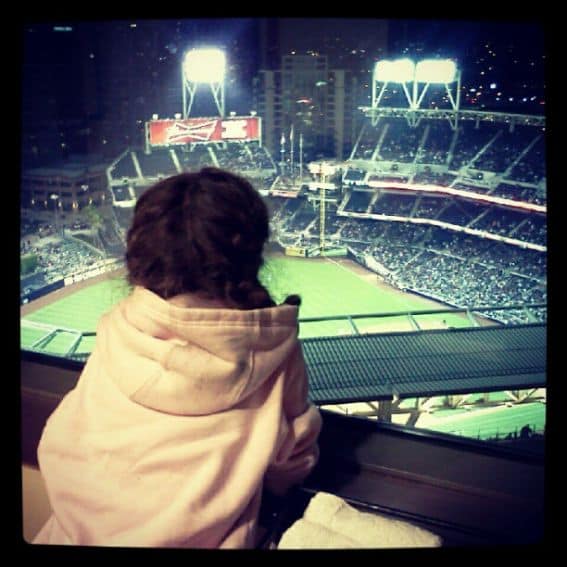 Room with a view
Find out all of the reasons we fell in love with the Omni San Diego.
Disclosure: I received complimentary lodging, park tour, and Padres tickets for the purpose of this review.  I was not required to state any particular view; all opinions are my own.  We were also not required to become Padres fans, but rest assured: we are. 
---
Travel with kids to: CA |CO | DC| FL | HI | IL |MA | NC | NJ | NY | OR| PA| TN | TX | UT | VA | WA