For travelers looking to visit San Antonio with kids, consider San Antonio Marriott Rivercenter, a family-friendly hotel that stays true to its Texan roots.
Where Families are VIPs
The San Antonio Marriott Rivercenter offers a uniquely Texan experience for families, located right in the heart of the city. A warm welcome starts in the lobby, which is decorated with Texan and Spanish accents such as dark-wood trim and wrought-iron furniture. It's right near the city's historical, cultural, and lively culinary scene along the Riverwalk, which gives it a buzzing, prime location. Outside, a garden terrace with an ancient Spanish Oak leads to the Riverwalk. San Antonio with kids has never been this authentically Texas!
This family-friendly hotel also offers a certain level of peace and quiet, as well as comfort that is hard to find in the center of San Antonio's Riverwalk. The 38-story hotel holds more than 500 rooms within walking distance to dozens of historical sites, shops, and restaurants. Rooms that face the water feature balconies, which are great for traveling families. It also has onsite dining that includes popular Tex Mex cuisine, a gym, an indoor/outdoor pool and access to an entertainment complex. Best of all, its spacious, cozy rooms offer families a good night's sleep after a long day of sightseeing in the Texan heat. After all, there are so many things to do in San Antonio with kids, making San Antonio Marriott Rivercenter a perfect landing point.
Why Go to San Antonio with Kids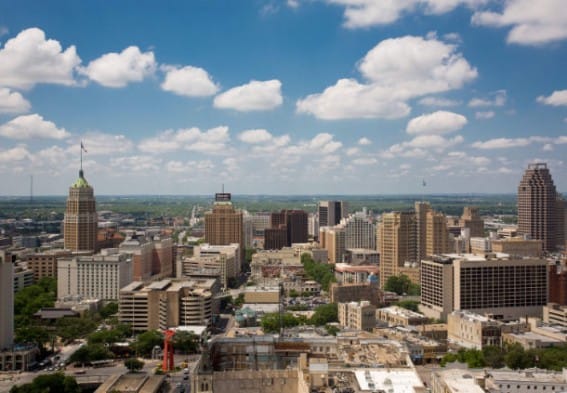 San Antonio Marriott Rivercenter really puts families first, offering a kind staff and amenities to put them at ease. From laundry service to free WiFi and crib access, this family-friendly hotel makes every effort to see that kids enjoy their visit. Plus, San Antonio is an irresistible place to visit. It's a special kind of place that every American should visit once. With the Riverwalk right outside with dozens of restaurants and shops, making for an easy family vacation. Best of all, the San Antonio Marriott Rivercenter is affordable, offering frequent packages and deals. This makes a visit to San Antonio with kids one that won't break the bank.
Rooms & Amenities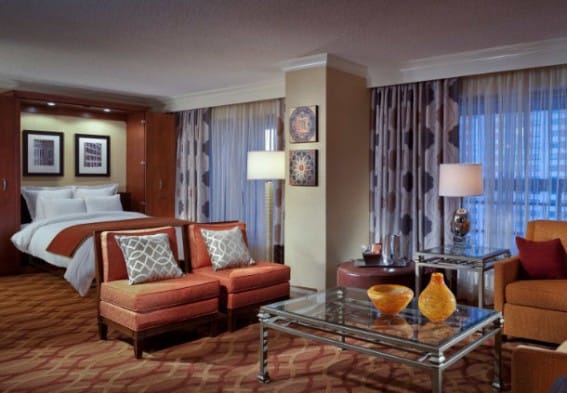 This family-friendly hotel feels more intimate and inviting than its size suggests. All the rooms are fresh, with a warm palette of neutral tones and rich, cherry wood accents. The furniture is traditional and modern at the same time. Room sizes vary so larger families can get suites or connecting rooms. A small number of suites feature larger spaces with sitting areas and multiple rooms. Certain rooms feature balconies, which make for great sunset watching, making for a special nighttime activity.
As a bonus to eco-loving parents, the Marriott has a big interest in sustainability. The room's concierge is available to answer questions about the area, so it's easier to decide what to do and where to go.
Dining in San Antonio with Kids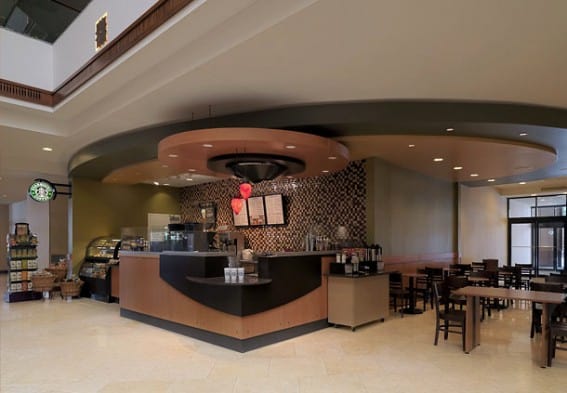 If you and the kids are too tired to leave the hotel, there are several family-friendly hotel dining options on the property. Sazo's offers Southwestern fare. Cactus Flower Restaurant is located across the street at San Antonio Marriott Rivercenter. There they serve traditional Southwestern fare, complete with Mexican selections typical of Texas. The restaurant has a fun and festive atmosphere to boot.
There is also a Starbucks in the lobby for morning croissants for the kids and coffee for the adults. Or there is also 24-hour room-service.
If you do venture out, you have an endless number of restaurants to choose from. Some of our recent favorites include Ácenar, a modern take on Texas regional Mexican dishes. Their professional team is led by Executive Chef Richard Sánchez and their tortilla chips are perfection. Pickier eaters can munch on egg dishes. La Panadería, a local Mexican bakery, is known for its variety of artisan breads and pastries made-from-scratch tortas, soups and salads. Be sure to try the chocolate bread. The Granary is a restaurant and brewery that celebrates barbecue, located in the Pearl District.
For Kids Only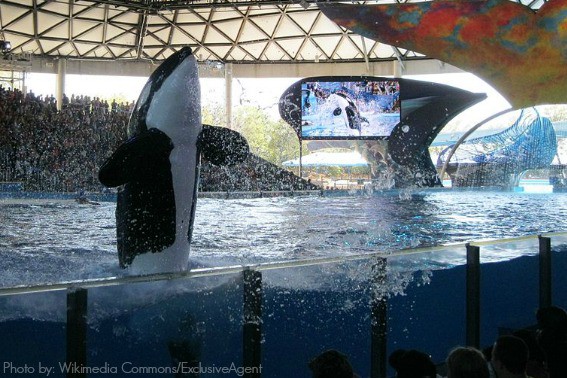 This family-friendly hotel offers cribs and high chairs for kids who need them. In addition, both Sazo's and Cactus Flower Restaurant have kid's menus. San Antonio Marriott Rivercenter is also nearby to many kid's attractions that kids love such as SeaWorld San Antonio, Six Flags Fiesta Texas, and Rivercenter Mall. Kids will love visiting mammals and reptiles at the San Antonio Zoo, just minutes from the hotel. If kids deserve treats at the end of a long day of sightseeing, right across the way on the Riverwalk is the Ghirardelli Ice Cream & Chocolate Shop.
For Families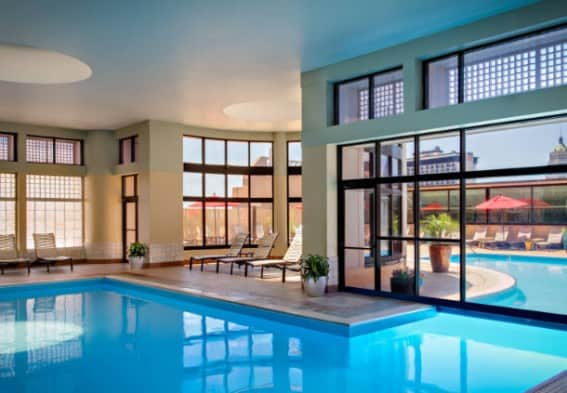 Families love taking a break in the hotel's indoor/outdoor swimming pool.
Or just outside the hotel on the Riverwalk, families can enjoy a 45-minute historic River Cruise along the Riverwalk for $7 per person. In addition, the Alamo, one of the city's most prized landmarks, is within walking distance of the hotel. Nearby you'll also find a variety of tours, from hop-on buses to trolleys.
Things We Love at San Antonio Marriott Rivercenter
Spacious, comfortable rooms.
Balconies that overlook the river.
Family-friendly hotel with indoor/outdoor pool.
Starbucks in the lobby for easy, quick snacks.
Marriott treats kids ages 4-12 to breakfast, lunch, and dinner from the children's menu.
There's so much to see and do in San Antonio. Take a look at Trekaroo's Top Things To Do in San Antonio with Kids. San Antonio is also rich with history and culture. See its Best and Major Attractions for Families.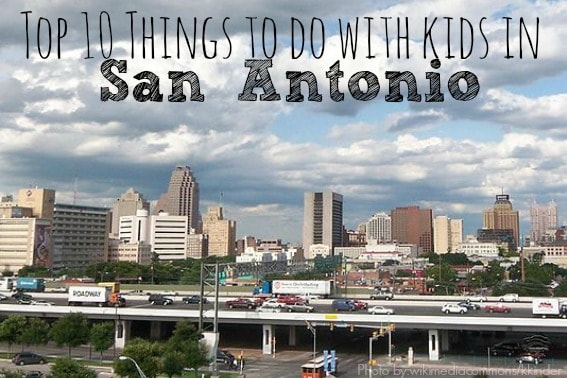 Insider Tips for San Antonio with Kids
The lines for the River Cruise get long as the day progresses, so line up early for your ride on the Riverwalk.
Mornings are ideal for walks on the Riverwalk as they are less crowded.
Summertime is very hot in Texas. Stay hydrated! Fall/winter bring a large number of festivals and events including Mariachi Vargas Extravaganza, a celebratory week of mariachi music.
All photos by San Antonio Marriott Rivercenter unless otherwise noted.
Featured photo by: Shutterstock