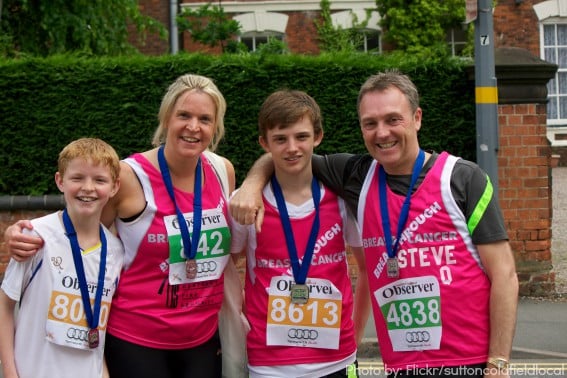 There's nothing quite like running with kids. Parents get a front row seat as their children realize how powerful their bodies can be while watching exhilaration and pride spread out on their faces as they cross the finish line. It's kind of like the joy that spreads across Phoebe's face in Friends when she runs without abandon through Central Park. With the expansion of marathons at amusement parks, themed fun runs, and 5ks at zoos and aquariums, running is becoming more appealing and accessible than ever for families.
What Makes a Great Family-Friendly Run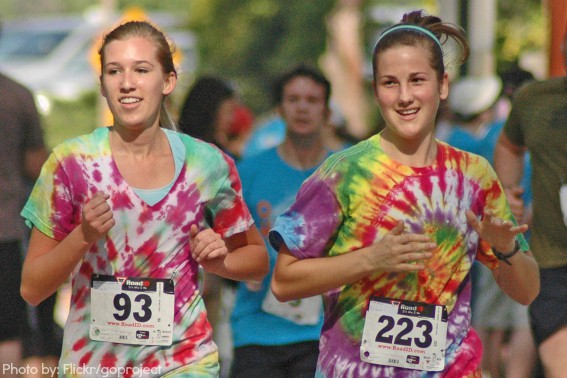 The best races accommodate the whole family. Bring the baby along for the ride; many races allow strollers on the course. Check the race's FAQs, as this information is usually hidden among other tips. Toddlers and preschoolers love kids' dashes. (Look especially for dashes where the distance is very short for the youngest participants and increases with the age of the child.) The elementary age crowd thrives when able to run their own race. Look for runs with shorter distances (many races have ½ or 1 mile options for kids), kids' specific divisions, or no official timing. Search out hip themes to draw out the tween/teen set. It's amazing how quickly they will participate if they can dress up in an outrageous costume. Now, where to find these mythical events that appeal to the entire family?
Types of Family Fun Runs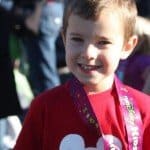 Amusement Parks: runDisney has become the pinnacle of the family run experience. Mom or dad can run a marathon, watch their teen (dressed up as Iron Man, of course) finish a strong 5k, and catch the 5 month old in the diaper-dash, all while experiencing a destination vacation!
No worries if your family prefers Minions to Mickey, Universal also plays host to runs for families. During LEGOLAND's Marathon Mile, you may just find the kids singing "Everything is Awesome" as they run through the theme park. Six Flags started offering fun runs, obstacle runs, and zombie runs at its various locations while SeaWorld San Diego offers the Pole to Pole run each year.
*Check out these runDisney tips and information.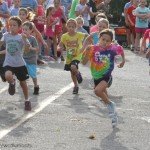 Aquariums/Zoos: Aquariums and zoos have long combined running with conservation efforts. The majority of these races are charity fundraisers for the sponsoring zoo. In fact, Trekaroo's 2nd most popular zoo in the USA, Henry Doorly Zoo, is celebrating its 34th year of the Zoo Run in September. From the New York's Bronx Zoo to Seattle's Woodland Park Zoo, runners jog alongside the animal habitats while raising awareness. Many aquariums and zoos also offer FREE admission as part of the run's registration package, which combined is usually less than a regular admission ticket.
Aquariums and Zoos with Runs Across the Country in California, Northwest, Mountain Region, Midwest, Southern States, Texas, Northeast, and Florida.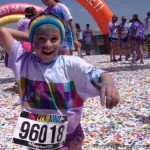 Themed Runs: In the past few years, the themed run has become king. For a truly awesome 5k family experience, check out The Color Run. There is a reason that its tagline is "The Happiest 5K on the Planet" and held at over 170 locations worldwide; with color doused on you at every kilometer, it's a fun, "color-ful" time. If a splash of color doesn't sound exciting, don't worry, there are runs built around costumes, superheroes, the 80s, hot chocolate, and the glow stick, just to name a few. There are runs that finish in water or mud or bubbles. There's even a zombie-run for all of those Walking Dead fans. There is definitely a theme for every family!
*Read more about my experience at The Color Run.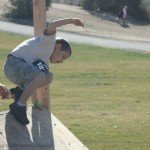 Obstacle-Courses: Want to test the family with a boot camp style obstacle course? With military-like training plans, obstacle course racing is a great way for beginners and the physically fit to test themselves. Head to a Spartan Race where even the spectators can participate in a pull-up competition and try out the bouldering wall. With a ½ mile and mile course for kids, Spartan Races allow for the entire family to get involved and experience a day meeting and mastering obstacles.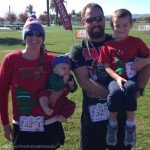 Holiday Runs: Santa's coming to town and who wouldn't want to celebrate Jolly Ole St. Nick while running a 5k in an ugly sweater? That's exactly what happens at the increasingly popular Ugly Sweater Run! Held throughout the United States, it's the perfect place to burn some calories, have some laughs, and be the tackiest version of your family. Lest you think that only Christmas gets running attention, have no fear, family fun runs can be found every New Year's, 4th of July, Halloween, and Thanksgiving. There's no doubt that wherever your holiday travels take you, there will be a run nearby.
Family Fun Run Gear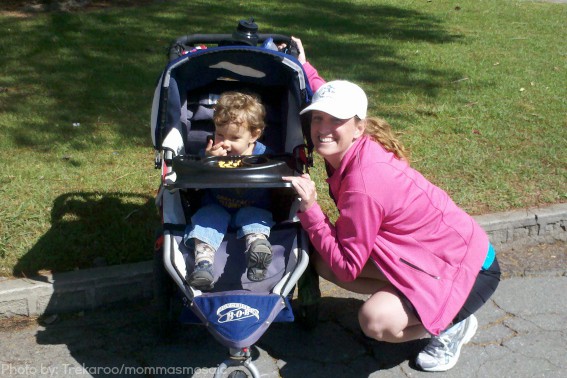 Luckily, running is a sport that requires minimal gear. Just lace up those shoes, grab some water, and head out the door. The only kink in this statement is the 0-5 crowd, who may not be able to keep up with mom or dad's planned jog. Trekaroo has reviews on a host of jogging strollers that will help you find the perfect fit to keep the family jogging and the little one happy.
Check out our favorite stroller reviews:
Baby Jogger City Elite 2012 BOB Revolution Eddie Bauer Trail Hiker Joovy Cocoon Joovy POD  Tike Tech All-Terrain X3 Sport
For those who need a double: Britax B Agile Double Stroller  BOB Revolution Duallie Thule Chariot Cougar 2
How to Make a Solo Run Into a Family Travel Experience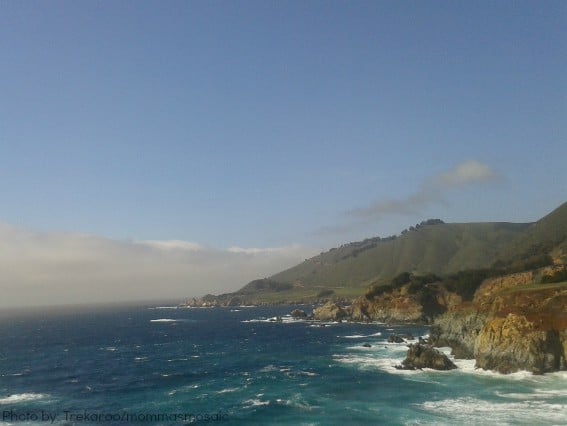 But, I don't want to run with my kids! Don't worry, there is still a way to travel with the family and run an amazing solo race. What better way to see a destination than exploring it on foot? One of my favorite ways to travel is to pick a destination high on my "must-see" list, find out when a race is being held in the area, and plan my travel "coincidentally" for that time. I've been able to run with unobstructed views of Northern California's Monterey Bay listening only to the crashing waves while my family enjoyed family-friendly Monterey. While I was huffing it through the historic sites of the Rock and Roll San Diego Marathon, my family was enjoying SeaWorld, which was conveniently located at the finish line. A perfect day for all involved!
Whether running alongside the kids, watching them run on their own, or bringing them to a destination where everyone can have fun while mom or dad runs, you'll be glad that you incorporated running in your travels.
*Disclosure: I received complimentary registrations for some of the runs mentioned in order to write about them here and on Trekaroo. But, as always, my opinions are my own.