Sponsored by Westgate Resorts: Founded in 1982 by David A. Siegel, Westgate Resorts is one of the largest resort developers in the United States. Westgate features 27 themed destination resorts with over 10,500 luxury villas in premier locations throughout the United States, such as Orlando, Florida; Park City, Utah; Las Vegas, Nevada; Gatlinburg, Tennessee; Myrtle Beach, South Carolina; Williamsburg, Virginia; Miami, Florida; Branson, Missouri; Mesa, Arizona; and Tunica, Mississippi. For more information, visit westgatedestinations.com.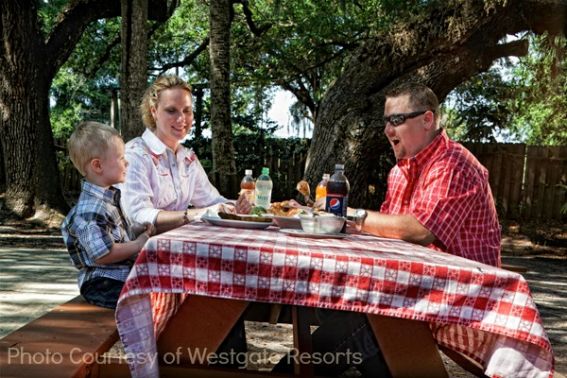 Road trips offer families a wide variety of experiences. It's exciting to load up the car, fill up the tank, and hit the open road. To help you successfully navigate your family's road trip—and keep your sanity intact—Trekaroo has compiled a list of expert advice from parents and professional travel bloggers from across the country. Below you'll find tips for packing, entertaining the wee ones, pit stops, family-friendly technology, and last but not least, wise words from mom.
Strategic seating—we separate the two most prone to fight and find that our drive is much more peaceful." Ann Anderson, Trekaroo's Utah Guroo

I have a toddler prone to car sickness and we found that checking traffic patterns to avoid stop and go situations helped a ton. (He is sick more in traffic than if we are cruising). " Heather Erquiaga, Trekaroo's Assistant Blog Editor
Tips for Packing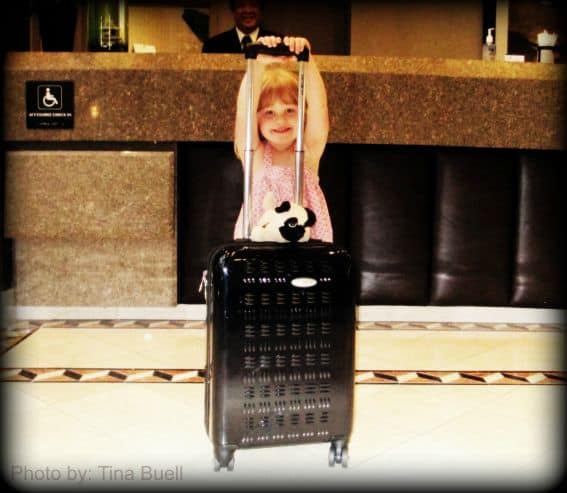 Two words: wet wipes.  Never leave home without them. Even if your children are out of diapers, baby wipes within arm's reach can work miracles on sticky hands, spilled drinks, and tracked mud in the car. Speaking of wipes, it's a good idea to bring a travel potty for children who are potty training.
Coolers with packed lunches and cold drinks are huge money savers. Place a larger cooler in the trunk and keep a smaller one up front for easy access. When you pull over for lunch, find a park with a playground or break out the Frisbees and baseball mitts. After a few hours in the car, children need to get out and let off some steam.
Car sickness happens to the best of us. It's always a good idea to keep plastic bags or Ziploc bags in the car for motion sickness. Don't forget the hand sanitizer.
My son sometimes gets carsick on rides through the mountains. I pack a change of clothes for him in a gallon size Ziploc bag. If he starts to show signs of getting sick, I quickly dump the clothes in my lap, hand him the bag, and can reseal the bag when he's done. If he misses the bag a little, I have a fresh change of clothes for him." Lauren Beckwith, Hanover, Maryland

When we travel, I put my daughter's entire outfit, right down to jewelry and hair accessories, into large ziplock baggies. This way it's easy for her to just grab a baggie and get completely dressed. Such a time saver in the mornings when we are rushing to the parks!" Karyn Locke, East Liverpool, Ohio
Read Trekaroo's List of 5 Things to Always Keep in your Car for Road Trips
Entertainment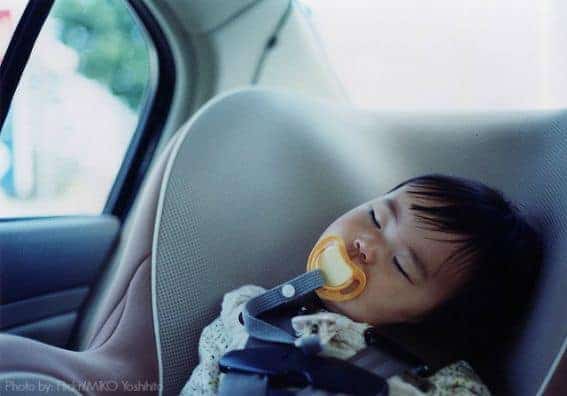 Quotes from Parents…
We let the kids pack a Trunki for their toys.  If an item doesn't fit, they can't bring it so it cuts down on the clutter of toys and games strewn about in the car." Katie Bodell, Trekaroo Blog Editor

I made my kids travel journals out of three-ring binders to bring on long trips. I filled it with blank paper, a pencil pouch full of colorful pens and pencils, and pouches for keeping small keepsakes, postcards, and brochures along the way. I also printed out a map and enclosed it in the back cover, so they could see where we were going. Alysia George, MichiGal

Listen to age appropriate audio books based on what your destination is, i.e., Black Beauty before a dude ranch." Michelle McCoy, Trekaroo's SoCal Guroo

I invite a friend with a child to join us on our vacation so my only child has someone to play with." Tina Buell, Northern California Guroo

Hold off on showing DVDs in the car for as long as possible. Plug them in immediately and the kids almost lose the ability to enjoy the ride as soon as the movie is over. Plus, they expect another movie very shortly thereafter. We set the expectation that no movies will be shown (even though we bring all the necessary equipment). Keep that movie in your back pocket for as long as possible and use it to finish off the last 90 minute of a really long trip." Tom Buffalo, Sacramento, California


When all else fails, don't be afraid to go digital. Although some may frown at handing their child an iPad or Kindle Fire, it has saved our sanity more than once. We load up our tablets with educational games that will keep our child's mind busy, but also have a few fun movies in there that can give him the downtime we may all need on a long trip." Keryn Means, Walking on Travels

My 4 year old daughter is absolutely mesmerized by her ArtSee Studio. I love the look on her face when she accomplishes things like connect the dots or creates a picture. My 23-month-old loves it as well!" Laura Emerson, Biloxi, Mississippi
Have you heard? Melissa & Doug Travel Toys take the Bordom Out of Road Trips
Pit Stops and Lodging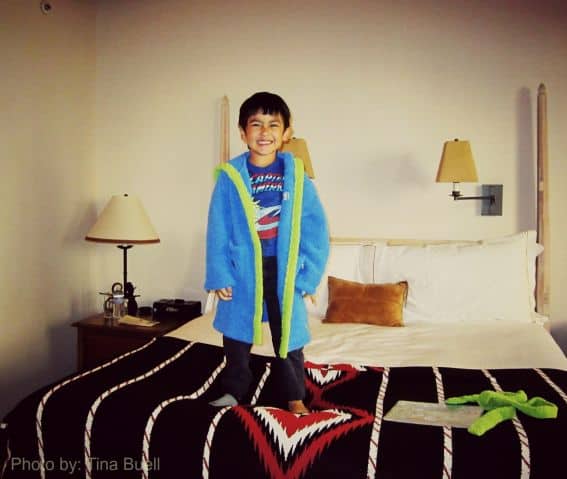 Trekaroo is the ultimate source for reviews on kid-friendly hotels. Before choosing a hotel, find it on Trekaroo and read what other parents have to say about it. We'll let you know if the hotel lacks an elevator, if the room comes equipped with a DVD player, or if the bathroom is shower only. No one understands the needs of parents better than other parents. In our experience, hotels with free breakfast, pools, free Wi-Fi, complimentary parking, and kitchenettes go a long way. It's hard to go wrong with family-oriented brands like Embassy Suites and Residence Inn.
Quotes from Parents and Family Travel Bloggers…
If we are staying in multiple hotels, we designate specific suitcases for each hotel. That way, we do not have to take as much out of the car at each stop." Melissa Schwartz, Two Moms, a Little Time, and a Keyboard
With a little bit of planning, pit stops can be just as memorable as the main points on your itinerary. When you're traveling with children, try to stop at least every two hours (unless they're asleep, in which case, keep driving if you can). For our Sweden road trip last summer from Stockholm to Skane, we stopped for lunch at a charming resort town on a stunning lake and then later at a moose park. What was potentially a long, boring 6-hour drive turned into a fun, memorable day!" Liz Borod Wright, Travelogged

If you make the same long road trip multiple times, stop at different points each time and let the kids explore the area with your supervision. It breaks up the drive, gives your kids a chance to stretch their legs, and gives them a different experience every time." Josh Calvert, Rancho Santa Margarita, California

Before planning the route, we c

hoose one or more road trip themes that reflect our current interests

. One year we cruised the fossil highway in search of U-dig sites and paleontological adventures. On another, we went in search of storybook settings and unusual landmarks. My kids and I can go a long way between pit stops, but when we do brake, it's for an experience that fulfills our insatiable curiosity."

Sandra Foyt, Albany Kid
Make your pit stops more memorable with a quick visit to a quirky roadside attraction, like the world's largest shoe house, or the world's largest light bulb. Our go-to resource is RoadsideAmerica.com, where we find state road maps which pin point attractions along our route. We've downloaded the app to our GPS, and it goes "ding" whenever we drive close to one!" Traci LaRosa Suppa, Go BIG or Go Home
Trekaroo iPhone App
So you're out and about and the kids need to stretch their legs, but your unfamiliar with the area—what do you do? You pull out your iPhone and fire up Trekaroo's free app! It's the next best thing to having one of our writer's in the car with you.
Read about Trekaroo's New iPhone App of Kid-friendly Spots
With that dear friends we wish you many magical road trip adventures and leave you with this last piece of advice, "For the most part, the road trip can BE the journey. It does not need to be a means to an end!" Michelle Brennan, Trekaroo's New England Guroo
Check out these fabulous road trip tips & inspiration: