There are few hotels that cater to families as seamlessly at the Ritz Carlton. The attention to detail and customer service certainly set it apart as a Tahoe destination. Beyond the friendliness and pleasantries which I expect from any world class hotel, the Ritz Carlton, Lake Tahoe provides guests with a myriad personal touches.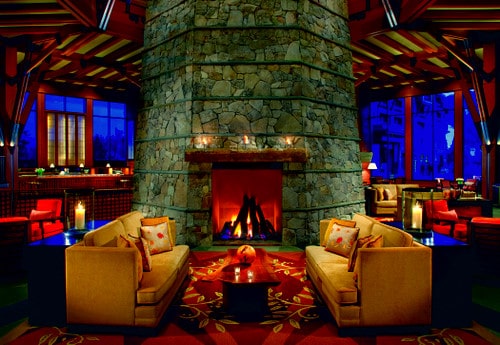 CONTEMPORARY MOUNTAIN DESIGN BRINGS THE OUTSIDE IN
The Ritz Carlton's LEED's certified resort is centered around a massive community living room with a 55 ft. tall stone fireplace that ascends over 2 levels.  Cozy, private sitting nooks encourage lingering, whether to catch up on email or sit with a good book while the children are off at stables or Northstar-at-Tahoe Kid's Adventure Club for the day.  The ceiling beams are hewn from local Douglas fir and alder, lending an airy and warm feel of a woodsy forest floor.  Local Sierra quartz, granite, and stones from Montana's Bitterroot Valley grace the floor.  Massive, floor to ceiling windows frame views of Martis Valley and Northstar.  It is an ideal third space; inviting and open, yet private at the same time.  Ideal for work, reading, or simply lingering with a glass of wine after a day of hiking, the resort has a feeling of "coming home".
ROOMS AND SUITES HAVE FLEXIBLE SPACE FOR FAMILIES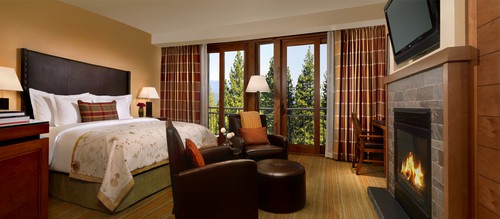 A full wall of windows brings the outside in, affording a view of either Northstar Resort or Martis Valley.  My daughter's favorite aspect of our 4th floor king room was the view over the pools and surrounding mountains. Families will love little touches of luxury in every guest room such as gas fireplaces, 37 inch LCD HD televisions, palatial soaking tubs and deep, comfortable beds that are made for lingering with 400 thread count linens and thick duvets.
RENOWNED CHEF TRACI DES JARDINS BRINGS HER TALENT TO TAHOE
At the Ritz Carlton's signature restaurant, Manzanita, chef Traci Des Jardins creates a Tahoe masterpiece.  Classic dishes are given a new twist, such as the delicious amuse bouche we were served at lunch: Ahi tuna salad bites with red onions and capers, which my daughter gobbled up.  Even better in her eyes was the platter of specially designed cupcakes that the chef presented to our table as a parting treat.  The hosts and chefs at Manzanita gave my daughter lots of special attention, such as making her breakfast pancakes into the shape of a flower, and supplying her with plenty of art supplies to keep her busy.
POOLS FOR ALL
The 3.5 ft deep main pool is heated to a welcoming 85 degrees year round- toasty warm on even the coldest days.  The main pool is flanked by a 9 person hot tub, with a larger 18 person tub a few steps down in its own private oasis.  There is also a separate 18 inch wading pool just steps away, in which my daughter spent a happy hour playing while I sat on a comfy lounge chair, reading in the sunshine under a cobalt blue June sky.
PEDICURES AMONG THE PINES
The Salon at the Ritz Carlton is one of the most thoughtfully designed parlors I've experienced.  Normally a hotel's afterthought, the Salon at the Ritz Carlton was built to take full advantage of the sunlight and has floor to ceiling windows overlooking pine trees.  The pedicure couches have alpine views, and the serene atmosphere radiates tranquility.  I relaxed with a cup of chamomile tea while Gaby had a manicure of her design – purple polish with polka-dot heart appliqués.
OUTDOOR SUMMER ADVENTURES KEEP KIDS BUSY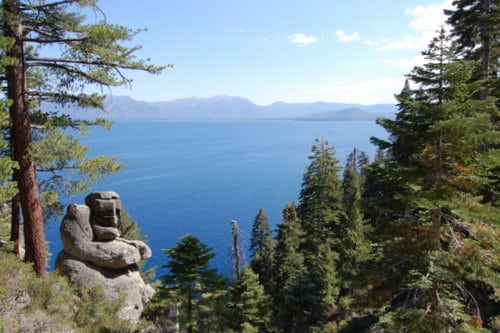 In addition to the plethora of Lake Tahoe water activities, guests will find plenty to do without leaving the resort.  If you do feel like venturing further afield, I recommend hiking the Rubicon Trail at D.L. Bliss State Park, on Tahoe's west shore.  This hike overlooks the most dramatic shoreline, with views of plunging cliffs and sparkling water.   Free guided hikes are excellent for families, and a great way to learn about local plants and wildlife.  If you have babies or toddlers, just bring an Ergo or other soft carrier, and join a Northstar-at-Tahoe guide on a free, easy to moderate 1.5 hour hike.
If you have a child with a love for horses, than I encourage you to consider Pony Camp at Northstar-at-Tahoe, which is designed for children aged 5 to 9.  At this drop off camp instructors teach children to tack and untack their ponies, as well as grooming, feeding, and how to muck the stables.  Children also participate in short rides, nature hikes, and arts and crafts projects.  Children aged 10 and older can participate in private guided horseback rides, individually tailored to suit each child's abilities. If your kids aren't equine enthusiasts, Kid's Adventure Club provides a full day of outdoor exploration and includes lunch at the mid-mountain restaurant, Chilly Peppers.
The Summer Series of Stargazing tours at Northstar-at-Tahoe are another fun and unique experience for kids old enough to stay awake until 10 or so. Participants join a local poet for an evening of learning and fun, including a laser tour of the sky, star quiz with prizes, and a chance to look through Northstar's telescopes.
Disclosure: I received complimentary lodging, salon treatments, and meals as guests of the Ritz Carlton. The Ritz Carlton did not request that I express any particular opinions of anything I experienced and all of my reviews and blog posts always reflect my honest opinion.
Nikki Stoddart (aka familyvonwang) is the Northern California Destination Guroo for Trekaroo.