(Last Updated On: February 16, 2018)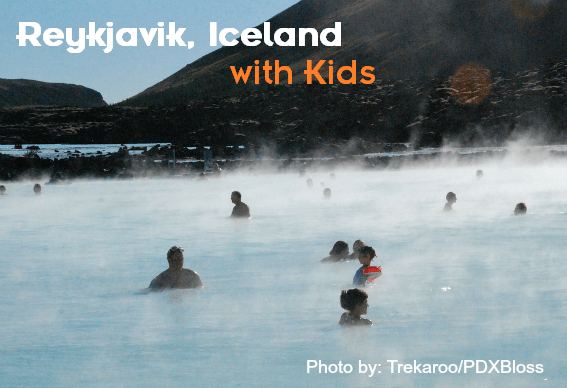 Sarah McCully is a Superoo who lives in the Pacific-Northwest with her husband, 5-year-old daredevil, dog, fish, and chickens. When she isn't keeping up with her boys or animals, Sarah is exploring Oregon and Washington, and writing her camping with kids' blog, Have Kid-Will Teardrop.
Originally, we didn't have plans to visit Iceland last summer. However, our trip to England offered us a layover in Reykjavík that we decided to take advantage of. When were we ever going to get back to Iceland? We had a few short days to focus on seeing the Reykjavík area. Here are five of our favorite activities.
Tip: Pack lots of layers. It gets really chilly there and also make sure to take your waterproofs. Check out this Iceland packing list for ideas of what else you may need. 
Hallgrímskirkja
We decided our first day in Reykjavík would be a city exploration day. One of the highlights was our visit to Hallgrímskirkja. The church is named after Hallgrímur, who was a famous Icelandic poet and clergyman. While this is one of the newer churches I have visited in Europe, it was certainly one of the most unique. Finished in 1986, it is pretty stark in color, but very light and modern. You will be awed by the high ceilings and the beautiful organ. Our son is very drawn to music, and we lucked out being there while the organist was playing.
The church is the highest point in the city and gives some amazing views of the mountains, the ocean, and the city, which is much more colorful from the air. Take the elevator 200 feet up for a small fee and enjoy the panoramic views. There are three bells housed in the tower, which represent Hallgrímur, his wife, and their daughter, who died at a very young age. They ring every 15 minutes, so be ready if you are in the tower!
Left: Hallgrímskirkja, the highest point in Reykjavik. Middle: Organist and the organ in the church. Right: Leif Eriksson, the first European to land in North America.

In front of the church is a statue of Leif Eríkson given to the people of Iceland from the people of America, recognizing "Leif the Lucky" as the first European to land in North America. It was a gift for Iceland's 1000th Parliamentary Anniversary in 1930.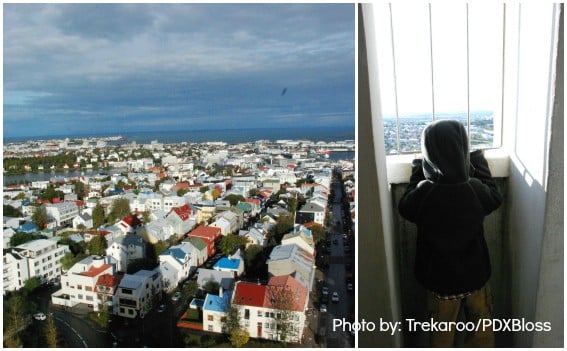 Left: View of Reykjavik from the top of the church. Right: Looking out from the top.
The Golden Circle Sites
The Golden Circle is a route you can take through some of the most amazing and historic parts of Iceland, and it is very near Reykjavík.  There are three big sites that are encompassed in the Golden Circle: Þingvellir National Park, Gullfoss, and Geysir. We opted to rent a car and take the tour on our own time. It turned out to be our favorite day in Iceland!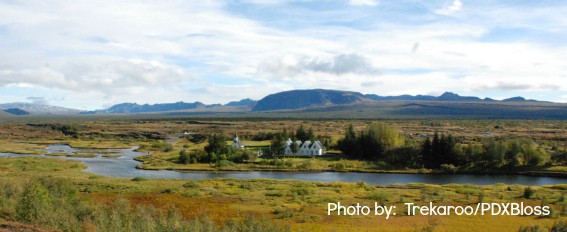 Looking out over Þingvellir National Park


We started at Þingvellir National Park, where the first Icelandic Parliament met around 930 AD and continued to until 1798. This is a pretty special place that has been protected and held in very high regard by all Icelanders. Its history is not the only draw, but the incredible landscape, hiking, and waterfalls lure people to the area. We spent a couple of hours touring the information center and exploring the park.  We also learned about the continental drift between one of the North American Plates and the Eurasian Plate, which travels through the park and it is quite visible.  The plate movement is actually causing Iceland to get bigger. The park is a must-see, even if it is to use one of the fanciest restrooms we have ever seen complete with pretty incredible views!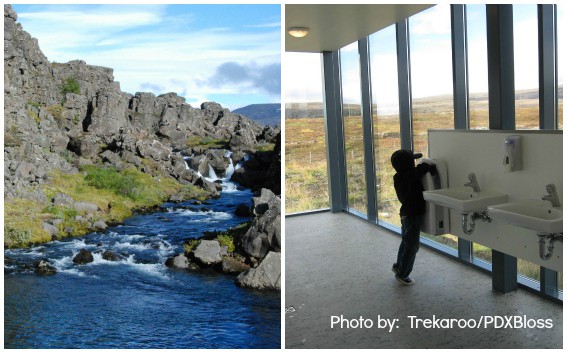 Right: One of the rivers in the park which falls along the Continental Divide. Left: Restroom with a view!

Being from the Northwest and growing up with waterfalls, I have pretty high expectations when someone says they have seen a really big waterfall. Gullfloss is amazing, powerful and breathtaking. Pictures never do it justice. This is why everyone who visits Iceland also visits Gullfoss (the Golden Falls).

The falls fed by the Lángjökull Glacier and the Hvítá (White) River, tumble down 96ft in two drops to continue flowing down an amazing canyon. As you pull up, you will only see spray in the air, not the waterfall. You have to get out and take a short walk to the view point. Hike a little further and you will be right down on the ledge of the falls and feel like they are surrounding you. Watch your footing and your children, as the rocks can be slick and the one wire keeping people from going over the edge offers little protection.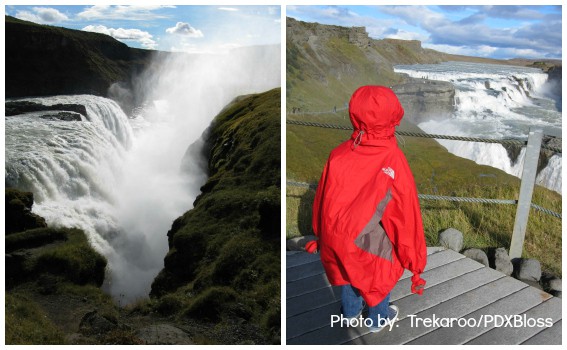 There is a lot of geyser activity in the Haukadalur Valley, which is also home to Gullfoss. We stopped in to watch the geysers, namely Strokkur.  It erupts every 4-8 minutes and is said to generally go 45-60 feet high, but has the potential to reach 120 feet.  Make sure you stand upwind, as the water spray can be hot. It is exciting to watch, especially if you have never seen anything like it before.  Hike up the hill for a different perspective.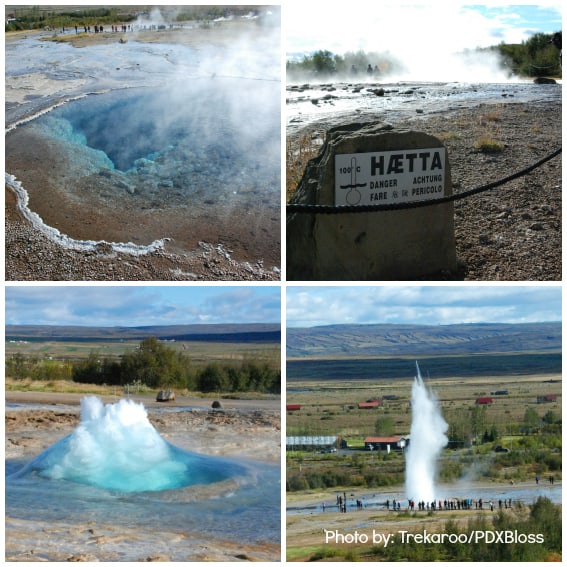 Geysir, the most famous geyser in the geothermal area, has stopped erupting due to earthquakes (it might go off every couple of years), so Strokkur is much more exciting.  In the geothermal area you can also see mud pools, fumaroles, and algal deposits. Keep hold of your kids as the water is boiling hot.
The Blue Lagoon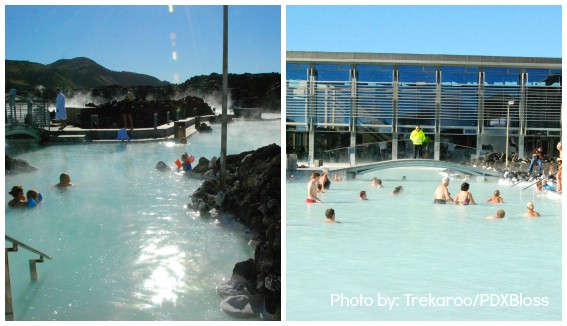 Bathing is a big part of the Icelandic culture. There are public baths in every town, but the Blue Lagoon is different than the others. The Blue Lagoon (Bláa lónið) is one of the most popular tourist attractions in Iceland, where you get to swim in the byproduct of the geothermal energy plant. This is like the ultimate hot tub.  It is massive, and there are lots of things kids will find fun.  There is a cave area to hang out in, silica mud to rub all over you, bridges to swim under and waterfalls to stand under. Children are required to wear water wings, which is a good thing, because you cannot see even a half inch down into the water. They have them for you to borrow at the entrance to the lagoon.
Most Americans might be surprised by the strict hygienic rules before entering any swimming or bathing pool in Iceland.  You must shower completely naked and wash your whole body with soap before putting on your swim suit and entering the pools. The advantage is that they don't have to use as much (or any) chlorine, which is really nice.
Bæjarins Beztu Pylsur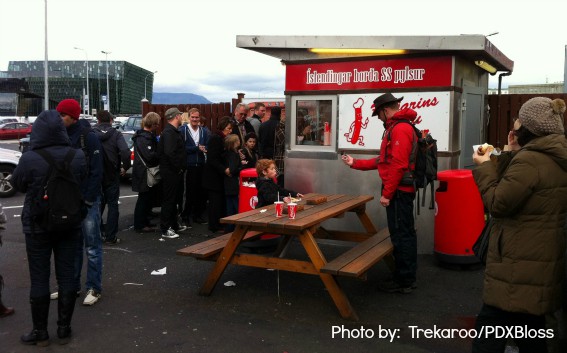 When we read in our Icelandic travel book that Bæjarins Beztu hotdog stand was one of the most popular restaurants in Reykjavík and had been touted as the best hot dogs in Europe, our curiosity was peaked! Admittedly, we are not hog dog aficionados, but by all accounts the hot dogs were very good. Good enough that Bill Clinton stopped for a snack a few years ago, Anthony Bourdain featured the stand in his first episode of his hit show No Reservations, and my kid ate the whole thing, bun and all (which is unlike him).  Having opened in 1937, the stand has stood the test of time, and you will definitely be standing in line waiting to order. Each hotdog will cost 320 kronas (about $2.65) and according to their website the condiments include ketchup, sweet mustard, fried onion, raw onion and remolaði, a mayonnaise-based sauce with sweet relish. We had them hold a few things for us, but it is a definite must-stop when visiting the city!
Reykjavík Zoo and Family Park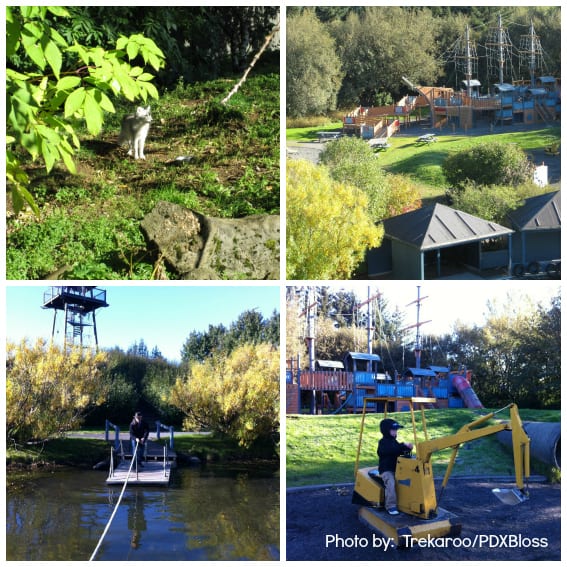 The day we flew out, we decided to check out the Reykjavík Zoo, which isn't like most US zoos with lots of exotic animals. What it does offer is a look at animals that all Icelanders are familiar with. You will see horses, reindeer, sheep, pigs, cows, mink, chickens, seals, and foxes. There is an aquarium that we bypassed as school classes were visiting that section. The zoo was ok, but the Family Park is where the real fun is.
Being there in September meant it was empty and most rides were closed, but it has to be a favorite place for families in the summer. We weren't able to drive cars through courses or use the paddle boats on the pond. We found plenty to do though between playing on giant Viking ships, teeter-totters unlike anything we have, ferries you get to man, a look-out tower to climb, and zip-lines to zoom down. Our son's favorite thing had to be the electronic backhoes where the kids use levers to work the scoop. We all wished we had more time to play.
Travel with kids to: CA |CO | DC| FL | HI | IL |MA | NC | NJ | NY | OR| PA| TN | TX | UT | VA | WA
Comments
comments