Last Updated on
Trekaroo generates revenue from purchases made through links to our partner brands.
We're a winter family. You really don't have a choice but to embrace winter when it lingers for sometimes six months a year! Getting our toddler son interested in our sport wasn't too challenging, but having the right gear was definitely a plus! There are only a few cross country skis on the market for toddlers—bigger kids have a selection of brands, colors, and options, but for the real little learners, you can't beat the L.L. Bean Snowflake Cross Country Skis!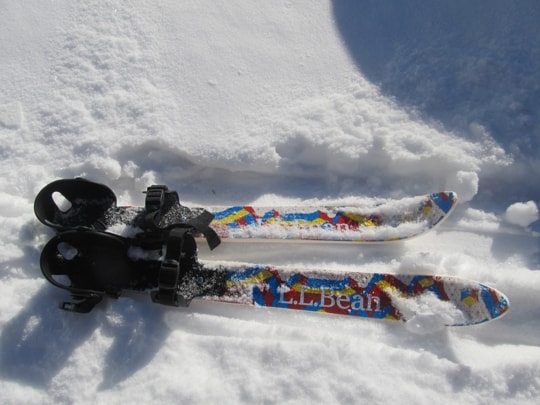 Universal Bindings
Huge plus right here—these easy universal, adjustable bindings fit a wide range of kiddo feet—even a size 9 toddler boot! The specification say you can go as small as a size 7 boot, but to me that would be pushing it, since even in this little size 9 we thought it was small within the bindings. We need to dig out a pair of his smaller boots from last winter just to fit them inside the bindings—I have a feeling we'll be surprised! I would think they could fit but may slip out easier. They would however fit a rather large foot as well, up to an 11 according to the specs listed for them, the only real limiting factor would be weight. The rating for weight though is quite liberal; recommendation for this ski is 65 pounds, which will take your child well into the "next level" of kid's sized skis so they are very versatile in the kiddos they will carry! They are 85 cm long, perfect for those small in stature but big at heart!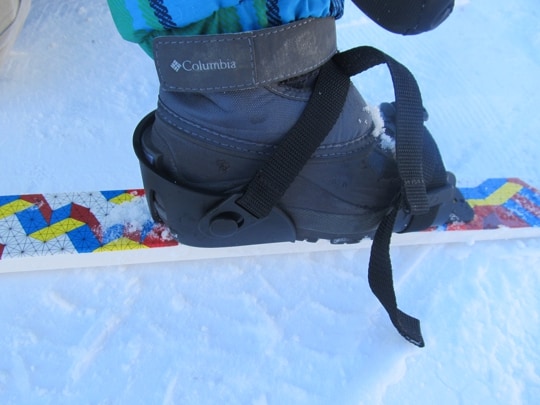 Poles
The toddler-sized poles associated with these skis are awesome for little hands. Though it took our son a while to get used to the feel of having something in his hand (and having to remember to hold onto them) he soon learned that it helps him keep his balance. They also come in handy for snowshoeing, which is another winter favorite in our family, so we use them a lot. They come in several different sizes; so again, they accommodate a wide range of ages and kid sizes. For our nearly three year-old, we went with 70 cm poles and they were perfect—he's a little over three feet tall.
Super Slick Features:
The skis retail for about $69, so since they span so many seasons, they are a real bargain! This is great starter gear to get your kids hooked on snowy family fun! The poles are about $20 for a set, and you may need to 'upgrade' as time goes by to taller poles, but they are still a great deal.
The No Wax bottom on the skis makes for easy snow adventures, since there is no fussing with wax and no worry of constant falling or lack of control. They offer great grip even in slippery plowed parking lots, which is where we ended up learning at first—it was like a giant groomed trail! We also had no problem trail breaking and in-track skiing on the systems locally.
The skis are short and wider than your traditional cross country ski, which gives a good base for maximum stability, making the first ski expeditions, no matter how small, safe and fun. If the kiddos can stay standing they are much more likely to enjoy themselves, so the wide base is reassuring. It is also nice for areas that are not well-maintained, giving kiddos just a little more floatation too!
The skis are very light, especially when considering their width and the chunky bindings. This is essential so that little legs do not tire overly quick, since, we all know that that means mom or dad towing a child home or trying to manage a piggyback ride on skis—for me that would be disastrous! So, I prefer keeping the kiddo gear light.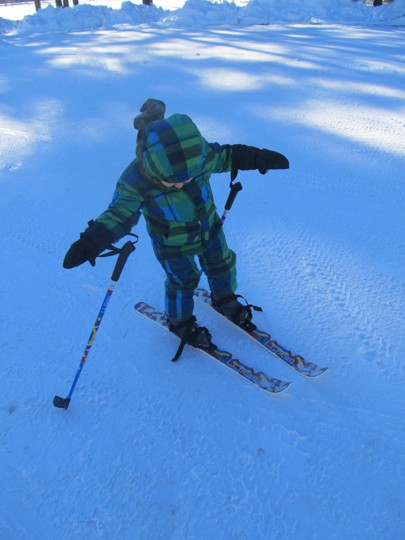 Not-so-slick:
Cool as these skis are, they're made in China. We love supporting US companies, so it would be great to see them made a little closer to home.
The bindings would be hard-pressed to cinch down to the tiny feet (like a size 7 toddler) for the new walkers, so eager parents may have to wait a season, depending on how the paws of their pups size up when the snow flies!
*Disclosure: We received complimentary product for the purposes of this review for our site and wanted to share the goodness here to. It in no way effects the awesome adventures we've had on the skis and therefore does not affect our honest opinion of them, as written here.*