Last Updated on
Trekaroo generates revenue from purchases made through links to our partner brands.
Our family has the incredible good fortune to live in a nature preserve right in the middle of one of the greatest cities in the country. We spend many hours during the week walking through the woods or on the groomed trail out to our favorite spot on Lake Mendota. Our double BOB stroller gets used almost daily, but with our preschool-age son preferring to explore and our nearly-one babe wanting to be carried in the Ergo on occasion, we were excited to be able to test out a single hiking stroller with our family. The Eddie Bauer Tail Hiker three-wheeled hiking stroller is sturdy and has some really nice features for the price point. It's attractive, fairly easy to use, and pushes decently over path or groomed trails. Add to its features the included infant seat, and you have a system that will last from birth to the preschool years.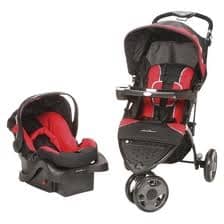 Pros:
— Incredibly easy to fold: I've owned an embarrassingly large number of strollers (including some high-end models like the Bumbleride Flyer and Maclaren Triumph) in my 3.5 years of parenting, and this is by far the easiest to fold and unfold. It is smooth, latches easily and securely, and even stands on its own when folded! While it does not fold super small, it is surprisingly compact and lightweight for a stroller of its kind. We live on the second floor in our apartment building, and carrying it up and down the stairs was a breeze.
— Safety features: I thought the five-point harness was well made and sturdy, and I like the matching covers. While it was a little difficult to clip and unclip, I think that had more to do with being brand-new and it seems like it will get less stiff with time. The brake is also easy to engage and solid, even on a hill.
— Slim: It has a much smaller footprint than most other jogging/hiking strollers I have used. This was especially useful when taking on the bus. The smaller footprint did make it a bit more difficult to steer, and it was impossible to navigate one-handed.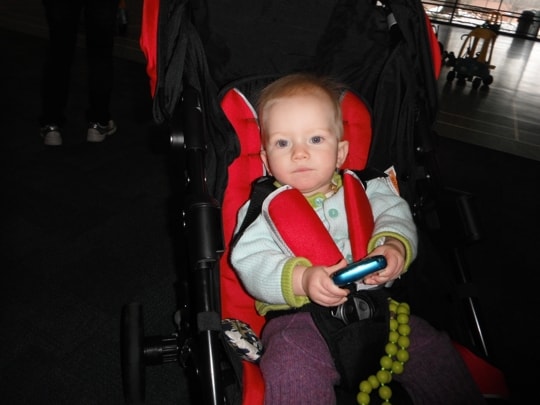 Cons:
— I thought the material felt a bit cheap, but maybe the roughness will make it easy to clean. This was especially pronounced for me in the infant seat, I like to have my newborn babies all snuggled up in softness.
— Assembly was a little wonky; the instructions did not match what we found in the box (it said to put a certain piece over another piece, but it had already been done and so it was a little confusing!) After we figured it out though, it was not that hard.
— The stroller won't work well for taller kids, especially when they fall asleep. My son is about 35 inches (he is a tiny guy) and he was a little tall for the stroller and did not seem very comfortable. His head extended well past the back of the seat, and when he fell asleep, there was only a hard side for him to rest his head. The capacity of the stroller is 50 lbs, but I'm not sure a child much above 30 lbs would be comfortable for a long ride.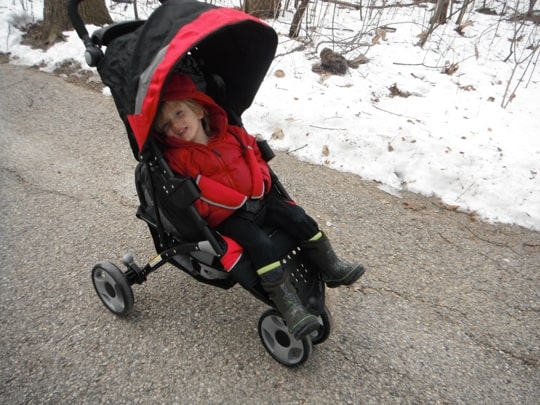 Overall, though it lacks suspension and thus is not the smoothest ride, for the price, I think it is a perfect solution for a travel system that will truly "travel". From the car (or bus) to the trails, this system is great for including baby right away in the family adventures (or when mama feels up to hiking!).
Disclosure: The reviewer received a complimentary Eddie Bauer Trail Hiker 3-wheeled Travel System in order to complete an unbiased review for Trekaroo. All opinions are her own.
"Note: This article contains affiliate amazon links."