A few months ago I wrote about why it's so important to travel back to places after they've experienced tragedy. I gave a call to action that we as travelers put our tourism dollars back into Las Vegas and Santa Rosa to help rebuild after a terrorist attack and horrendous fires, respectively, had struck the cities. I also knew I needed to put my own words into motion, so the last two months I have intentionally traveled back to these areas to see how they are regrouping and recouping as the tourist cities they are known to be.
Now, after visiting both cities, I ponder how to recap what I have seen. I have experienced raw emotion as people have told their stories of losing everything. The heaviness of passing through whole neighborhoods blackened by fire marks my memory indelibly. Looking down at the site a killer also stared at was greatly unnerving and rattled my sense of safety.
But beyond the unsettling experiences, I have seen HOPE. I have heard stories of help, witnessed rebirth. And in the rawness of it all, I have sensed a kinder community: communities that are more willing to be open to their fellow neighbor.
Read our blog article about Traveling After Tragedy.
Las Vegas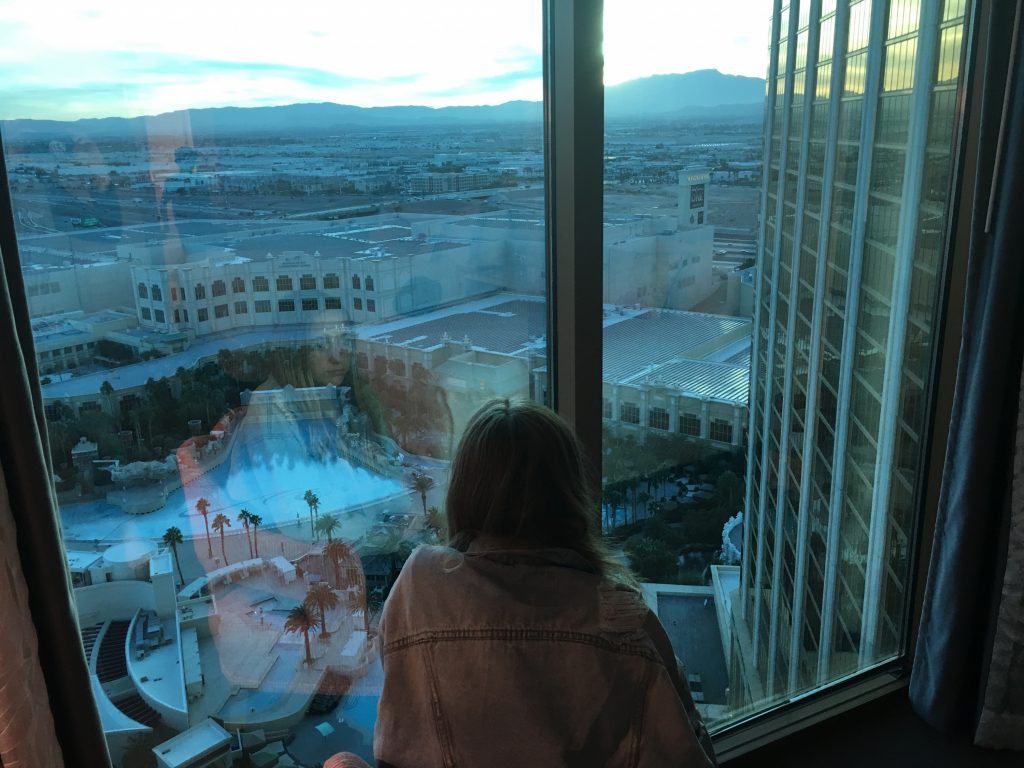 In December of 2017, my extended family met in Las Vegas to simultaneously bid my nephew in the Air Force a goodbye and celebrate my 10-year-old's birthday. It was a multi-generational event in a city that has ranged from "family friendly" to "What happens in Vegas stays in Vegas."
We stayed at Mandalay Bay overlooking the epic pool, but also in view of the vacant lot where the massacre from just a short few months before had taken place. Security was obviously increased in the hotel. Hotel guests were required to show their room keys to access the elevators. There were fewer people at the gaming tables and Christmas decor hung as a reminder that the cycle of life still continues on. Employees at Mandalay Bay were gracious and helpful as we made our way through the labyrinth that is the casino.
Look for current hotel deals in Las Vegas
Hoover Dam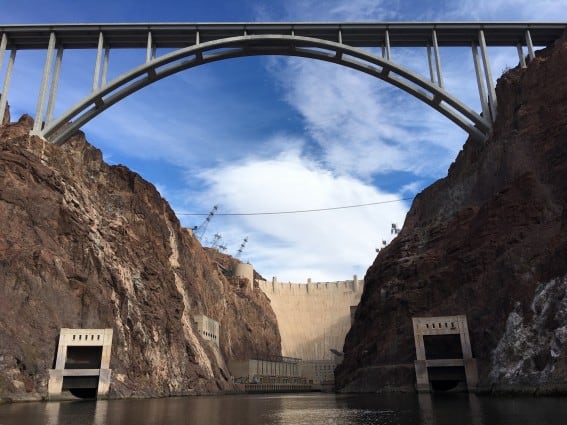 Two activities brought great joy to our party while we were in Las Vegas. On a crisp, Sunday morning, we met the Black Canyon River Adventures Tour out in Boulder City, just a 45-minute drive from the Strip, and boarded a pontoon boat below the Hoover Dam for the Postcard Tour. Staring up at the dam from the water, we learned of the history of constructing this phenomenal man-made barrier. I had been on top of the Hoover Dam and inside the dam, but seeing it from below was like no other tour. And every picture I took really did look like a postcard!
What I noticed as well, was the JOY our boat captain and van driver (as it is a limited access road that takes guests down to the water), had for their jobs and where they lived. It was an authentic enthusiasm, which seemed to be spurred on by the appreciation of where they got to work. High security at the Hoover Dam only comforted any worry we may have had at this major tourist attraction.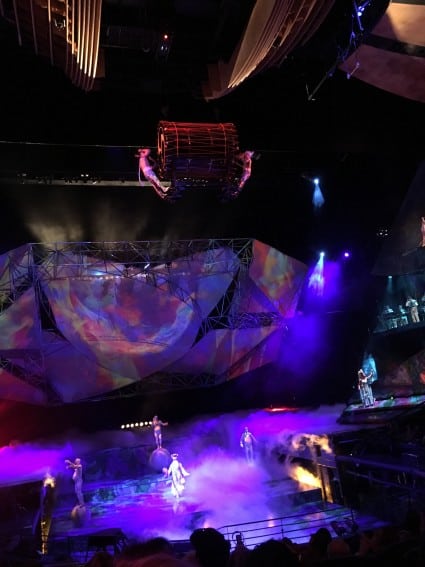 Back on the Strip, our party got the chance to depart reality and enter the mysterious. We experienced Mystere, a Cirque de Soliel acrobatic show, at Treasure Island Casino, known more recently as TI. Throughout the show, we were transported to different worlds, watching feats of strength and mobility that for a moment took us out of the realities of current day situations. When looking for shows suitable for the whole family, Mystere is a joyful performance and an excellent choice for an evening of lively entertainment.
Check for hotel availability in Las Vegas
#VegasStrong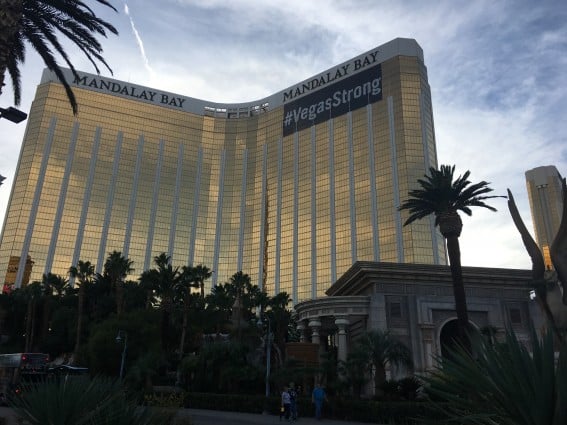 My take away from my return to Las Vegas was the infectious friendliness I came across from the tour guides to the casino employees to helpful direction givers on the street. Large banners across casinos read "#LasVegasStrong" and the people of this city dependent on tourism are using their strength to help make Las Vegas a city worth returning to.
Check out our Tween/Teen Guide for Las Vegas to find out other places to experience in Las Vegas.
Santa Rosa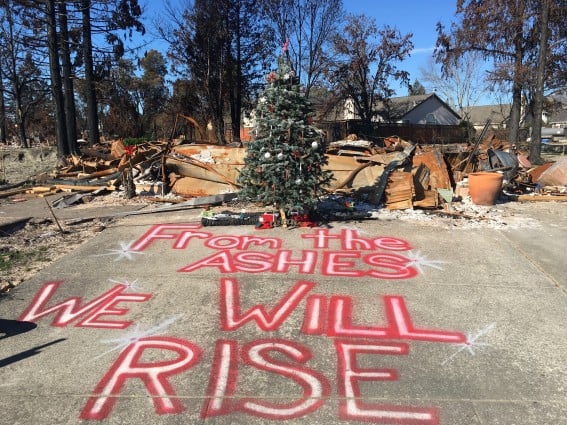 I knew I couldn't prepare myself for what I'd see in Santa Rosa, but I also knew I needed to see it. Observing from a distance, I watched my hometown succumb to powerful fires that left more than five thousand people without homes last October. Two months later, driving from the airport north up the 101, I saw burned out vehicles and blackened restaurants. But it wasn't until I witnessed entire neighborhoods obliterated that the emotional gravity hit me. I stepped out of the truck and saw nothing of material value left. And yet, I still saw HOPE. The community of Coffey Park, an established group of homes in the heart of Santa Rosa, had decorated the mailboxes that were the last standing remembrances of the homes once there and brought in pre-lit Christmas trees for what I was told was an evening of singing and communal gathering. "From the Ashes We Will Rise" was spray painted on someone's former driveway, and rise they will.
As I heard stories of loss (my parents had taken in friends who lost everything and sat in their living room each night wondering, "What next?"), I also heard fortitude in their voices. Many areas have already been cleared and construction has begun.
Sonoma County Parks are my favorite places to explore when I go back home. I wasn't ready to go back to my favorite, Jack London State Park, though. To access it I would have to go through Glen Ellen, the cottage town probably hardest hit by the fires, and I wasn't ready to see that. But I was relieved to hear the park had been spared, which if you know the story of Jack London's dream home on the property, you would know this area has already seen a devastating fire.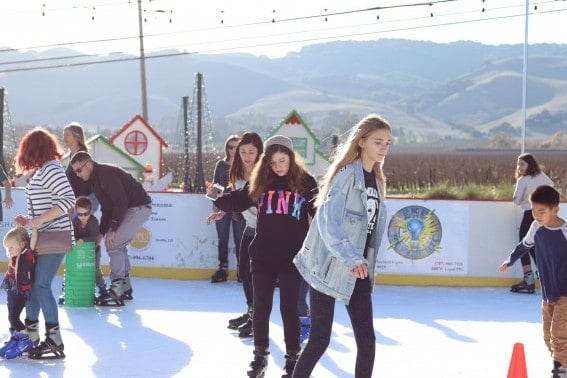 So instead, we ventured out to the town of Sonoma and enjoyed an afternoon at Cornerstone Sonoma. From Thanksgiving to New Years, a pop up, outdoor ice arena is available to skate amongst the vineyards. Kids and adults alike took to the ice, while others drank hot chocolate while strolling through the Sunset Magazine Gardens. Sunset also has their test kitchen here and I'm sure spring is a lovely time to come back and wander through the gardens while in bloom.
Sonoma County Parks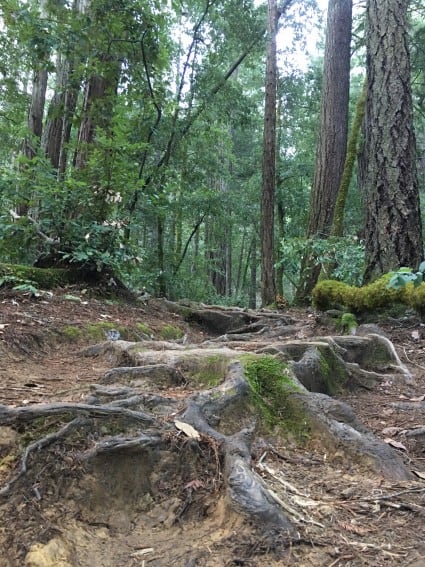 To continue to remind us of the beauty of Sonoma County area after seeing such loss, we made day trips to Bodega Head out in Bodega Bay, traversing the trails that overlook the mighty Pacific. We also walked the floor of Armstrong Woods, looking up at the towering redwoods, reminded that the Santa Rosa area is a beauty unmatched and an exquisite place to show the family nature at its best.
What's Next
The raw emotion in Santa Rosa is palpable and the locals will feel the trauma of the loss, the evictions, and fire watch during the weeks of fiery trepidation for a long time. But the locals share stories and console each other. They look for each other's lost pets and offer their extra trailers to stay in. They're #SonomaStrong because they are community strong.
But, as those familiar with trauma know, after the rising sometimes comes the anger. Unfair rental hikes shows the downside of humankind. Insurance issues have arisen and some locals have decided it would just be easier to start fresh in another, less expensive area and are beginning to exodus out of the area. Time will tell how quickly recovery will happen, but time will be necessary for recovery to happen.
Ready for Your Visit
I am so glad I revisited both Las Vegas and Santa Rosa as they begin the process of rebuilding. It's good to see humanity at its best, surrounding and uplifting each other, instead of reeling in fear. These cities have found the true meaning of community and are ready for your visit.
All photos by the author Woman_In_Travel.