Originally published on 9/11/2011
It is incredibly difficult to explain tragedies like 9/11 to children, especially when us parents are still struggling to understand something so monstrous ourselves.  We all remember exactly what we were doing the moment we learned that the twin towers had been hit. My alarm went off and instead of playing music, the disc jockey was screaming in panic about what she had just seen on tv. I darted up and turned on my television, staring in horror at smoke pouring out of the World Trade Center. Then the second plane hit.  It didn't feel real. It was too evil to be real. As I drove to work, I noticed everyone in their cars had the exact same expression of shock on their face that I did.  Shock turned into anger, sadness, fear, and mourning.  Ten years later, so many of those emotions still feel raw.
When we travel with our children, we often visit memorials, battlefields, and museums that are filled with  stories that are hard for little minds to fully grasp. Last year, my family visited Oklahoma City and although my children were only three years old at the time, I still felt like it was important for us to visit the Oklahoma City National Memorial.  I explained to them that we needed to be quiet in honor of some very special people.  They may not have understood the tragedies that occurred at the site, but they did understand the emotion on people's faces and felt compelled to draw a cross on the chalkboard squares in the Children's Area after learning about the many people who went to heaven.  As my children get older, I will continue to give them age appropriate history lessons through travel, to help them understand the world we live in and equip their generation with knowledge that will keep them repeating mistakes of the past.
Read parent reviews of visiting the 9/11 Memorial Preview Site, the World Trade Center Tribute Visitor's Center, and the National September 11 Memorial & Museum.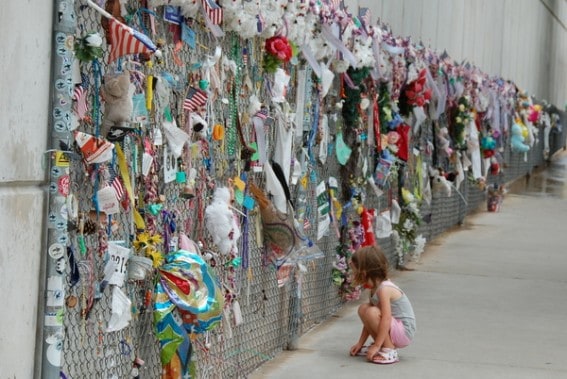 Our country is filled with many great landmarks which serve as fine places to teach our children about war, tragedy, and the mistakes of our past.  Battlefields such as Gettysburg, memorials like the Vietnam Veterans Memorial wall, parks such as the Trail of Tears State Park, and museums like the Holocaust Museum bring history to life better than any text book ever could and provide invaluable educations to our kids.
I wish we still lived in a world where two soaring towers still dominated the New York City skyline. And I wish that I could have taken my kids up to the top so that they could have experienced the amazing view of the city that they offered.  Most of all, I wish all those who gave their lives that day were still here to enjoy their own families and friends. Right now, much of the former site of the World Trade Center is still under construction but when it is finished, my family will visit and my children will learn about the tragedy that happened before they were even born, and how it changed the world.
The National September 11 Memorial & Museum opened on May 21, 2014.