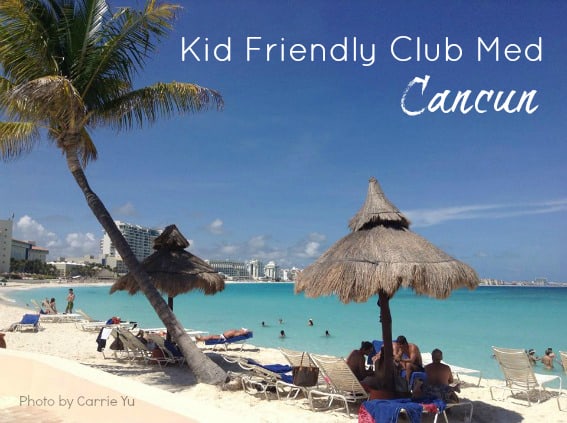 Last year I found myself standing in the hallway of my son's school, chatting with another mom about upcoming vacation plans. Her family was getting ready to head to a kid friendly Club Med resort in Mexico and she couldn't stop raving about how much the family loved visiting Club Med. She talked about a family vacation that was both full of fun activities as well as very relaxing and that featured someone else doing all of the cooking, all of the cleaning, and all of the activity planning. Visions of lounging on a beach chair with a drink in my hand and a view of the ocean danced through my mind, and I was suddenly ready to stow away in the family's suitcases and tag along for their trip.
Club Med Cancun Yucatan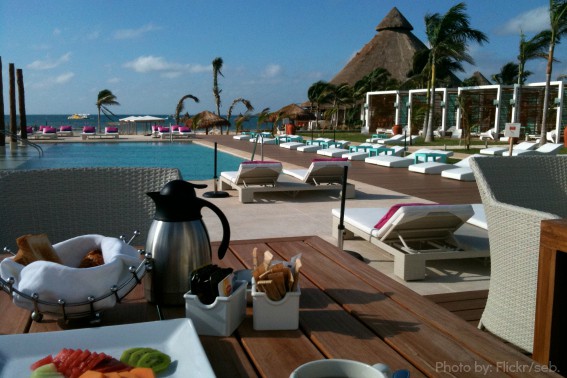 Luckily, I ended up having the chance to visit this very same resort, the all-inclusive Club Med Cancun Yucatan later in the year, so my jealous feelings didn't have to stick around too long. Club Med in Cancun was one of the first resorts in the area, so it's situated on a really prime piece of property with lovely beaches and a view of the hotel district and the open ocean. Club Med is an all-inclusive resort with several restaurants on site; once you arrive you can just settle in and never have to leave the resort! Best of all, almost all activities and amenities are included in your resort price, so no worrying about all the little costs that can add up quickly on vacation.
Water Play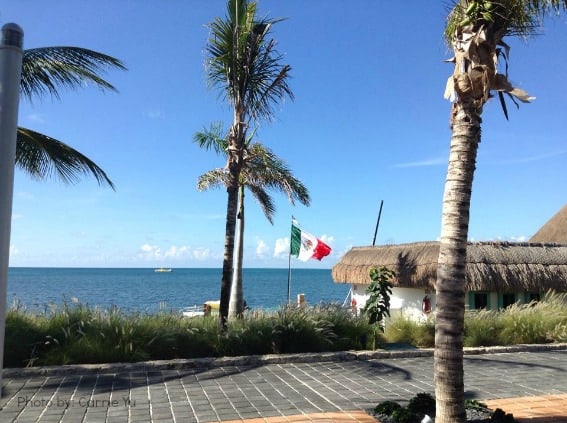 Not only does it have stunning white sand and blue ocean water, but Club Med is located right next to the world's second largest coral reef. No boat ride needed to get to some fantastic snorkeling, just walk out of your hotel room and down to the beach and dive right in! Snorkeling equipment is provided by the resort for the guests to use. Want to learn to windsurf, waterskii or wakeboard? Club Med Cancun offers lessons in all three from qualified instructors. If quieter watersports are more your speed, kayaking is also available. And, of course, there's the beautiful white sandy beach to visit. Lots of lounge chairs are lined up and waiting for you to come and relax and enjoy the gorgeous views. As an added bonus, Club Med staff members are never far away, always offering to bring you a drink or whatever else you need. Sitting and enjoying the view with a cold drink in my hand was definitely my favorite part of the resort!
Aguamarina's Amenities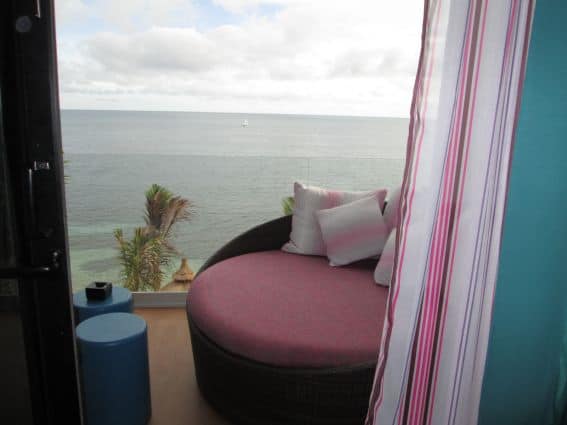 Club Med Cancun accommodations range in size and level of fanciness from standard rooms to suites with multiple bedrooms. I had the opportunity to stay in one of the largest accommodations in the newest building on the property, Aguamarina. This building features amazing suites that are a perfect size for families. My suite included a king sized bed and large couch in one room and a gorgeous bathroom adjacent to that. Down the hall was another room with twin beds and another full bathroom. There was a half bathroom in the hallway as well! A huge balcony with a beautiful outdoor couch and outdoor shower stretched our living space outside quite nicely.
Sky High Activities

Club Med is an all-inclusive resort that's designed to be comfortable and pampering while also being family friendly and approachable. Yes, it has restaurants and bars and beaches and a pool, like you'd expect at a resort vacation. But, it's also a resort that wants to make sure that you have the chance to experience fun activities. Ever wanted to fly on a trapeze? Club Med is the place to live out those dreams! The trapeze is part of their fantastic kids' club, for ages 4-10 where, among other fun activities, young guests learn circus skills and then perform for the other guests. But in the afternoon, the trapeze is open to all ages! Even though I couldn't quite bring myself to climb the ladder and try out the trapeze myself, many other people did and they all said that it was an absolute blast. Club Med Cancun also has many fitness classes and group activities throughout the day that are open for all guests to participate in like aquafitness, cooking classes, and bocce ball, to name a few. And at night, there are great music and variety shows that are fun for all ages!
Kids Club for All Ages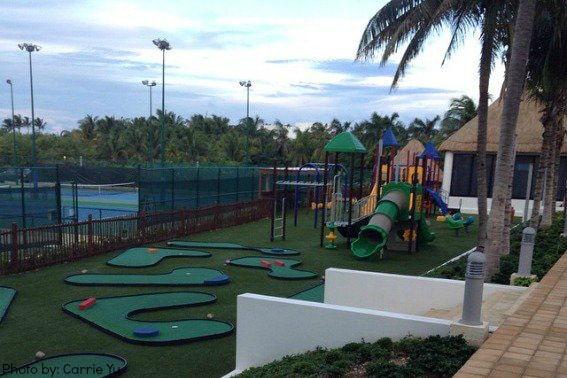 Kids love Club Med because it's a resort that puts a lot of effort into making sure its young visitors are having a great time.  Little ones from ages 2 to 3 can visit the Petit Club, which has a full staff just waiting to play and entertain the little ones in the family. The Petit Club space is large and colorful and filled with tons of art projects, books, and toys. There's even a private pool for the kids! Kids ages 4 to 10 can participate in Mini Club Med. In addition to the circus school mentioned above the kids have the opportunity to play sports, do projects, and generally have a great time with the staff.  For teenagers, there's a private club with Club Med staff that's just for teens- no parents allowed! Kids also love that there's a large pool centrally located on the resort property.  A playground and mini golf course round out the fun!
Welcoming Atmosphere
The main thing that makes Club Med resorts really stand out from other all-inclusive resorts is the group of employees known as GOs (from the original French title of Gentil Organisateur). The GOs are young people from around the world whose job it is to make you feel welcome and included throughout your stay! When we first arrived at the resort, we were greeted by a GO in the lobby. She introduced herself and told us a bit about her job at Club Med. As it turns out, she wasn't just a person who worked in the lobby, but she also designed costumes for the evening show and she was excited to tell us about that night's costumes! Whenever we saw her during the rest of our stay, the GO always greeted us by name and chatted with us about our experience so far at the resort. The GOs and the many others that we interacted with made us feel like part of the Club Med family, and it was sad to say goodbye to our new friends when the trip was done. This welcoming atmosphere is a big reason why families return to Club Med resorts over and over!
At the end of my trip, I headed home relaxed and re-energized, with a brain full of memories of gorgeous views, good food, and new friends. And with a determination that on my next trip to Club Med, I am getting on the trapeze!
We'd love to hear from you. Have you and your family been to a Club Med resort? Tell us in the comments.
Disclosure: We were invited guests of Club Med. All opinions are our own.