Do your kids have the need, the need for speed? The Auto Club 400 is the only NASCAR Sprint Cup series race in all of Southern California, making it the granddaddy of SoCal racing (located in Fontana, CA). If you have never been to a Sprint Cup race, I highly encourage you to give it a try. The atmosphere at family friendly Auto Club Speedway is fun and energetic; even racing newbies will find the thrill to be contagious. Part of the fun of the NASCAR experience is all the excitement before the race so plan on making a full day out of it. Thousands of spectators arrive in the morning hours to tailgate and enjoy the multitude of fan experiences in the Fan Zone. There are games, food booths, and musical performances. Lefty's Kid Zone is full of activities for children such as inflatable obstacle courses and story time.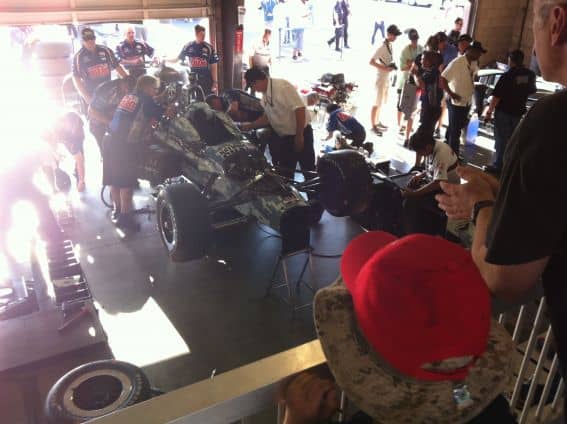 Photo By Woman_In_Travel
Out of all the professional sporting events I have attended, I believe NASCAR really does the best job at giving their fans the best opportunities to interact with athletes. NASCAR fans can also score signatures from their favorite drivers in Autograph Alley. Drivers are always generous with their time and show genuine appreciation for their fans. My kids have scored hats and real race car lug nuts which are the ultimate treasure for a little NASCAR fan.
Families are allowed to bring food and non-alcoholic drinks into the racetrack inside of small, soft-sided coolers. If everyone carries their own little cooler, you should be able to pack in enough food and drink for the whole family, a great cost-saving option. Of course there is plenty of food and treats to purchase inside the track as well. The most important items to pack are ear plugs. Races are LOUD! Very loud. We use the simple, soft earplugs you can pick up at any pharmacy but some people rent the more heavy-duty headphones for their little ones.
Good to know: If you sign your kids up for Lefty's Kids Club they will receive free admission to Friday and Saturday races during NASCAR weekend.
Beyond NASCAR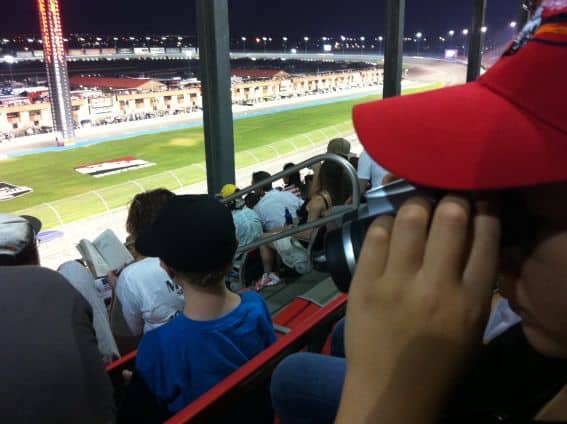 Photo By Woman_In_Travel
While NASCAR is definitely Auto Club Speedway's biggest event of the year, there is always something going on at the track. June brings the MATV 500, an Indy car race that is great fun to experience. This year's race will be held on June 27. Drag races and various other events take place on the track throughout the year as well. If you are looking to experience a bit of the action yourself, the NASCAR experience is a great way to do it. Packages vary, from ride-alongs with experienced drivers on the track to guests training and then driving on the track themselves. My family has experienced a ride along and it was even more thrilling than I thought it would be. Whipping around those inclined curves at high speeds was a sensation I will never forget! If you are more of an Indy Car fan, the Mario Andretti Racing experience offers similar packages in Indy Cars. Check the Auto Club Speedway event calendar for dates and availability.
Watch a video on the IndyCar Auto Speedway.

Good to know: Drivers must have a valid driver's license. Passengers must be at least 5 feet tall and 100lbs.
Want more NASCAR fun? Check out our guide to Daytona International Speedway with kids and experience NASCAR at Charlotte Motor Speedway and the NASCAR Hall of Fame.
Featured photo by: Shutterstock