Day one of Race to the Alamo was an incredible adventure full of racing, food, heat, and plenty of cold water courtesy of one of America's favorite aquatic mammals. Michelle and I had an absolute blast exploring the city and competing in some fun challenges along the way. So what did we do on day 1 of Race to the Alamo? Here is a brief rundown of how the day went.

After meeting up at the new Grand Hyatt San Antonio, which is gorgeous and centrally located on the Riverwalk, we were even more excited about this hotel playing host to the grand prize winner. If you haven't voted yet today (and every day through August 31st), be sure to vote here for Sharlene Earnshaw and Team Trekaroo to be entered to win the fabulous $2500 dollar prize package. As the newest resort to hit the downtown area, the Hyatt appears to have done things in style, right down to its eco-conscious practices.
From the Hyatt we stepped out the back door and onto a Rio San Antonio river cruise boat for a tour of the area. Our tour guide, Bobcat, was full of humor and information, a winning combination for any successful guide. While I thoroughly enjoyed the tour, I don't think my preschool age children would have lasted very long. This tour is best for families with children aged 6 and up.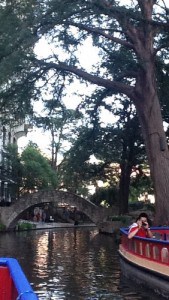 One thing I do know kids of all ages would enjoy is taking a river taxi ride, which includes a trip through the locks. It was my first time taking a boat through locks and definitely the highlight of my river experience. It felt like we were a toy boat sitting inside a bathtub slowly filling with water. Once we reached the top of the locks, we heading upstream a short bit before it was time to de-boat, and head to our first challenge!
Challenge one required us to follow a short guided bike tour along the river using Bike World bike rentals, and then race to the docking station at the old Pearl Brewery. We were told whoever docked first would win the first round. Michelle and I peddled hard but it was impossible to pass anyone on the narrow sidewalk without the possibility of collision. Luckily we were in a tight pack so Michelle and I knew it would come down who could dock the fastest. Michelle quickly zoomed to the station and slid her bike into the rack like a pro and I got mine in just at the nick of time… or so we thought. After being announced the winners ,our high was quickly brought down when the judges decided that they were not in fact clear enough in the rule about docking the bike and instead gave it to the team who reached the area first. We were disappointed about the loss and after asking to go to the tapes (in true racing form), the judges decided to just give both our team and the orange team a tie in first place.
Challenge two brought us to the San Antonio Culinary Institute, housed in the former Pearl Brewery. When we walked inside, my stomach began growling in response to the wonderful smells coming from the kitchen. During this challenge, we tied on our aprons and placed our chef hats atop our heads as we prepared to make some salsa! Each team was given a different set of ingredients and a general recipe to follow, but the spicing was up to us. The fun part about preparing the salsas was that we were able to use a traditional mexican mortar and pestle called a molcajete. After grinding our roasted tomatoes, chipotle in adobo, and garlic into a good consistency, we set about seasoning the salsa. After tasting many samples on the back of our hand (as the pros do, of course), we finally agreed that we had seasoned our salsa to perfection. In actuality, all three teams had done an excellent job preparing their salsas, making judging very difficult for the CIA chef. Unfortunately, it was determined that we used a bit too much cumin in our salsa (what can I say, I guess I like cumin a bit too much) and we ended up in third! Coming in third during a salsa challenge was very hard for a girl who loves to make Mexican food but my spirits were lifted by all the compliments we received on the salsa by our large Race to the Alamo entourage (which includes a camera crew and various members of Visit San Antonio team).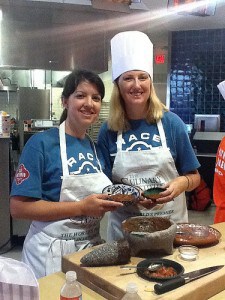 We took a brake from racing to stuff ourselves silly at La Gloria, a popular Mexican restaurant with food that will live on in my dreams for the days to come. I can't recommend this restaurant enough. The atmosphere is casual and definitely family friendly. The food…. oh the food! We were able to sample two different ceviches, shrimp cocktail, queso fundido, two varieties of tostadas, and a molcajete. Everything was delish! When you visit San Antonio, don't leave without at least one meal here.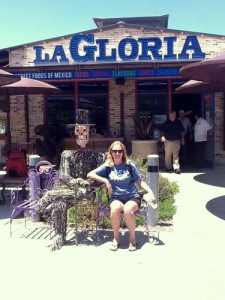 Our final challenge of the day brought us to Sea World San Antonio. Upon arrival, we were instructed to change into giant tshirts, watch the Shamu show, and then wait for instructions. We sat in the shaded but still sizzling (the temperature today hovered around 104) stadium, and watched Shamu put on a show, nervously wondering why we were wearing such large shirts. After the show, we learned the details of our challenge. Shamu and his family would be splashing us four times with their giant tails. One of us would hold a bucket and catch as much water as she could during those four splashes. Meanwhile, the other team member would be getting their giant shirt as wet as possible so that she could wring as much water as she could into the bucket for 30 seconds. There is no anticipation quite like waiting for three killer whales to drench you with 52 degree saltwater. Michelle caught as much water as she could while she was blinded by drenching gushes of saltwater and I did my best (which wasn't hard) to get soaked. We squeezed and wrung my giant shirt out, laughing hysterically as we tried to get every last drop. In the end, we came in second place. This put the orange team in first place for the day and us in a tie for second, behind by only 5 points.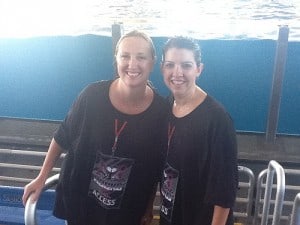 After the soaking, we were lucky enough to get a behind the scenes Dolphin Discovery Tour. We braved the heat to learn about the animals that lived at the park and get a glimpse at two one-month-old dolphins swimming in a protected area with their moms. We were also able to participate in some training exercises with the dolphins, feed them fish, and give them plenty of belly rubs. It was a very special experience and one that I think families with older children would especially enjoy. At the end of the tour, we were told that we would have to answer a tie breaking question. Whichever team raised their hand the fastest, was able to answer first. The first 2 times, we raised our hands at the same time and both gave the correct answers. The third time, the green team raised their hand a millisecond quicker, and though we knew that YoYo was one of the dolphins which had recently given birth, our slightly slower hand ended up losing us the challenge. Ugh. So after a long hard day of competition, we ended up in third. Luckily, we have two more days to compete and wonderful readers who are helping us lead in the voting.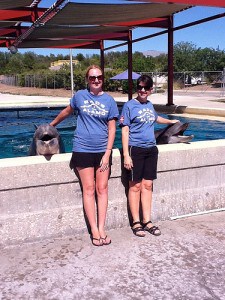 If you would like to follow our adventure live as it happens, be sure to follow us on Twitter @doubleadventure, @mcfamaroo and @trekaroo, as well as on the Trekaroo Facebook page. We will also be posting a daily recap on the blog. Thank you so much for all of your votes and don't forget to keep heading back to the Race to the Alamo page daily so you can cast your vote and enter to win a trip to San Antonio!

Disclosure: All travel, lodging, meals, activities, and an iPad are being provided by the San Antonio Visitors Bureau so that Michelle and I can compete in the Race to the Alamo. No monetary compensation is being provided and Visit San Antonio did not ask that any specific opinions about their destination be mentioned. All opinions about San Antonio and the Race to the Alamo are those of Michelle and I and reflect our honest opinion of both the destination and the experience.
– – – – – – – – – – – – – – – – – – – – – –
Sharlene Earnshaw (aka doubleadventure) is Blogger-in-chief for Trekaroo and the blogger behind Double the Adventure.

Travel with kids to: CA |CO | DC | FL | HI | IL |MA | NC | NY | OR | PA | TN | TX | VA | WA