Day two started off with a clue and instructions. We had a bus of our own and were instructed to direct our driver to the San Antonio Zoo. Michelle and I hopped on the bus as soon as the clock reached 8:30, ready to guide our driver like pros. We arrived at the zoo 15 minutes before anyone else! Unfortunately, that wasn't part of the challenge. The challenge was in fact, a two parter. The first part required one team member to hold nectar and try to get as many lorikeets as possible to land on them. Michelle tried first and had little success due to a camera crew with large equipment scaring the birds. We decided to regroup, attempt part two of the challenge, and then come back to the birds.
Part two of the first challenge required us to spell out the words LA CANTERA using animals. We could take pictures of either the animal or the sign but they had to be in order.  We quickly finished that challenge due to our skills at navigating zoos with our kids which left us with plenty of time to go back and reattempt the lorikeets.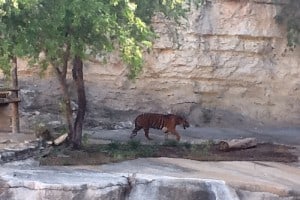 The lorikeet area was quiet and we knew trying to get more birds to land on us would be our best shot at winning the challenge. We told the camera crew that we needed them to stay out of the aviary and went to work, this time I would try to get the birds to land on me. We balanced cups and tops on my arms and slowly coaxed birds to land on me. After some patience we were able to get the birds to land on me-5 in fact! I did end up a bit covered in bird droppings but it was worth it to score a picture with 5 birds. We then sat and waited for a very long hour until the time reached 10:45 and the challenge ended.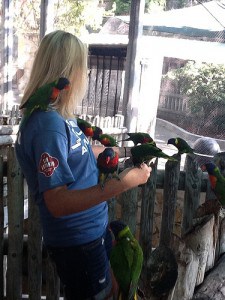 After all the waiting we were elated to hear that we had won the challenge!
After the zoo, we discovered the reason why we spelled out LA CANTERA- we were heading to The Shops at La Cantera, a popular open air mall. First we took a tour of Neiman Marcus which didn't exactly fill our family travel niche but it was nice to actually step foot in a nice department store without fear of what embarrassing thing my kids might do. We then had an hour on our own to explore the mall so Michelle and I ducked into my favorite store, Anthropologie, and enjoyed some rare child-free shopping. Lunch was at Z'Tejas, a popular southwestern chain with great food and reasonable prices.  The break was nice but short-lived, it was time to begin the final challenge of the day.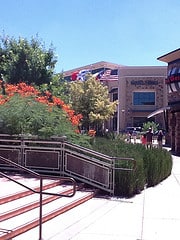 The final challenge took place at The Institute for Texan Cultures, a museum that celebrates the different ethnic groups that settled Texas. We were given a list of questions that we had to answer using information found within the exhibits and had a 15 minute time limit to complete it.  Michelle and I answered all but one of the questions quite fast, but the Czech name for mother, matka, held us up for a couple of precious minutes. We easily completed the task within the 15 minute time limit but ended up making it back to the judges last. Since all the teams  answered all the questions correctly, teams were ranked by finishing time. The green team was able to begin part two of the challenge first, followed by the orange team 30 seconds later, and Team Trekaroo 30 seconds after that.
The second part of the the challenge involved something very familiar to Texas cowboys, lassoing. Each team was assigned a cowboy to help us with our technique and both team members had to successfully lasso a metal steer in order to complete the challenge. Due to our time disadvantage, the green team had already completed  the challenge before I had even had a chance to throw my first rope. Michelle did manage to rope her steer but the time loss was too much to overcome and we ended up coming in third during that challenge. This put us in second place overall for day 2.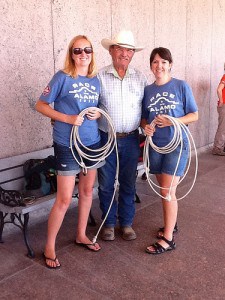 So after day 1 we were in third place, day 2 we were in second and for day 3, we have every intention of coming in first!
If you would like to follow our adventure live as it happens, be sure to follow us on Twitter @doubleadventure, @mcfamaroo and @trekaroo, as well as on the Trekaroo Facebook page. We will also be posting a daily recap on the blog. Thank you so much for all of your votes and don't forget to keep heading back to the Race to the Alamo page daily so you can cast your vote and enter to win a trip to San Antonio!

Disclosure: All travel, lodging, meals, activities, and an iPad are being provided by the San Antonio Visitors Bureau so that Michelle and I can compete in the Race to the Alamo. No monetary compensation is being provided and Visit San Antonio did not ask that any specific opinions about their destination be mentioned. All opinions about San Antonio and the Race to the Alamo are those of Michelle and I and reflect our honest opinion of both the destination and the experience.
Sharlene Earnshaw (aka doubleadventure) is Blogger-in-chief for Trekaroo and the blogger behind Double the Adventure.

Travel with kids to: CA |CO | DC | FL | HI | IL |MA | NC | NY | OR | PA | TN | TX | VA | WA
– – – – – – – – – – – – – – – – – – – – – –