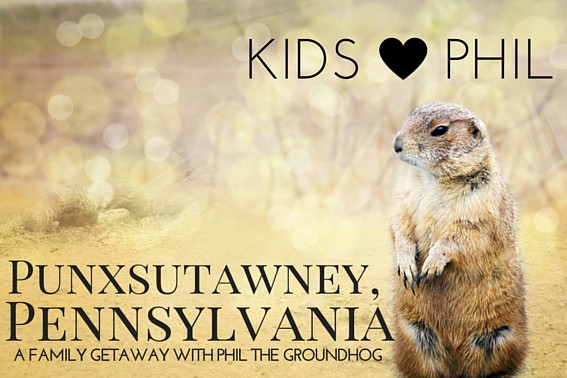 Photo by: Bigstock/Elena Art
By February 2nd, many people in the snowy northeastern states are ready for winter to be over – the sooner the better. So, on Groundhog Day they eagerly await the news of Punxsutawney Phil's prognostication. Will he see his shadow? If he does, six more weeks of icy cold temperatures and wintry snow is predicted across the country. If not, spring is right around the corner.
Did you know that you don't have to wait till February to catch a glimpse of the one and only Punxsutawney Phil the Groundhog? Families can stop by the library in downtown Punxsutawney, Pennsylvania to say "hi" to Phil any day of the year, provided that the famous groundhog doesn't have a previous engagement. However, there's more than just one groundhog to see in this small, central Pennsylvania town; the "Weather Capital of the World" has a fun hands-on museum to educate visitors all about the science of weather forecasting and the town is home to more than 30 larger-than-life fiberglass groundhogs.
Search for Groundhogs in Downtown Punxsutawney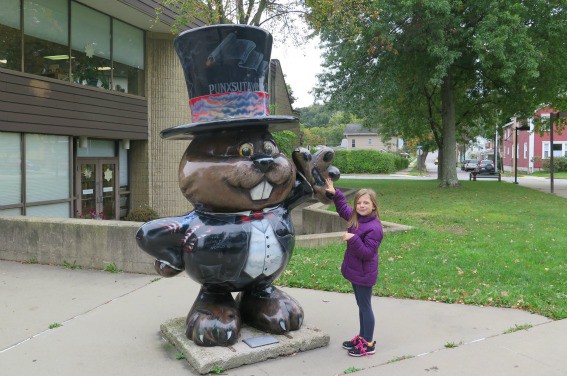 Photo by: Melissa Moore
Driving down Mahoning Street through the middle of Punxsutawney, you'll soon see that Phil isn't the only groundhog in town. There are 32 "Phantastic Phils" out on the sidewalks of Punxsutawney. Maps are available for families that want to locate each of these large groundhogs designed by artists from the local community. Visitors be sure not to miss the Phantastic Phil standing next to Punxsutawney Phil's Burrow at the town's library; this intricately decorated Phil is sponsored by the Punxsutawney Groundhog Club and wears their signature top hat.
Forecast the Region's Weather at the Punxsutawney Weather Discovery Center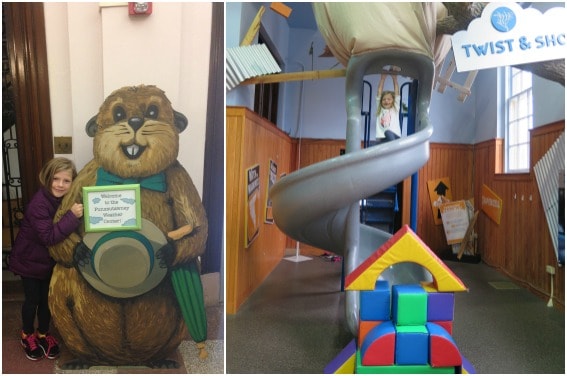 Photo by: Melissa Moore
Tucked away on a side street and housed in a former post office dating back to 1914, the Punxsutawney Weather Discovery Center is a must-see for families driving through central Pennsylvania. While paying homage to the weather folklore of the region with exhibits featuring Punxsutawney Phil, the center also aims to educate about the science of weather and weather forecasting with exhibits maintained by nearby Penn State University. At the museum kids can become a television weather forecaster using real-time weather data or learn about how a thunderstorm develops using hands-on props.
Celebrate the Seasons with Punxsutawney Phil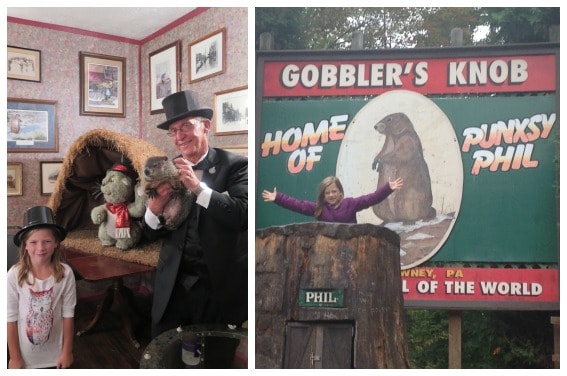 Photo by: Melissa Moore
There's one day a year where the entire country turns their attention to the events in Punxsutawney, Pennsylvania. If your family wants to be part of the big day and experience Punxsutawney Phil's prognostication up at Gobbler's Knob on February 2nd, you'll need to plan in advance and be prepared for frigid temperatures. The Punxsutawney Groundhog Club recommends bringing older children, roughly age ten and up, to the early morning event. While in past years the early morning hours at Gobbler's Knob may have earned a reputation for being a bit of a party-scene, in recent years Groundhog Club coordinators have gone out of their way to make the event family-friendly; there's even a special section of Gobbler's Knob set apart for families.
While making the trek up to Gobbler's Knob before dawn on February 2nd is certainly a memorable event, there's so much more to the Groundhog Day celebrations in Punxsutawney than just the prognostication. The festivities in town are hosted by the Groundhog Club and start the weekend prior to Groundhog Day. Beginning with breakfast with Phil at Gobbler's Knob on Saturday morning there is a full schedule of kid-friendly activities available for little groundhog-lovers. Kids of all ages are welcome to enjoy a hay ride around town, watch a magic show, decorate a top hat, and participate in a scavenger hunt dubbed "Phind Phil." Of course there are plenty of food vendors, including local favorite, Laska's Pizza.
If your family misses out on the events of February 2nd, the Groundhog Club hosts many other celebrations throughout the year where families can meet Phil and participate in groundhog-themed activities, including a Breakfast with Phil held during the summer months to Phil's Holiday Bash held annually in early December for children twelve and under.
Where to Stay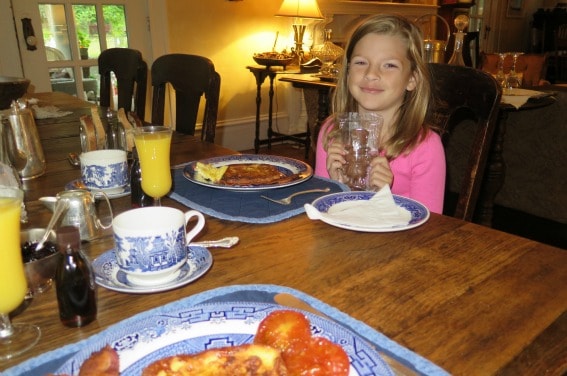 Photo by: Melissa Moore
There are only a few lodging options for families in the town of Punxsutawney itself. Beware that rooms are reserved quite far in advance for the February 2nd Groundhog Day activities, especially at the Plantation Bed and Breakfast where my daughter and I stayed. However, Punxsutawney is only 30-50 minute drive from the towns of DuBois, Brookville, and Clarion along Interstate 80 which offer plenty of family-friendly hotel chains from which to choose.
Must See Day Trips in Pennsylvania's Great Outdoors
Much of the region surrounding Punxsutawney is filled with rural farming communities. However, just to the north, past Interstate 80, are some of Pennsylvania's most scenic forests and rivers. Cook State Forest and Elk Country are home to plenty of cabins, lodges, and hiking trails that are perfect for families looking for a laid back weekend getaway from the cities of Harrisburg, Pittsburgh, Buffalo and Cleveland.
Cook Forest State Park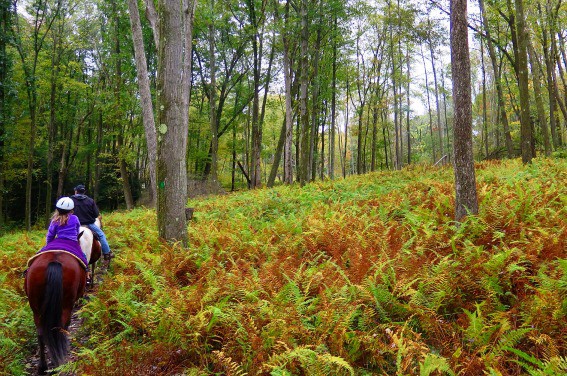 Photo by: Melissa Moore
Someday, I must return to the Cook Forest during the summer months to take my family on a hike and paddle down the Clarion River. However, the forest is beautiful in any season. This fall I enjoyed quite a peaceful view of the Pennsylvania Wilds from my balcony at the Clarion River Suites; my daughter and I held our breath as a group of deer crossed the Clarion River below our room. Later, after the rain let up a bit, we took a horseback ride through the forest with PA Trail Ride. As we moved slowly between the trees, we breathed in the fresh forest air, heard the sounds of the birds around us, and marveled at the autumn leaves changing from green to gold.
Elk Country Visitor Center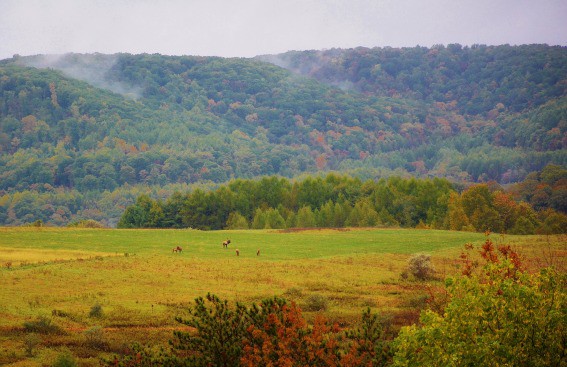 Photo by: Melissa Moore
It's rare to find elk east of the Mississippi River in the United States, but visitors to Elk Country in Benezette, Pennsylvania are quite likely to spot these massive animals in the wild especially during the fall. While the Elk Country Visitor Center is in quite a remote area, it can get quite busy in the fall months when the elk tend to leave the forest and the males make a loud sound called bugling. Families can learn all about the elk at the visitor center and then venture out to the nearby viewing sites to see and hear the animals in the wild.
Disclosure: The author was hosted by Visit Pennsylvania on a press trip. All opinions are her own.