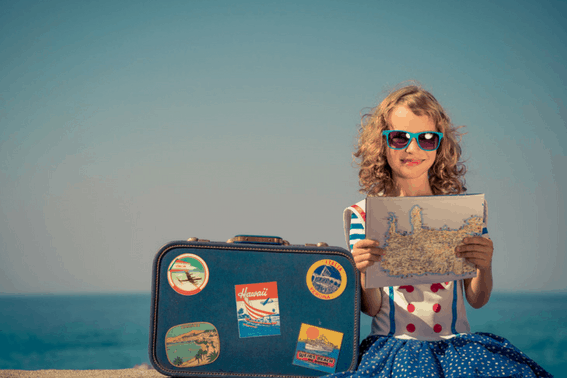 Featured Image By BigStock/yarruta
My dad has a favorite expression: "You see what you know." In other words, if you're walking down the street and you know that a certain building is there, you'll look at it. Otherwise, you'll pass it without a glance. Kids operate the same way. Ever wonder when you're traveling with them, how they can pick out a "Golden Arch" at 200 yards? To mom or dad, it may only be a squint on the horizon. But to kids, it's already a welcoming haven, a comforting reminder of the familiarity of home.
Preparing kids so that they will know more of what they are about to see during vacation time always pays off. They'll become more excited about the journey, see more while there, and feel some familiarity with the new scene. Books, tapes, videos, CDs and DVDs, pamphlets from convention and visitor bureaus, and even food can create positive vibes about a place even before you get there. Based on our real travel experiences, here are some tried-and-true methods.
Preparing For Travel With Food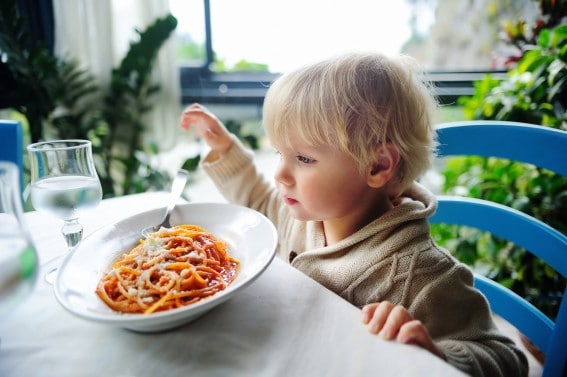 Photo By BigStock/Maria Sbytova
You can usually get to any kid through his stomach. Before we went to Jamaica a few years ago, I brought home rice and peas, and spicy chicken from a local restaurant called the Real Jerk, a kid-pleasing name for sure. I also served coconut cream pie and bottles of ginger beer (non-alcoholic) with buccaneering pirates on the labels. What kid could resist? We turned up the heat to 90 degrees and put on some reggae music. Only one kid enjoyed the spicy meat fare. But all three looked forward to more jiving and more desserts like the one they'd just devoured at our sitting.
Preparing For Travel With Books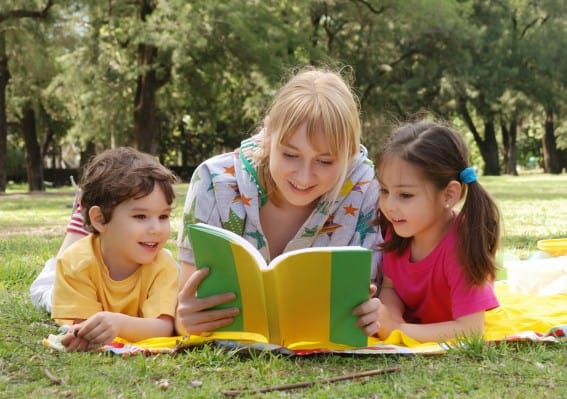 Photo By BigStock/anpet2000
Librarians and staff in children's book stores have always been tremendously helpful in finding books for different age groups set in varying locales. Reading Anne of Green Gables made Prince Edward Island, Canada's tiny picturesque province, come alive before the car left the driveway. Coloring Thomas the Tank Engine eased fears about a first train ride. Playing with a folding cardboard farm book generated enthusiasm for an upcoming farm stay while acting out Paris scenes with paper dolls from the Madeline books ensured squeals of recognition on the first sighting of the Eiffel Tower.
For little ones, a picture book like Richard Scarry's Cars and Trucks and Things that Go or sticker activity books with planes and trains explains how transportation works. "No, the dogs and cat, guinea pig and ten hamsters will not be flying with us," explained in advance could have prevented the floods of tears or tantrums that we once got when it became clear the animals were not coming too. Books with characters such as Paddington Bear and Winnie-the-Pooh set in Britain, Linnea in Monet's Garden in Giverny, France, or Pippi Longstocking in the South Seas set the scene for young imaginations. Check out Trekaroo's Curious Kids section for more ideas on books for your next trip.
Preparing For Travel With Videos and Other Media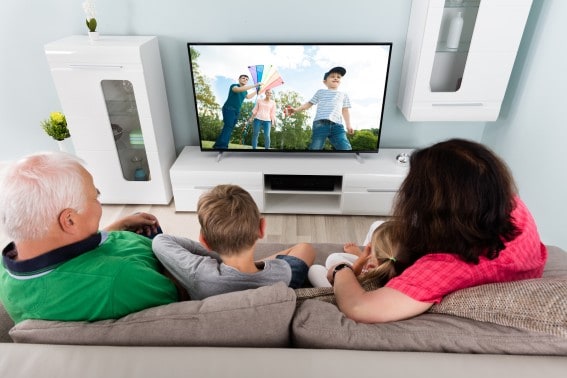 Photo By BigStock/Maria Sbytova
Video stores and Netflix can provide hundreds of foreign settings. Our kids shouted in unison when they recognized the Capitol building in Washington from the movie Dave. Before we visited San Francisco, we rented Bullitt with Steve McQueen. There's a great car chase scene up and over the steep hills. We saw Murder on the Orient Express before taking European trains and Cool Runnings before Jamaica. With a press of the remote, you could be preparing kids to roam London, sail the Yangtze, or hunt a rare butterfly through a tropical rain forest.
For younger children, try Lilo & Stitch for Hawaii, The Muppets take Manhattan for New York City, and Mary Poppins for London, England. China? A wonderful movie for young and old: Sesame Street: Big Bird in China.
For older kids traveling to Austria, Sound of Music is a natural as is Finding Neverland for England or Whale Rider for New Zealand. You could even embellish the experience with a combo movie/food night and serve appropriate dishes like schnitzel, High Tea with crustless cucumber sandwiches and scones topped with strawberry jam and cream, or the New Zealand-invented Pavlova dessert-meringue with whipped cream, strawberries, and of course, kiwis. Or do a mini film festival as we did one year.
Preparing For Travel With Convention and Visitor Bureaus/Tourist Offices
Often, offices are happy to mail information for free: items such as maps, stickers, visitor's guides, or colorful brochures. Kids can cut out pictures of things they would like to see and stick them on the family bulletin board or fridge. Make a giant kitchen calendar and paste up scenes of where you'll be on what day. Glue pictures into a scrapbook that youngsters can add to while traveling. As one mom said, even a drab old bus ticket or a cocktail fork from a restaurant takes on a new light when pasted into a keepsake album. Or download kids' attractions pages from an online guide into a travel folder on your child's computer.
Preparing For Travel With Those Who Have Boldly Gone Before
If you know families who have traveled with their kids, ask if they could show off their family photos or videos. We held an informal slide show this week for a family who is about to take their first trip to visit relatives in Holland. When the evening was over, their ten-year-old daughter was almost squealing with excitement. "How many more weeks until we go?" she implored. I can guarantee that, despite the differences from home, this little traveler will have a great trip.
Related articles: