I consider myself to be a somewhat gutsy person. I've plunged into a 40 degree ocean on a 50 degree day and lived to talk about it. Believe it or not, there are people crazier than me.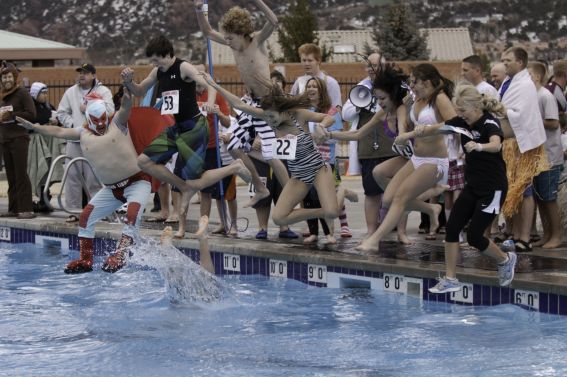 There are people who are willing to plunge into water holes cut from inches of thick ice with snow littering the ground! Why? Some do it for the adventure. Some plunge for the tradition with their families. Other people polar plunge to raise money for charities. And for a few, the plunge lends some bragging rights. Whatever the reason, if you haven't been to or tried one of these Polar Plunges, you're missing out on a heart-pounding thrill that makes a really fun family tradition!
Freezing For The Season: Plunges in 30 Degree Weather or Less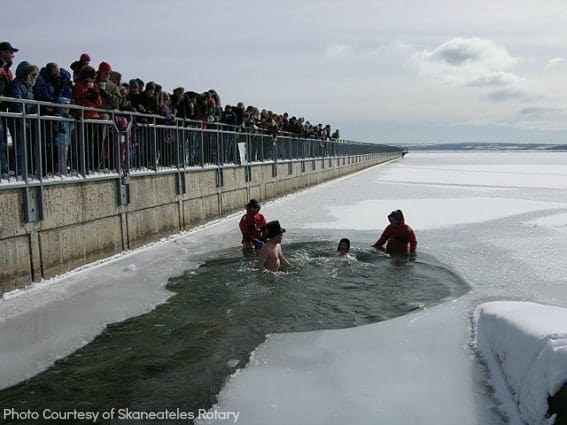 Hardcore Polar Plungers unite! These individuals brave ice, snow, bone-chilling winds, and extreme water temperatures just for the thrill of it!
In Cedar City Utah, Cedar City Leisure Services teams up with local law enforcement for the annual "Chilly Dip" in the outdoor, unheated pool at the Aquatic Center. Participants wear fun costumes and the best part, is after you take your "Chilly Dip," you can go inside and swim in the heated indoor pool, slide down the water tubes, or splash with your kiddos at the splash pad. According to Accuweather.com, the average temperature outside is 24 degrees, with a low of -9 degrees!
The Lake George Polar Plunge at Shephard's Park is the kickoff to the Winter Fest which runs until the end of February. Its freezing outdoor temperatures, and ice and snow covered paths guarantee an experience unlike any other! After the plunge, families can take part in Winter Fest activities such as a giant snow slide, fireworks, and an Outhouse Race where participants build the most creative and aerodynamic outhouse possible and race them to the finish line! If you're looking for a place to rest your head and warm your hands, the nearby Sagamore Resort at Bolton Landing has a Fireside Package where you can curl up next to a cozy, crackling fire or take a soak in the indoor Jacuzzi!
Skaneateles, New York also hosts a Winter Festival that includes a Frigid Polar Plunge. The Polar Plunge costs between $40-$60, with proceeds benefiting different organizations within the town of Skaneateles. After the plunge, guests can admire ice sculptures carved by renowned sculptor, Stan Kolonko, and munch on delectable food from vendors and restaurants. (Check out Garage Eatz for excellent pizza and Italian cuisine). In the past they've had dog sledding rides, a scavenger hunt, and an ice fishing derby too!
In Tahoe City, California, Snowfest takes place from 2/28 – 3/9/2014, with the Plunge on Mar. 1st. The day of the plunge starts out with the Firefighters Pancake Breakfast. Next is the Tahoe City Parade with clowns, dogs, and snow! After the parade is the Pete and Peter's Post Parade Party followed by the Gar Woods Polar Plunge! The plunge is actually a snowy swimming race in Lake Tahoe's 40 degree water, to the end of the pier and back.
Plunge For A Purpose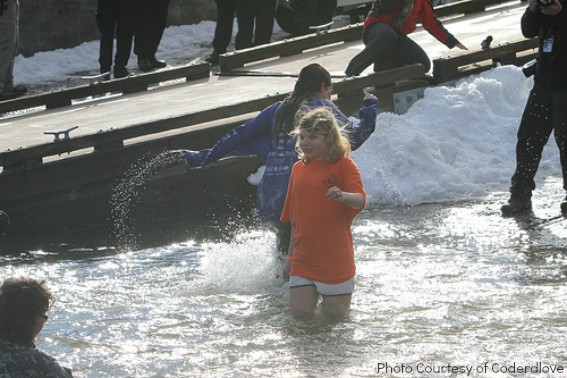 If you're freezing your tushie off, you might as well be doing it for a good cause, right?
The "Freezing for a Reason" Campaign by the Special Olympics is one of the largest benefactors of Polar Plunges across the US. Literally hundreds of Polar Plunges in almost every state raise and donate money to benefit special needs athletic events and athletes. Lake Calhoun in Minneapolis, MN is one of the more kid-friendly venues. This event includes a 5K run and plunge as well as a tented PeeWee Plunge for kids under 12. Awards are provided for best costume and top earners. A few of the other kids activities include face painting and plunge tattoos, costumed characters, crafts, and more!

Another chilly plunge for a purpose takes place in Atlantic City, New Jersey! The Polar Bear Club hosts a plunge behind the Resorts Casino, in the Atlantic Ocean. All proceeds go to Multiple Sclerosis Association of America. After the plunge, continue the family fun by racing go-carts or playing in arcades on the boardwalk, or ride the thrill rides on famed Steel Pier!
At Lake Maloya in the Sugarite Canyon State Park near Raton, New Mexico, plungees jump into a hole cut through the ice and into the lake to raise money for the Raton's Veterans' Memorial.
In Idaho, the Great Polar Bear Challenge is an annual fundraiser for Make-A-Wish Foundation sponsored by Allegiant Travel Company. Participants raise money so children suffering from life-threatening illnesses will get their wishes granted. Registered participants who raise $50 or more will receive a long sleeve shirt, and those with the wackiest costumes can be entered in a contest to win cash prizes! Also on hand is piping hot coffee, hot chocolate, and pastries.
Resort Plunges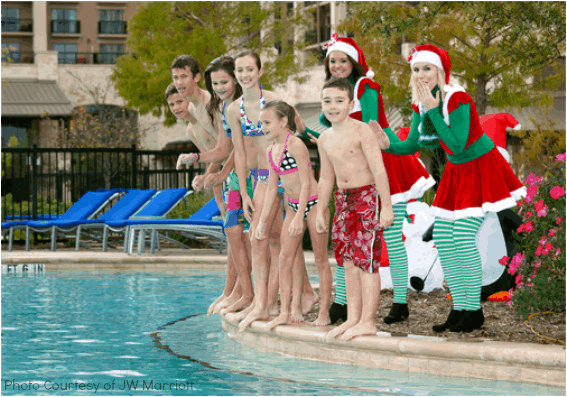 JW Marriott in San Anonio has a Polar Plunge on Saturdays at 12 & 2 and Tuesdays at 12 until January 23rd. They leave one pool unheated for a chilly plunge! Special Elf lifeguards also attend the event. Also available through December, are many different Holiday Experiences. Stroll through the outdoor wonderland of JW's Illumination with a hot chocolate in hand. It includes hundreds of thousands of twinkling lights choreographed to music! A few of the other holiday events include breakfast with Mr. & Mrs. Clause, Gingerbread and ornament decorating, story time with the elves, and even an elf tuck-in at night! Some of the holiday events are free for guests, as well as the community, and some require fees. Check the website for more info.
For a warmer resort plunge, the Omni Amelia Island Plantation on Amelia Island in Florida, has an 82 degree pool they offer for a plunge! The person in the wackiest outfit is awarded a prize, so keep that in mind when deciding what to wear!
How does your family ring in the New Year? At Watercolor Inn and Resort in Walton Beach, Florida, there's a special Kids' Night Out New Year's Eve Bash on December 31st followed by a family-friendly Polar Plunge at 9am January 1st on Watercolor's Beach. The warm weather outside is the perfect escape from the cool winter weather in other parts of the US!
Warm Weather Plunges: Plunges in 40 Degree Weather or Warmer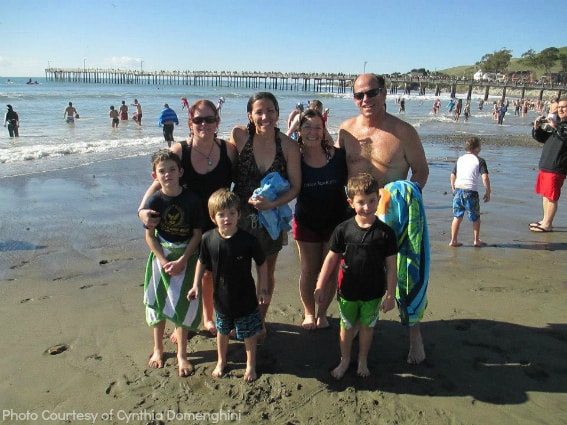 Speaking of warmer weather, this is the type of plunge my family can handle. In fact, we do!
The Cayucos Polar Bear Dip in Cayucos, California, takes place every New Years Day at noon. Hundreds of people line Cayucos Beach and Pier dressed in costumes of all types, and jump into the 40 degree Pacific Ocean to receive their certificate and bragging rights. Some years can be colder than others, but if you bring warm robes and a hat for after the plunge, you'll warm up pretty quickly.
Have you ever done a polar bear plunge? Tell us about it in the comments.