Driving up the hill to the Silver Star Mountain Resort you can just feel the stress fall from your shoulders. Unlike other British Columbia ski resorts, Silver Star is small; the town takes up about 2 city blocks.
Silver Star Mountain Resort with Kids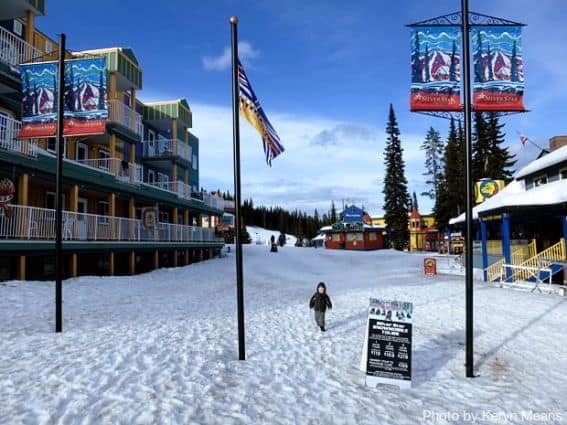 Accommodations are ski-in, ski-out, and there are enough food varieties to keep the whole family happy. The Star Kids Centre staff is not only welcoming, but will get down to your kids level to play, teach them a few fun things, and prepare them for their ski lesson while you are out enjoying the slopes.
The snow is more of a "champagne powder;" a decadent distinction that snow aficionados will say sets them above the rest. The resort boasts world-class Nordic trails where more than one national team has come to train. The private ski and snowboard instructors are worth their weight in gold as you learn the mountain and push your skills to the next level.
Star Kids Daycare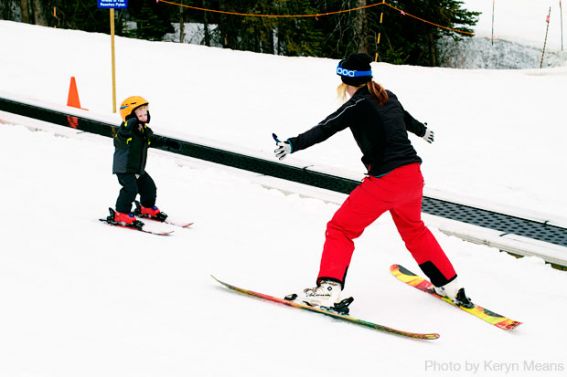 One of my favorite parts of the resort was the Star Kids Daycare. My 3-year-old could start his day in their facility, play with other kids his age, do art projects, and get some energy out while I enjoyed my private lesson with a snowboard instructor. As part of the Star Kids Daycare you can opt to purchase a one-on-one lesson for your 3 to 5-year-old child in the morning or afternoon while you are on the mountain. They even throw in the ski gear (and most importantly a helmet) for free.
I snuck over to watch my son's private ski lesson one morning. His instructor knew just how to interact with a chatty, although sometimes nervous, little boy. She got him excited about trying new things. She listened to his fears, and pushed him just enough so he could get past them, but also respected his needs when he just wasn't ready.
Two other lessons were happening while I was there. These were slightly older boys enjoying the benefits of the Discover Program (age 4 can start on skis, age 7 can start on a snowboard). Their male instructor goofed off with them, but reigned in the goofiness so they could learn what they had come up to do. He related to the boys in terms they could understand. He let them try something new, encouraged them to take the little bumps that had been built up in the snow, and go a little wild like pre-adolescent boys tend to do.
Babies and toddlers
One downside to traveling up to Silver Star with your kids is that there are very few activities and resources for children under the age of 3. If you want to bring your family up for a snow vacation, you will have to either bring a babysitter with you or hire one when you get there. Star Kids Centre does have a list of babysitters they recommend. Many are ski instructors or daycare workers trying to pick up some extra hours on their days off. Make sure you book them well in advance if possible.
Family-friendly activities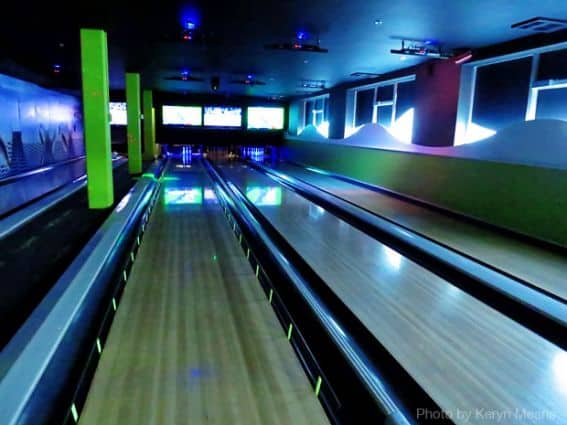 Outside of ski school there is plenty to keep a family busy. Tube Town Adventure Park is the perfect late afternoon/night time activity (ages 3 and up) to check out after the slopes shut down for the night. If tubing doesn't get your adrenaline pumping then let the kids take out a mini snowmobile and do a few laps on the course. No driver's license is needed, but there is an age limit.
The Climbing Wall is a great indoor alternative for adventurous kids and their parents. You can buy a 2-climb pack, or the even better deal, a 10-climb punch card you can share with the whole family over the course of your stay. Pinhead Bowling will bring out the competitive side of the whole family. You can even designate which player is a child and have the gutter rails put up only when it was their turn. If you get hungry there are snacks available for purchase, and even a beer if mom and dad want to indulge.
Fuel for the entire family

As for food, well you can't go wrong with a stop at Bugaboos Bakery Café. The Brie sandwich will fuel you up, while the coffee and pastries will keep you moving on a cold winter's day. Stock up on milk, cereal, and other necessities at Aberdeen Market (the local grocery store), and then dive into a salad or decadent grilled cheese at Long John's Pub for dinner, or a burger from The Bulldog Grand Café. HB Pizza makes for some great take out if you are too exhausted to stay up right anymore. Bring it back to your hotel or condo, pop in a movie, and call it a night.
Take a Snooze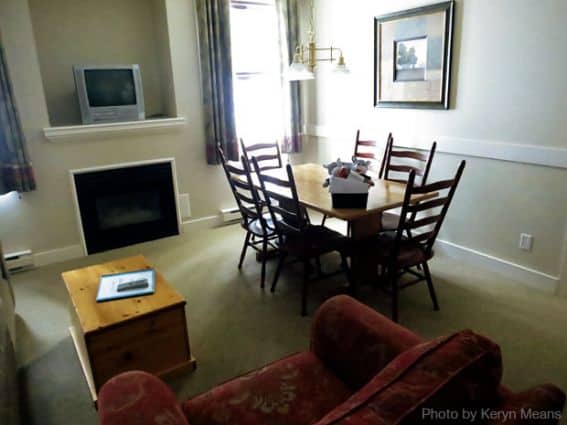 Places to rest your head run the gambit from the budget friendly Bulldog Hotel to luxury condos with your own hot tub at the Snowbird Lodge. I had the pleasure of camping out at the Chilcoot Lodge. Our 2-bedroom unit was perfectly configured to suit our needs. The two outdoor hot tubs were the perfect spots to rest our weary bones after a day on the mountain, while the laundry facilities would have been essential for a longer stay.
When small town meets big snow you know you have a magical combination on your hands. The trip up to the mountain is stunning, although it will require chains in winter. Your drive will be worth it though. When you see the smiles on your kids faces after ski school and you are sitting around an outdoor fire pit trading tales from the slopes, you will know that you have found something special. I see how Silver Spur can be a place to call home. It may even be worthy of becoming a yearly family tradition.
Disclaimer: Many thanks to Silver Star Mountain Resort for hosting my family for two nights for the purposes of review. As always, my opinions are my own.