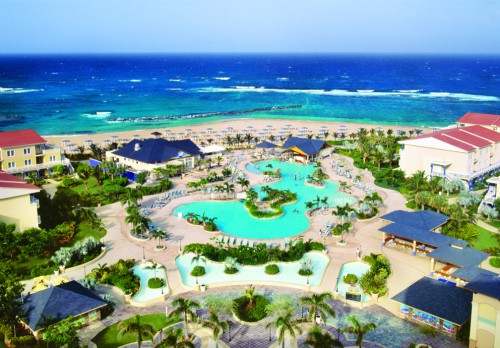 Photo courtesy of St. Kitts Marriott Resort & The Royal Beach Casino 
 St. Kitts is well known as the most relaxing Caribbean island.  After a family vacation at the St. Kitts Marriott Resort & The Royal Beach Casino, located in Frigate Bay, you'll know why.  From the moment I arrived at the resort, I felt like a welcome member of the island family.  Guests are greeted with delicious fruit drinks and smiles as warm as the Caribbean ocean breezes. Built to withstand hurricane-strength winds, the main resort building, the Frigate Bay House, has open breezeways and lobby areas with breathtaking views of the Atlantic Ocean.  It was easy to slip into an island state of mind right away.  After reviewing the variety of guest activities offered, I knew that my family could easily stay at the resort all week without ever having to venture off property for entertainment, spa, or dining.
Gorgeous views of St. Kitts
Each morning, I pulled myself out of the incredibly comfortable king-sized bed to watch the sunrise from my private balcony, which overlooks the resort's two-story Garden Houses and Frigate Bay.  I could hear the waves and birds chirping as I sipped hot tea from the in-room coffee maker.  The tiled guestrooms have spacious bathrooms–even a bidet.  There's also a separate mini kitchen area with a refrigerator.  Wired and wireless internet access is available for a small fee.
Tip:  Grab some yogurt, fresh fruit, and juices from Café Calypso in the lobby the night before so you'll have a quick breakfast to enjoy on your private balcony. Or, order breakfast in advance from room service.  It's a pleasant way to start the day!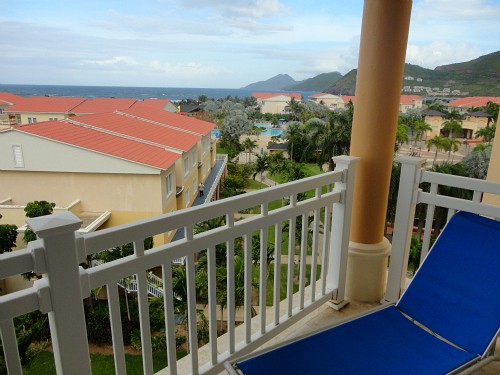 Caribbean flavor
 With eight restaurants and two bars at the resort, there was no shortage of delicious food options for mealtimes.  Kids' menus are available at all restaurants and special dietary requests are easily accommodated.   Blu Seafood serves up West Indies-inspired cuisine in a romantic, airy setting.  The crab cakes Creole appetizer, mahi-mahi with plantains, and chocolate peanut butter dessert were a feast for my eyes and taste buds.
 At the Royal St. Kitts Golf Clubhouse, I enjoyed a crispy grouper Caesar salad for lunch along with a glass of Ting, the local's favorite tart and sweet grapefruit-infused soft drink.  During afternoon happy hour at the Bohemia Pool and Beach Bar, I swam up and ordered the legendary St. Kitts specialty, Ting with a Sting, made with Brinley Gold Rum which is handcrafted on St. Kitts.   It packs quite a kick!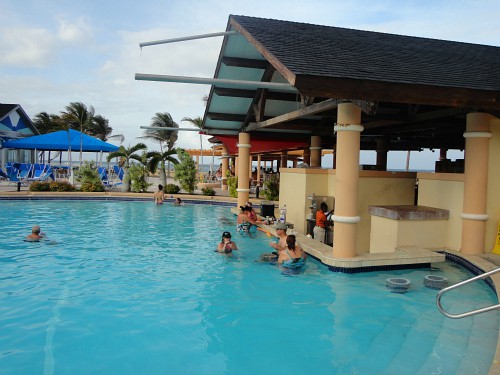 Lounge on a Caribbean beach or by the pool
Choose from three different pool areas all with separate Jacuzzis.  At the main pool, there's a shallow, splash area with small fountains for the kids as well as poolside bingo, volleyball, and intro to scuba activities, just to name a few.  At the smaller north and south pools, families can relax in a quieter setting under shady umbrellas while surrounded by tropical landscaping.  I took a delightful night swim in the main pool.
It was easy to relax in one of the many shaded cabanas on the Caribbean beach while the kids made sandcastles nearby.  The teens participated in a beach volleyball game.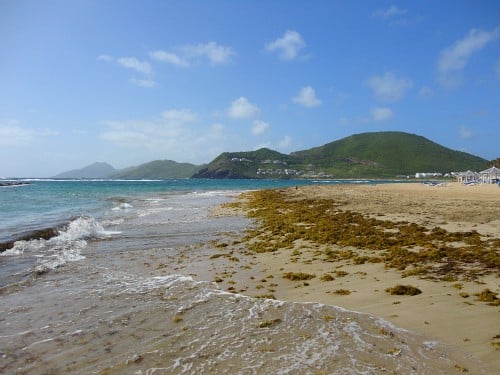 Spa and shops
 After a long day of  yoga on the beach, spinning classes at the fitness center, and floating on pool noodles mixed in with playing croquet, table tennis, volleyball, and ladder ball (all complimentary equipment), it was time for a visit to the Emerald Mist Spa.  The spa offers a variety of specials that vary by season.  I was treated to a massage which gave me access to the whirlpool, cold tub, steam, and sauna.  They even have a full service salon and spa services for the kids, but my experience was all about Mama!  A Caribbean vacation in paradise calls for treating yourself to delightful, reasonably priced spa services.
 After such a relaxing afternoon, I leisurely wandered through the resort's Craft Market and Outlet Shops. I found a variety of affordable gifts made by local artists.  When the kids want a quick afternoon snack, pick up some goodies at the well-stocked Pronto Gift and Sundry.  There's a wide variety of healthy and tempting snacks as well as toiletries just in case something is forgotten.  Yes, there's even chocolate.
Kid's Club, fore and more
While you relax at the spa or hit the casino, your 5-12 year old kids can enjoy full or half day adventures at the Kid's Club.  On select nights, they offer a Kid's Night Out (6:00pm-9:00pm) program.  The club rooms are festively decorated and feature comfortable kid-sized chairs, arts and crafts supplies, games, and so much more!  The rates are very affordable (about $45 for a full day) and the staff is energetic and engaging.
Complimentary sports equipment including basketballs, volleyballs, horseshoes, shuffleboard, and more is available. Tennis socials are held at the lighted tennis courts and match play can be arranged.
The Royal St. Kitts Golf Course is a short golf cart ride away.  Kids can golf for free, with a paying adult, at this challenging 18-hole, 71-par championship course.  Taylor Made rental clubs are available for a fee.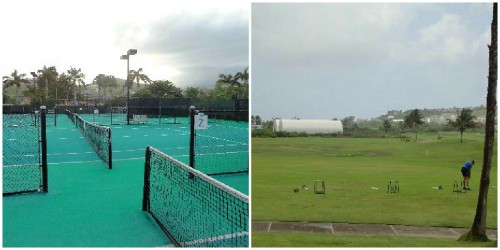 About St. Kitts
Any time is a good time to visit St. Kitts and getting there is a breeze, with several daily direct flights from Atlanta, Charlotte, JFK, Miami and Toronto. The St. Kitts Marriott Resort & the Royal Beach Casino, just 10 minutes away from the St. Kitts airport, also offers a variety of promotions throughout the year.   

Disclaimer: Special thanks to the St. Kitts Marriott Resort & The Royal Beach Casino for hosting my family on this island adventure. As always, the opinions expressed in this review are my own.
---
Travel with kids to: CA |CO | DC| FL | HI | IL |MA | NC | NJ | NY | OR| PA| TN | TX | UT | VA | WA