Moose sightings don't come very often or my California-based family.  There is something so lovable about those lanky, giant herbivores- they always manage to put big smiles on our faces whenever we see them.
The kids and I have only seen a wild moose once, at Yoho National Park in Canada.  It was during the last hours of our Canadian Rockies adventure and the disappointment of not yet seeing a real live Canadian moose had began to set in. Just as we rounded a corner to head back towards the main highway, we spotted a dark animal foraging on a mountainside. We pulled the car over as fast as we could, got out the zoom lens for the camera, and sure enough- we had moose!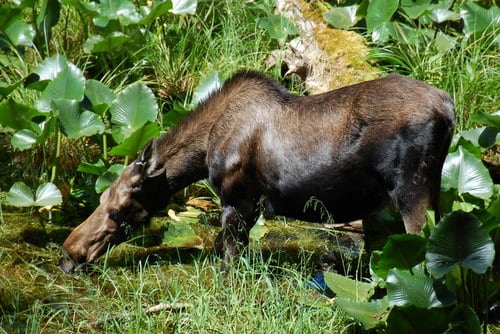 Most of my moose sightings have been at Northwest Trek, a wonderful animal park located in the foothills of Mt. Rainer in Washington State. Unlike most zoos, this park is dedicated to the animals of the Pacific Northwest and in addition to the exhibits featuring predators and smaller animals in enclosures, there is also a very nice tram tour which takes visitors through a free roaming habitat filled with grazers such as deer, bison, and yes, moose!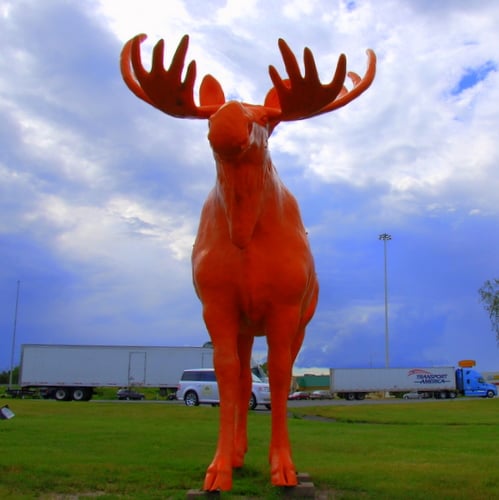 The one moose that sticks out in my mind the most is the moose we saw last year during the Country Inns and Suites 1K Adventure. We drove through seven Midwestern states in 7 whirlwind days! One the first day, we started at the Mall of America and headed through Wisconsin on a scavenger hunt of sorts, including a stop at enormous orange moose hanging out by a pond just off the interstate in Black River Falls, Wisconsin. The moose was originally built by a now defunct car dealership, and still stands proud for travelers to enjoy.
Do you have a favorite moose sighting? Share in the comments!
View many more amazing travel photos at Delicious Baby's Photo Friday.
– – – – – – – – – – – – – – – – – – – – – –
Travel with kids to: CA |CO | DC | FL | HI | IL |MA | NC | NY | OR | PA | TN | TX | VA | WA