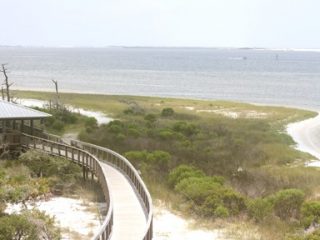 Pensacola, Florida, is located on the Gulf Coast, which probably makes you start dreaming about summer vacations at the beach. In actuality, Pensacola is a great place to visit at any time of the year!
Winter in Pensacola – Just Cold Enough to Want to Stay Inside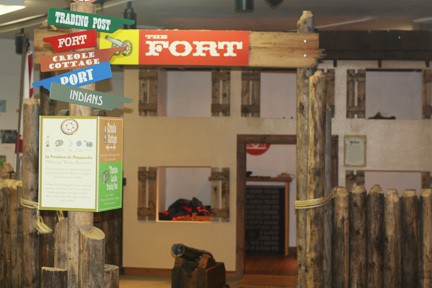 In the past week or two, the temperatures have finally dipped down below the 70s. This is the time for us to dig out our sweaters and head downtown to take a trolley ride for Winterfest. There are 12 stops where local performers act out holiday favorites that everyone will recognize like Rudolph and the Polar Express. There is a free musical performance and you can visit Santa while you are there.
If it is too cold for you outside, you can stay warm in one of the great museums around town. The National Museum of Naval Aviation at NAS Pensacola is one of the largest Naval Aviation museums in the world. Everybody loves climbing in and out of the plane and helicopter cockpits where you can pretend to fly. See an IMAX movie or take a spin on the simulators. The TT Wentworth Discovery Gallery is a great place to let the kids run around indoors. The children can learn more about colonial life in Pensacola through interactive play and hands-on activities. There is a general store, a fort with costumes, a pirate ship and more.
Spring in Pensacola – My Favorite Time of Year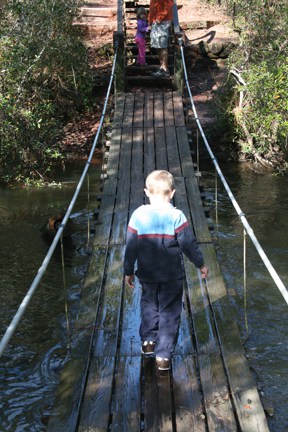 Spring is my favorite time of year in Pensacola. It is the perfect time to spend the weekends hiking the many different trails around town. When I let them choose, my children always pick the Edward Ball Nature Trail on the University of West Florida campus. There is a short boardwalk where your kids will spy turtles, fish, and maybe even a snake or alligator. The Arcadia Mill Archeological Site is another great boardwalk to explore. As you wander along the boardwalk, read the signs describing the different areas of this former industrial complex. There is also a small swinging bridge to walk across.
We take full advantage of the spring weather and check out some of our favorite parks in the area. Parents will enjoy the peaceful view at the Sanders Beach-Corrine Johnson Park. The park overlooks the water, much of the playground equipment is covered, and there are benches and picnic areas to enjoy a snack. Though there isn't much by way of playground equipment, Aviation Park sits right on the Pensacola International Airport flight line. There is a pretend air traffic control tower that you can sit in and listen to the real air traffic controllers. The speakers are linked to the Pensacola International Airport tower.
Summer in Pensacola – Build castles in powdery white sand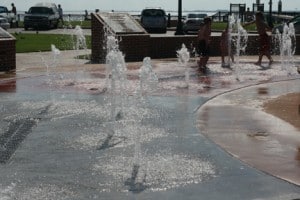 Our summers are humid and hot so we spend a lot of time at the beach. After a long day of splashing in the waves and playing in the sand, we always have to make a trip to Ft. Pickens on the Gulf Islands National Seashore. This pre-Civil War fort has lots of walkways and nooks to check out. Bring your flashlights because some of the halls are dark. We leave a pair of headlamps in our car for the kids just in case we make an impromptu stop at the fort. Our family beach trip wouldn't be complete without an early dinner at Peg Leg Pete's. The kid's meal comes with a pirate eye patch in a bright blue sand bucket.Plaza de Luna Park
If the beach isn't your thing, visit Plaza de Luna in Downtown Pensacola. There is a small splash pad, a great concession stand, and a pretty view. This is a favorite spot for fishermen so you just might see them pulling up their catch. Wander in and out of the shops along Palafox when you are finished.
The summertime is when the farms open for U-pick and the blueberries are perfectly plump and sweet. Pick pounds of blueberries as a family. Of course, if your children are anything like mine you will probably find them hiding in a bush eating all their freshly picked blueberries. A& N Blueberries is a family friendly farm that offers inexpensive U-pick berries and is a great family outing.
Fall in Pensacola –Festivals Every Week
For me, fall has officially arrived when we attend the annual Pensacola Seafood Festival. There are hundreds of arts and crafts vendors and lots of new seafood to try. There is a children's area with arts and crafts. Santa Rosa County's Beaches to Rivers offers all sorts of great fall events, too. There are corn mazes to get lost in and pumpkin patches to visit.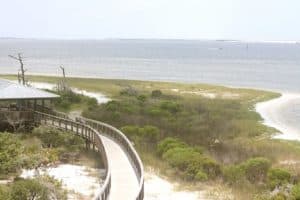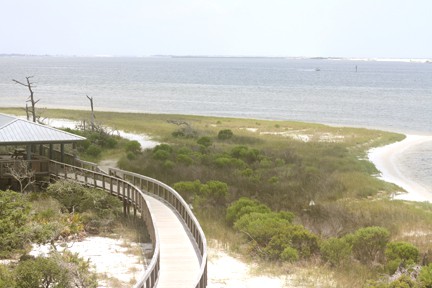 Whenever we want to get out of the house but can't seem to come up with a plan, we head to one of Florida's state parks. There are a five state parks within a 45 minute radius of Pensacola. See the endangered pitcher plants at Tarkiln Bayou or Yellow Marsh River Preserve State Park. Big Lagoon State Park has lots of walking trails by the beach. There is an observation tower that you can climb up to get a great view of the water or you can canoe or tube down the river at Blackwater River State Park.
You will be sure to find plenty of family friendly activities no matter when you visit Pensacola, Florida!
Travel with kids to: CA |CO | DC | FL | HI | IL |MA | NC | NY | OR | PA | TN | TX | VA | WA