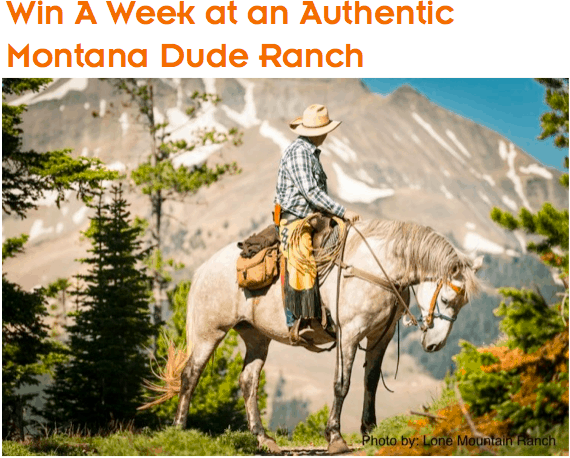 Do you like WIN-WIN ideas? What about a WIN-WIN-WIN giveaway?
Trekaroo is excited to partner with Big Sky Chamber of Commerce to offer two over the top prizes for Passports with Purpose.
Prize #1: First, we're whizzing one very lucky family off to an Epic 7 day Montana Family Experience at wonderful Lone Mountain Ranch worth a whopping $5000. But that's not all!
Prize #2: We're also raffling off an additional 3 day Big Sky, Montana Adventure worth $2499.
(Prize #3 – well, it's a not really a prize, but it's a big win for the people of Haiti): What makes this giveaway a triple win is that these prizes is being raffled off as part of the travel community's annual fundraiser – Passports with Purpose! This year, with your participation, we're hoping to raise $100,000 to bring clean water to the people of Haiti by benefiting a fantastic organization, water.org.
How does Passports with Purpose Work?
Simply put, Passports with Purpose is The Biggest Travel Raffle of the year. Each year, travel writers reach out to our favorite travel destinations and invite them to join us in helping to raise funds for our chosen cause by donating an irresistible experience. Our sponsors generously offer up prizes like fabulous hotel rooms, attraction tickets, experiences to remember, airfare, and car rentals. These travel prizes are then raffled off to anyone who wants to buys a raffle ticket. This is where you come into the equation! Donors like yourself purchase raffle tickets for $10 a piece. The more tickets you buy, the more your chances are of winning. Really want to win something? Stack up your odds of winning by applying as many raffle tickets as you like towards your most coveted prize. If you win, you can be sure you'll have scored the travel deal of a life time. If you don't, your donation will go a long way towards bringing much needed clean water to an entire community in Haiti. Either way, you can't loose.
Prize #1: A Week at Lone Mountain Ranch, an Authentic Montana Dude Ranch
My family visited Big Sky, Montana for the first time last summer and as a testament to the big impression it made on our kids, my 6 year old wrote a 10 page story on his adventures in Big Sky, MT. While the winter brings to Lone Mountain some of the most extreme skiing, the summer brings picture perfect postcard scenes. Truly this is a part of the country that makes me want to belt out "America the Beautiful" at the top of my lungs! However, what warmed my heart the most was watching my boys running through the hills with reckless abandon, smiles from ear to ear, feeling free like the wind. This is the kind of summer that boyhood memories are made out of and there is no better place to breathe in deeply the richness of Montana than at Lone Mountain Ranch in Big Sky, MT.
Lone Mountain Ranch is one of the country's premier luxury dude ranches. During our family's short visit to Lone Mountain Ranch, we couldn't get enough. As we mounted our handsome horses and explored the mountain trails, I felt like each clipety-clop sunk me deeper into the beauty all around us. As time slowed, the sounds of birds and bubbling brooks grew sharper, and soon we were all seeing the world in that magnifying glass sort of way. While you could ride horses to your heart's content, this all inclusive dude ranch vacation offers the full American wild west experience: go fly fishing, learn to shoot with a bow and arrow, enjoy a chuck wagon dinner, and learn to square dance for starters. Lone Mountain Ranch also has an exceptional outdoor youth program that your kids will absolutely love. Your cowboy and cowgirl can challenge themselves on high ropes courses, try their skill at archery, learn backcountry survival skills and animal tracking, try geocaching, and much more. Mom and Dad will appreciate the gourmet ranch style meals where no expense is spared to ensure that your diet takes a holiday as well. Lone Mountain Ranch even offers spa services to sooth sore riding muscles or just to spoil mom. Lone Mountain Ranch is open year round. In the winter, they offer some of the most extensive cross-country skiing trails in Montana.
Explore more family friendly activities in Big Sky.
Prize Description:
One week stay in the Douglas Fir House, a log cabin overlooking Lone Peak and the surrounding mountains at Lone Mountain Ranch for a family of 5.
All meals during your stay at Lone Mountain Ranch
Selected ranch activities including horseback riding when available during the summer.
Restrictions:
Reservation and stay must be completed before August 24, 2013
Space available basis
No cash value
Saturday to Saturday stays only
Prize Value:
Rules and Guidelines:
One raffle winner will be selected
Winners will be selected randomly and your chances of winning are based on the number your raffle tickets you applied to this raffle item against the total number of entries for any particular prize.
18 years of age and older
Donate by buying Raffle Tickets
Trekaroo Prize #2: The Big Sky, Montana Adventure
Extend your time in Big Sky, MT with a private guided interpretative tour to Yellowstone National Park, a day of thrills at Big Sky Resort Basecamp, and a mom and daddy date day to Moonlight Basin Resort where a Jack Nickalus Golf Course, a day at the spa, and dinner at Jack Creek Grill await.
Many thanks to Lone Mountain Ranch for providing this wonderful prize and Big Sky Chamber of Commerce for facilitating these fabulous Big Sky, MT prize packages. And here's a shout out to the 2012 Passports with Purpose Sponsors as well: