Last week we told you about Passports with Purpose, the travel bloggers annual fundraiser, and how this year our goal was to raise $80,000 to build two libraries in Zambia. We asked you to consider donating to this worthwhile cause and encouraged you with the incentive that in return for your $10 donation, you have an opportunity to win some incredible prizes. Of course, we think the prize we are giving away, a golf stay at Austin's Barton Creek Resort, is pretty awesome but there a so many other great prizes to enter to win as well. To get you even more pumped about donating to Passports with Purpose, we have decided to highlight some of these truly awesome prizes. Here are some of our favorite  prizes that  Passports with Purpose donators have a chance at winning:
Kindle Fire:  This has got to be one of the most sought after gifts this holiday season. The  7-inch tablet with Wi-Fi from Amazon is  slim, lightweight,is in full color, and holds 18 million movies, books, and apps, making it perfect for travel.  With Europe up Close, The Solo Traveler, Mother of All Trips, and The Vacation Gals all giving one away, your chances of winning are pretty decent! Psst…. Budget Travelers Sandbox is also giving away a Kindle Touch…
Xbox 360 with Kinect Bundle:  Can you imagine how cool your kids will think you are if an Xbox 360 shows up under your tree? Yes, video games can lead to way too many hours on the couch but Kinect features active games so your kids will get some exercise while playing. Score! Wandermom is hosting this amazing giveaway.
4 Nights in a Suite at the Honua Kai Resort in Maui: Delicious Baby is hosting this 4 night giveaway in an ocean view suite. 4 nights. Maui. Ocean view. Enough said.
Three Night stay for a family of four at an all-inclusive Beaches Resort in Jamaica: I love all-inclusive resorts so the all-inclusive stay in Jamaica that Have Baby will Travel is hosting definitely caught my eye. Imagine hanging out with your little one's poolside with a cocktail in hand and the Caribbean sun on your shoulders. Not bad, eh?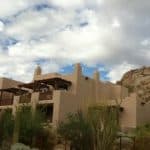 Two Night Stay at the Four Season Scottsdale at Troon North: My family just returned from this amazing resort (I can't wait to share the details with you all!) so I know that this is a tremendous prize. In addition to the resort stay, the winner will also be treated to a dinner at Talavera, where I enjoyed the best steak I have ever had. I will definitely be entering in hope of returning to this incredible resort. This giveaway is hosted by My Itchy Travel Feet.
Disneyland/Hilton Garden Inn prize pack: It's no secret that Trekaroo loves Disney so when we saw the prize that Travel Mamas is giving away, we couldn't help but get excited. One lucky family will win 4 park hoppers for Disneyland and California Adventure as well as a two night stay at the Anaheim Hilton Garden Inn.  What an ideal family getaway!
$1000 HomeAway voucher: We love HomeAway because it give travelers access to 260,000 vacation rentals around the globe in one location.  Vacation rentals are great for extended family travel, travel with large families, or families who would love the convenience of staying someplace with all the comforts of home (like a kitchen!.)  Nerds Eye View is giving away a $1000 voucher which can be used to take your family on an adventure in a vacation rental that is perfectly suited to your needs.
$500 BedandBreakfast.com gift card: Last year we featured BedandBreakfast.com in our holiday gift guide  giveaway  so when we saw that Land Lopers was hosting this prize, we were happy to see another chance to win this great prize. The  BedandBreakfast.com can be used at more than 4,000 small inns and bed and breakfasts which makes it an idela gift for travelers.
110,000 Hyatt Gold Passport Points: There is something just so exciting about hotel points. Hyatt is one of my favorite hotel brands (extremely family friendly) so winning $2640 worth of Hyatt points turn me into a kid in a candy store.  I could spend hours researching what sort of luxurious hotel stays I could get with all those points! According to the giveaway host,  Loyalty Traveler of Boarding Area, this prize can buy 5- 22 nights, depending on how you use them. Donate to win this prize and start daydreaming!
There is only one way to win all of these fabulous prizes- head on over to Passports with Purpose and DONATE.
The last day to donate is Friday, December 16, 2011.
---
Travel with kids to: CA |CO | DC | FL | HI | IL |MA | NC | NY | OR | PA | TN | TX | VA | WA