Park City, Utah, once a silver mining boom town deep in the Wasatch Mountain Range, has been transformed over the past few decades into one of the most family friendly vacation destinations in the USA. Just like it lured hopeful miners in search of silver fortune and drew the 2002 Winter Olympians going for gold, Park City continues to attract numerous visitors in search of something special. Here are just a few of my family's favorite things about Park City.
Historical, Cultural and Environmental Attractions
Civic pride has ensured that visitors come away from Park City with a greater appreciation of its history and future place on the world stage. If you are driving into town, stop by the Kimball Junction Visitors Center to pick up a training schedule for the nearby Utah Olympic Park. We had a thrill riding in a bobsled along the same track that was used in the 2002 Olympic Games and our professional driver made sure we were racing along at top speed. After our victory dance, we explored the Park's two museums, the Alf Engen Ski Museum and Eccles Salt Lake 2002 Olympic Winter Games Museum. We even got to touch a real Olympic torch!
If you prefer to keep your feet on the ground, explore the great outdoors at your own pace at the Swaner Preserve and Eco-Center. There we learned about this region's natural habitat and saw some of the plants and animals that make their homes in the mountains surrounding Park City. While in downtown Park City, stop by the Park City Museum to learn about the transformation from a silver mining town to a world-class ski destination. Be sure to visit all three floors of the museum including the basement which houses The Dungeon, the original jail which is always popular. Artistic kids may prefer the creative exhibits at the Kimball Art Center. The docents are always eager to chat about the artists and their works which helps engage our kindergartner. Her eyes light up when she discovers artwork she likes. That's a treasure worth sharing anytime!
Ski and Snowboard Resorts
Only 45 minutes from Salt Lake City International Airport, Park City is home to three of the top-rated ski resorts in the world: Canyons Resort, Deer Valley Resort, and Park City Mountain Resort. Families flock to these mountains not only for the incredible range of terrain to suit any level skier, but also for Utah's famous powder dubbed the greatest snow on earth! Park City Mountain Resort is where my kindergartner learned to ski so it will always hold a special place in my heart. Ski Magazine named Park City Mountain Resort as the #1 Family Vacation for 2012. If you or your kiddos need a few lessons, do yourself and them a favor…go with the pros! The ski, snowboard and adaptive school instructors are absolutely incredible. I went from a beginner to a confident green trails skier in just three days. Now, I cannot wait to return! If your family is made up of mixed level skiers, there are some amazing group meetups on the mountain; the black diamond skiers can venture off on the resort's famous groomed trails while the beginners can safely ski at their own pace on the turtle trails. This was such a relief and no one got hurt trying to ski a trail they were not ready to explore. If you're looking to refill hungry tummies, the Cobra Dogs are legendary and the bison chili at the Legacy Lodge is my personal fave. Some of the resorts, such as the Marriot's MountainSide, have outdoor hot tubs which are a huge hit after spending a few hours on the slopes.
Hand-crafted Snow Bugs, made in Utah by Frank Conlon, make great souvenirs and hang in our house to remind us of our time spent on the slopes. They are a great conversation starter when guests visit. The Snow Bugs are available for purchase at all three Park City resorts as well as at the SLC airport.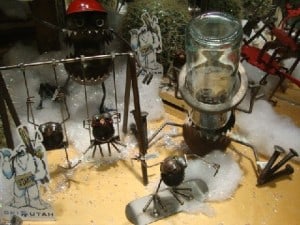 We've found that a vacation to Park City is like a silver lined memory all dusted with snow. Once you visit this magical land, you'll find yourself dreaming of a return trip just like we are. Hope to see you there!
Stay tuned for more in depth ski resort anaylsis on Trekroo: January 2012.
---
Travel with kids to: CA |CO | DC | FL | HI | IL |MA | NC | NY | OR | PA | TN | TX | VA | WA