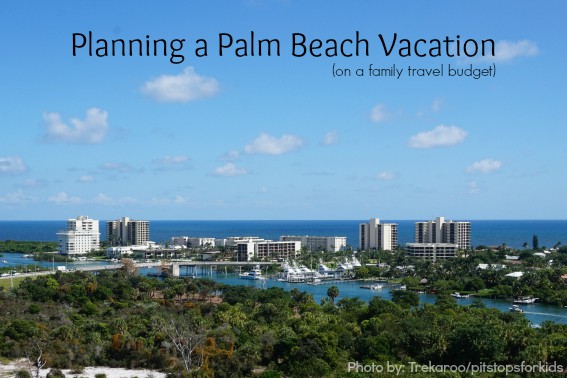 Flying into West Palm Beach, Florida, the most impressive feature isn't the long stretches of green fairways or luxury condos and vacation homes. It's the miles and miles of water. The color blue weaves its way through everything on the ground below, from the gorgeous azure of the Atlantic (the Bahamas are not far away) to the deep turquoise of the intracoastal waterways. Just about anywhere visitors venture once on the ground, they will be utilizing bridges, bays, and harbors.
The Palm Beaches stretch for miles along this southeastern stretch of Florida, to include beautiful Juniper Beach, West Palm Beach, Juno Beach, and even Boca Raton. It's known as an expensive place to vacation, but it doesn't have to be. My destination was Marriott's Oceana Palms, a Marriott Vacation Club property located right on the beach on Singer Island.
As soon as I crossed the bridge from the mainland to the island, I began to relax from my red-eye flight. With such a narrow strip of land, every hotel seems to be right on the beach here, and from the car, it's possible to see glimpses of surf, adding to the feel of 'arrival'. Oceana Palms is located right on the water, with two towers, both with great ocean views. I've never had a friendlier check-in experience, with the front desk going out of their way to welcome me, orient me to the property (there's a lot going on here), and getting me into vacation mode. I was shown to my two-bedroom villa overlooking the water, and walked immediately to my oversized balcony, where I took at the view of sand, sea, and harbor. By the way, every room in the resort is a two-bedroom villa, and every room has a beach view…imagine that!
Why stay at a Marriott Vacation Club property in Palm Beaches?
Contrary to what many parents believe, as with many timeshare situations,  you don't need to be an owner to stay at a Marriott Vacation Club property. One-time visitors even get lots of perks for roughly the same price as a standard hotel room at any of the upscale properties in Palm Beaches. Families staying at Oceana Palms, or Marriott's additional Vacation Club property, Ocean Pointe, enjoy two-bedroom suites with full kitchens, dining and living spaces, and two bathrooms. What this means for families on vacation: the ability to grocery shop and eat meals in and the convenience of space to spread out and bring all the stuff you need. Dining in Palm Beaches is not cheap. During my visit, every meal out was a wonderful (but costly) experience. When staying in an accommodation with a kitchen, families can make their own decisions about how much to eat out, when to splurge, and when to grill burgers at home.
But is it still a resort?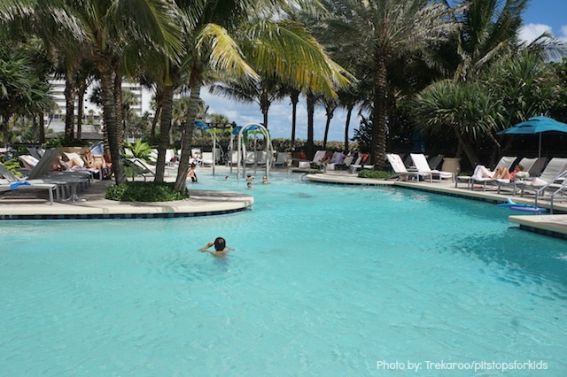 Definitely! Oceana Palms looks and acts exactly like any other top beach resort. Once they step outside their 2-bedroom villa, families find all the usual amenities, and then some. I started with the pools, located directly between the hotel towers and the beach. Technically, there are two of them, but the larger one feels like two, with a zero-depth entry and play area for kids on one end and a free-form design on the other. The lap pool is located in a quieter, more adult corner by Oceana Palms' only on site dining option, Reflections (which is an indoor-outdoor eatery).
Head through a gate at the end of the pool complex, and you're on the beach. Guests have use of lounge chairs, and can rent extras like cabanas, snorkeling equipment, and boogie boards from Tony, the long-time presence at the beachfront kiosk. The surf here can sport waves, which is perfect for school-aged kids who want to body surf, board, or skim board. There's also miles of white sand beach, perfect for sand castle-making and other beach fun. A fun note: Singer Island is a protected site for sea turtle nesting, so families will see signage about conservation programs in place, including special shading on all windows in Oceana Palms and dim nighttime lighting. Sea turtles are guided to the beach by moonlight, and artificial light can confuse them. Time your visit right, and you might get to see the turtles hatching!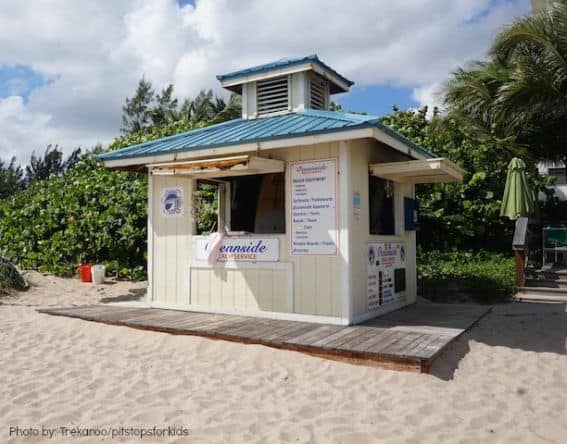 In addition to the pools and beach, Oceana Palms offers a very nice outdoor playground for kids, plus two kids' clubs: one for kids up to age 12, and one for teens. Both are casual drop-in facilities, and families are given a full calendar of scheduled events for both upon arrival, so it's possible to time a visit to coincide with a particular craft or activity. Additional activities for kids are scheduled daily on the pool deck. Parents are not left out either. There's a full schedule of adult programming, ranging from morning exercise classes to evening tequila tastings. Some activities are included in your stay, while others include a small extra charge.
While Oceana Palms, and other Marriott Vacation Club properties, are absolutely full-scale resorts, there's a culture of home at them as well. Here's an example of what I mean: Oceana Palms has dedicated lawn space with communal BBQs where families come together to grill in the evenings. Lawn games are set out, movies are shown, and families sometimes swap recipes or entrees. During my stay, I was told many families return at the same time each year, so they can meet up with other guests they've gotten to know through the community activities.
What to do in the Palm Beaches area?
First of all, plan to spend a lot of time at the resort while in Palm Beaches. After all, most families have come for the beach, and you won't find better than what's right outside your door at Oceana Palms on Singer Island. However, if you want to explore the rest of Palm Beaches 40+ miles of beach, here are my picks: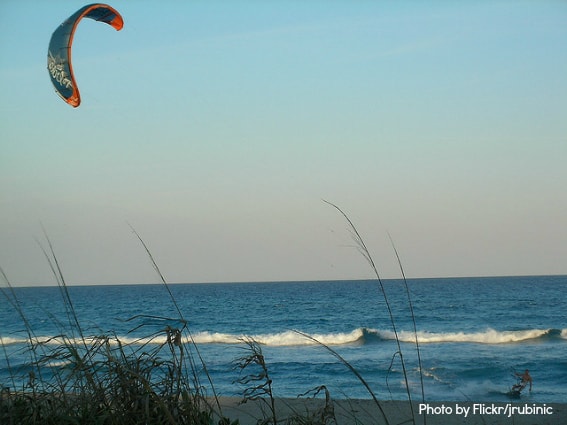 Boynton Beach: This beach is located on North Ocean Blvd, right off State Road A1A. Families will find clean restrooms and picnic areas, and nearby Ocean Inlet offers 900 feet of Intracoastal Waterway frontage, which means the water will be calmer for young kids, and they'll be entertained by the boats coming and going.
Red Reef: This Boca Raton beach and park sports a nature center focusing on sea turtles and great snorkeling. It's located at 1400 North State Road A1A.
Loggerhead Park: Loggerhead is all about the sea turtles, located on Highway 1 in Juno Beach. There are nature trails, calm waters, and picnic areas.
Next, reserve time for the historical sites in Palm Beaches. The best for kids? The Jupiter Inlet Lighthouse, which can be toured with a docent. Kids will learn about the history of the light, including the fact that it was commissioned and designed by two historical figures they'll probably recognize: generals Lee and Grant. After a tour of the light, which includes a fun trek up the winding spiral staircase for great views, each tour ticket also includes a walk-though of the small but informative museum.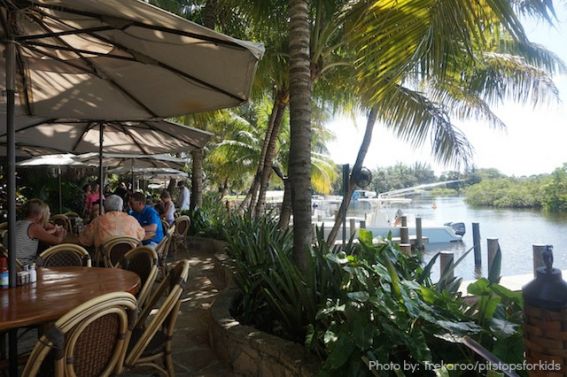 Right nearby, within walking distance of the Jupiter Inlet light is Guanabanas, a restaurant that sits right on the Intracoastal. Guanabanas is a great lunch pick not only for the food, which is great, but the ambiance. It's both a dining location and an attraction. The outdoor seating is a maze of vegetation, walkways, and tiki-style umbrella huts, with things for kids to see at every turn. Restless little ones will like watching the boats come and go from the marina (there are slips right at the restaurant) and everyone will be entertained by the paddle boarders and other water sports in action. Definitely ask for a table on the Intracoastal, instead of in the interior bar area.
During a second day off the beach, head to Grassy Waters Preserve, located in West Palm Beach. This taste of the Florida Everglades takes visitors along elevated walkways on 23 miles of trails. Families can pick and choose which trail to take based on what they'll encounter on each one (use the interactive map on site). Learn about wetlands, see wildlife, including otter, bobcat, and alligator, and many bird species, and explore a real Everglades environment while still only minutes from your hotel and the beach.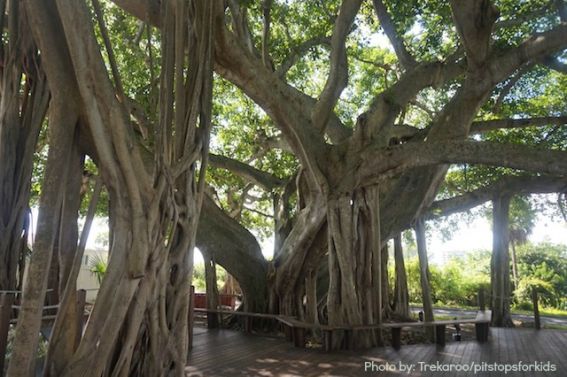 Still have more time? Palm Beaches has much more to offer beyond golf and shopping. Ready for one more nice meal out, to take advantage of South Florida's great seafood? For a kid-friendly option, check out the Sailfish Marina. This marketplace-like eatery delivers on fresh, well-prepared seafood in an environment that's kid-friendly. After eating, head outdoors to the marina and feed the fish!
Disclosure: I explored West Palm Beach and Oceana Palms as a guest of the resort and Marriott Vacation Club. All opinions are my own.