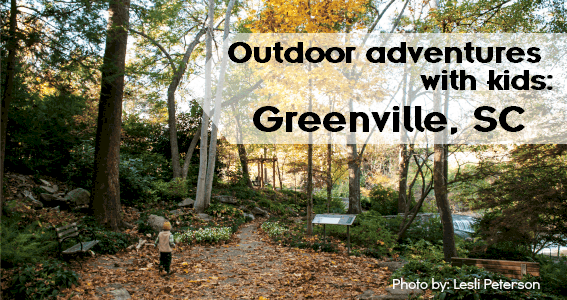 "Don't visit unless you intend to move there," I read online while planning this trip. A smart traveler will take this to heart. Sadly, I can't move to Greenville, South Carolina, but there is a rather large place in my heart for this bohemian city in the Blue Ridge foothills. Outside magazine named it one of the Best Towns of 2013, and I could not agree more. My kids are young, so we're not backpacking the Appalachian Trail (yet), but we live for our time outside. If you are a part of a nature-loving family too, you'll enjoy these four ways to explore and enhance your family vacation in Greenville SC.
Bike Greenville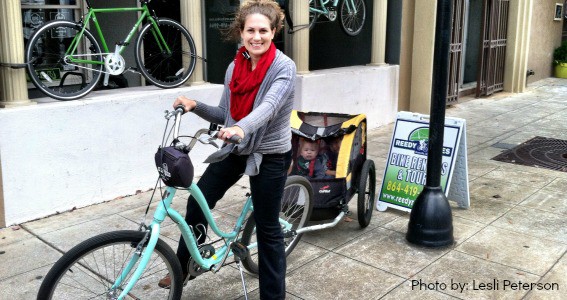 Swamp Rabbit Trail is a greenway system that runs along the Reedy River, connecting parks and other point of interests throughout Greenville. Local and visiting trailblazers can walk, hike, or bike the paved path. Biking allowed me to cover the greatest area, especially considering the snail-like pace of my traveling companions. We geared up at Reedy Rides in the downtown area. My boys are not yet riders, but that didn't stop us. I easily pulled them behind me with the addition of a two-seater bike trailer.
We took the trail north toward Linky Stone Park. The city utilized empty space under the highway by crafting a colorful children's park with an ABC garden, murals, playhouses, and more. After a brief stop here (too brief, if you ask my kids) we rode another half hour to the Swamp Rabbit Café & Grocery. Popsicles and gluten-free cookies hit the spot, and the boys ran off their wiggles in the picnic area outside the store. This adventure topped the list during my time in Greenville, and I highly recommend it for visiting families.
Visit Greenville Zoo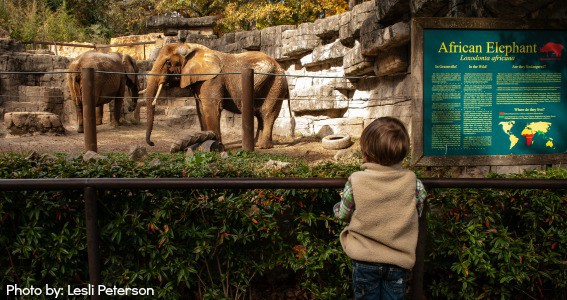 The Greenville Zoo is smaller than our hometown zoo, but I admit to enjoying it more. We viewed the animals up close, which created a more enjoyable experience for my kids. My youngest mimicked the munching mouth of the giraffe, which he observed from only a few yards away. He exploded with a full-belly laugh as he trotted back and forth with them, able to engage these giants even from his vantage point two-feet from the ground.
As you wrap up your animal encounters, grab a bite at the café. You can lunch at the tables inside the zoo, or move your picnic to the large and unique playground just outside the gate. Greenville Zoo is very affordable and worth every penny.
Outside Dining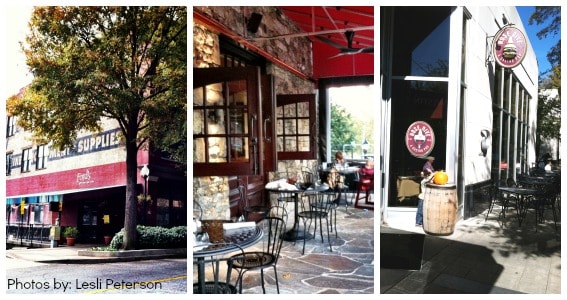 Greenville is a haven for foodies; there are almost 100 unique restaurants and shops in the downtown area. A great number of them offer comfortable outdoor seating, affordable kids' selections, and a welcoming atmosphere for families. I still dream about the lobster roll from The Nose Dive. Ask for a side of honey with your sweet potato fries, and save room for the chocolate candied bacon brownie. Enjoy a view of Reedy Park from the patio of Ford's Oyster House and Cajun Kitchen and indulge in the creamy shrimp and grits. I recommend Passerelle Bistro for dinner with the family. The view of Reedy Falls will spoil you, and so will the food – French cuisine with a subtle southern twist, like shrimp and polenta with Apple Jack Dijon. Finish your carafe of wine or a sinful dessert while the kids play on the green at the park, easily visible from an outside table.
Explore Falls Park
Falls Park is the city's gem, located smack in the heart of downtown. We sauntered the path along the river, fed the ducks, and played tag among the trees and boulders near the falls. In doing so, we were never alone; the magic of the park is not lost on the locals. Other families were picnicking, jogging, and enjoying the sights and sounds much like us. Above the falls is Liberty Bridge, a pedestrian suspension bridge, with bird's-eye views of the park. It is the perfect location to begin your adventure, as you can see your potential path and stake out a picnic spot. Check the calendar for events; there is always something happening in the park.
Where to Stay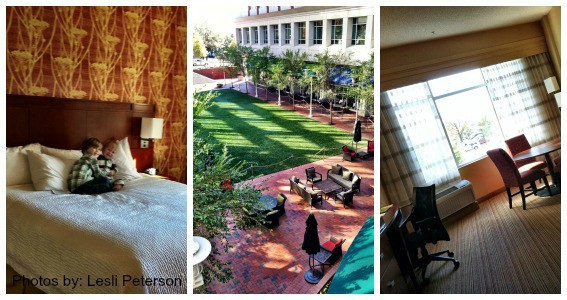 Are you ready to make your own outdoor memories with the kids in Greenville? I recommend staying at Courtyard by Marriott Greenville Downtown. We spent several nights here in a family suite. There was an abundant space for relaxing, and a convenient kitchenette and office area. The location was perfect; we walked everywhere! In less than 10 minutes, we were dining at the best restaurants, relaxing at the falls, or gearing up at Reedy Rides. (You can also get the cycle shop to deliver your bike to the hotel – wow!) From our window we could see the hotel's outdoor lounging area and courtyard, which became a playground for my boys during down-times. Families visiting Greenville will want to make this their "base camp," because of the space and location.
Disclosure: Thank you to VisitGreenvilleSC for hosting my boys and me. We enjoyed complementary hotel, dining, and activities. While I am grateful, my reviews are always honest and always my own. And I honestly fell in love with Greenville!