Last Updated on
There is so much opportunity for outdoor adventure in Riviera Maya, it's hard to know where to go and who to book with. If you're an experienced diver or spelunker, you may do well exploring solo or booking private guides, but for families with school-aged kids looking for an introduction to the region's ecological wonders, a guided, small group experience is crucial. Note: for families with younger kids, check out these Trekaroo picks!
Most of the Yucatan peninsula's cenotes (underground rivers), caves, and jungle expeditions are located on private eco-parks on land owned by Mayan natives and operated by eco-tour companies. The best way to access them is through a quality guide company. Many combine the most popular family activities (cenote exploring, snorkeling, zip-lining, and the like) into package deals, but it's possible to find a la carte offerings as well.
Below are the most popular Riviera Maya outdoor activities that we personally experienced, and who we booked with.
Snorkeling:
You can't go to Riviera Maya and not snorkel in the ocean. The Great Mayan Reef is second only to the Great Barrier Reef of Australia, and it's easily accessed from Cancun to Tulum. As noted above, many eco tour operations package snorkeling in with other activities, but if you want to only snorkel, your best bet is to depart directly from the beach. The Mayan Reef is close enough to be in easy swimming distance at the private beach club Blue Venado (spend $20 per person at the restaurant for all-day access), and families can easily swim with sea turtles at Akumal (south of Playa del Carmen). Some area hotels offer short skiff rides to the reef directly from the beach as well: Puerto Morelos' Azul Beach Hotel offers snorkeling for $40/person for guests.
Cenote Snorkeling and Swimming: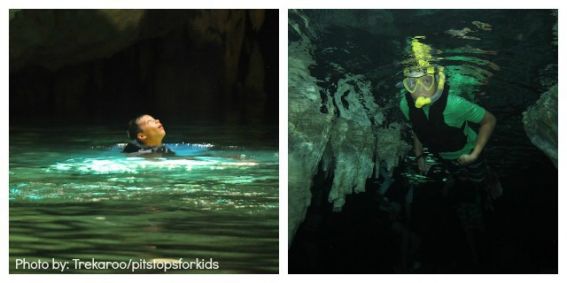 The Riviera Maya is dotted with subterranean rivers known as cenotes, and these geological wonders are definitely worth exploring. For safety reasons, inexperienced families should book with a guide who can give kids a taste of cenote swimming without the dangers of getting lost in these miles-long networks of underground rivers. We found the most natural and impressive cenotes at the eco park operated by Alltournative. Alltournative has several package offerings; the Jungle Maya tour includes both snorkeling in and rappelling into cenotes.
Zip Line Tours: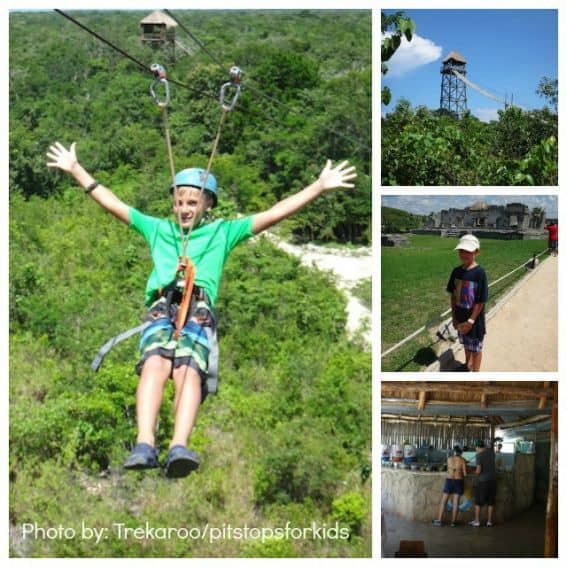 Families can zip line all over the Riviera Maya. We enjoyed the offerings included in our Jungle Maya tour with Alltournative, but alternatively (no pun intended!) the eco tour company Aventuras Mayas also offers a zip line experience in its cenote tour. Like Alltournative, Aventuras Mayas takes small groups to Mayan owned properties for authentic jungle experiences. If you don't want to zip line as part of your eco tour, you can also zip line at Xplor, the adventure theme park sister property to Xcaret.
Jeep and ATV Rides: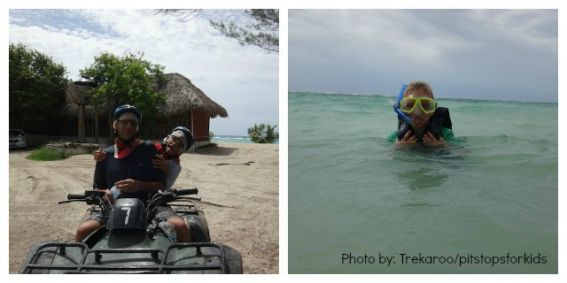 The Mercedes Benz large vehicle jungle transportation with Alltournative ranked as one of my kids favorite eco park activities during our Riviera Maya stay. Even though it was designed to be a means to an end (getting us from Point A to Point B), the off-road experience was much more lively than we imagined. For a fast-paced ATV tour without a lot of add-ons, ATV Explorer takes you through the jungle with stops for swimming and Mayan ruin viewing. If you'd rather combine your ATV ride with beach snorkeling or even horseback riding, Punta Venado does it all, and in the most beautiful setting we experienced.
Mayan Ruins: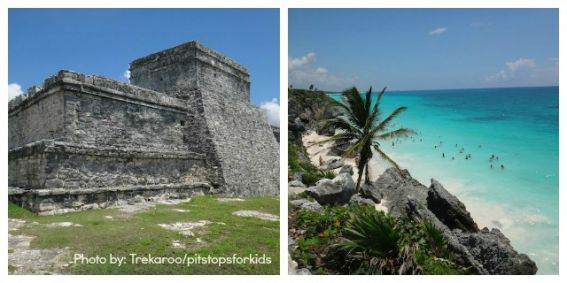 Yes, you can catch a glimpse of Mayan ruins right from the highway in Riviera Maya, but if you haven't toured them up-close, you'll want to head to either Tulum (closer, but without access to walk on the ruins) or Coba (further away, but with an entire village feel). Visitors can certainly access either location independent of a tour, but we recommend a small tour with bilingual tour guide to get the most of the experience. We couldn't devote an entire day, so we opted for Tulum, which sits right on the coast and includes great swimming at the beach. We went with Alltournative, and our guide Robbie was both passionate about Mayan culture and educated on the ruins.
Swimming with Whale Sharks:
This activity is not technically in Riviera Maya, but in nearby Cancun. At every hotel and resort, families will see numerous offerings to book with tour groups to swim with whale sharks. Our pick is Solo Buceo. Why? They start out earlier than the rest! You have to get up early (not fun on vacation), but Solo Buceo departs from their own dock at Dreams Cancun before 7 am, which means you're among the first 1-2 boats swimming with whale sharks. When we departed after swimming for an hour, we saw as many as 30 boats heading out to the whale shark area. Avoid these crowds! Watch our whale shark video.
Eco Theme Parks: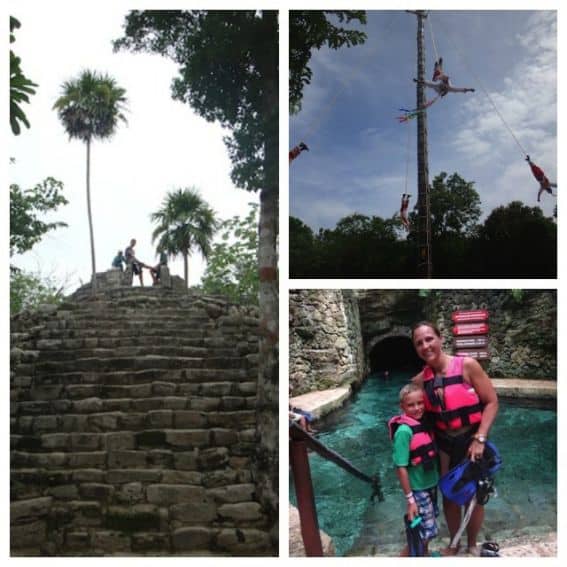 Outdoor adventure is in Riviera Maya for the taking, but if you want something a bit more tame (but just as fun), plan a day at one of the region's eco-theme parks. We visited Xcaret for its combination of animal life and cultural influence, but Trekaroo loves Xel Ha, too! Plan at least one full day (if not two) for Riviera Maya eco theme parks. At Xcaret, we could have spent an entire day with the animals, another studying and viewing Mayan culture (ruins, shows, and living history, oh my!), and perhaps a third exploring the natural rivers and snorkeling lagoon.
Disclosure: I was an invited guest of Riu Hotel and Azul Beach Hotel. Riviera Maya CVB hosted my activities. All opinions are my own.