Dallas certainly provides plenty of family fun but you might be hankering to hop outside the Big D to experience a softer, quieter side of Texas. We've rounded up a list of the best day trips from Dallas so all you have to do is pick a place, fill up the gas tank, and hit the road!
What are the best places for day trips in Dallas? One thing you'll notice that what quite a few of these destinations have in common is a lake. When in Texas, always throw your bathing suit and a towel in the car just in case!
If you aren't in the mood for some waterfront fun, don't worry! We have plenty of other day trips from Dallas that are sure to fit your family's travel style.
There is plenty to do in town as well! Check out the Top 10 Things to Do in Dallas with Kids.
Easy Day Trips from Dallas for Families
What cities are 1 hour away from Dallas?
The following day trip destinations are one hour or less from Dallas:
Grapevine, Texas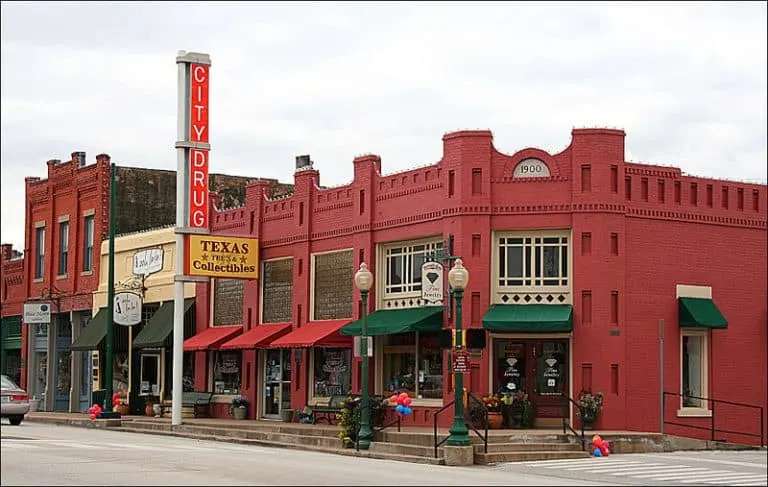 Driving distance from Dallas: 30 minutes (22 miles)
A day in Grapevine can serve completely different purposes, depending on what kind of day trip you have in mind. On one day, focus on outdoor fun and history at Lake Grapevine, Nash Farm, and a ride on the Grapevine Vintage Railroad.
There's a floating waterpark at Meadowmere Park on the lake and First Fridays on Nash Farm host planned, seasonal activities.
On another day, go full-tilt commercial at Grapevine Mills Mall. The mall is home to the Legoland Discovery Center, the Sea Life Aquarium, the Rainforest Cafe, The Escape Game, Lunar Golf, and the Peppa Pig World of Play.
Either way, Grapevine is a fun, easy day trip from Dallas. If you've ever been curious about the palatial Gaylord Texan, you can scoot over there to see it on a pedestrian trail from downtown- it's a must-see during the holidays! Here is our full guide to visiting Grapevine for the holidays.
Finish up the day at the Texas Star Dinner Theater. The show is a slapstick murder mystery set in the Wild West, accompanied by a pre-fixe dinner. Kids are welcome. The theater gives the show a "PG-10" rating.
Fort Worth Stockyards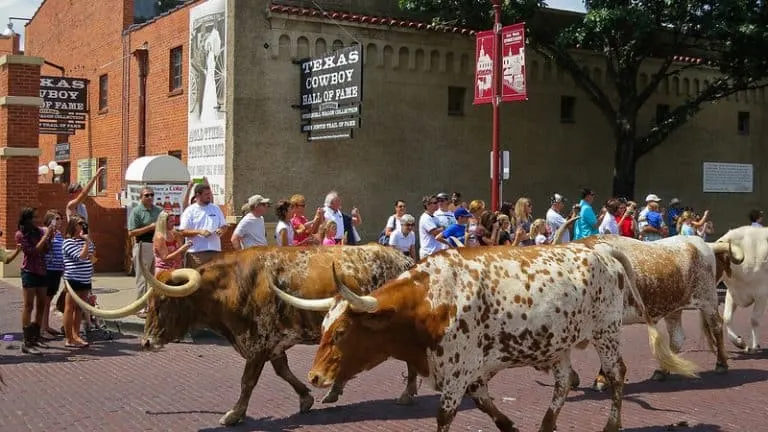 Driving distance from Dallas: 45 minutes (35 miles)
Giddy up cowboys and cowgirls! Mosey over to the Fort Worth Stockyards for a day of historical fun. Ride the Vintage Railroad, wind your way through the Cowtown Cattlepen Maze, watch the longhorn cattle drive, visit the petting zoo, and attend the Stockyards Championship Rodeo.
Want to spend more time in Fort Worth? We've got more details on things to do and places to eat in our Two Days in Cowtown with Kids article.
Denton, Texas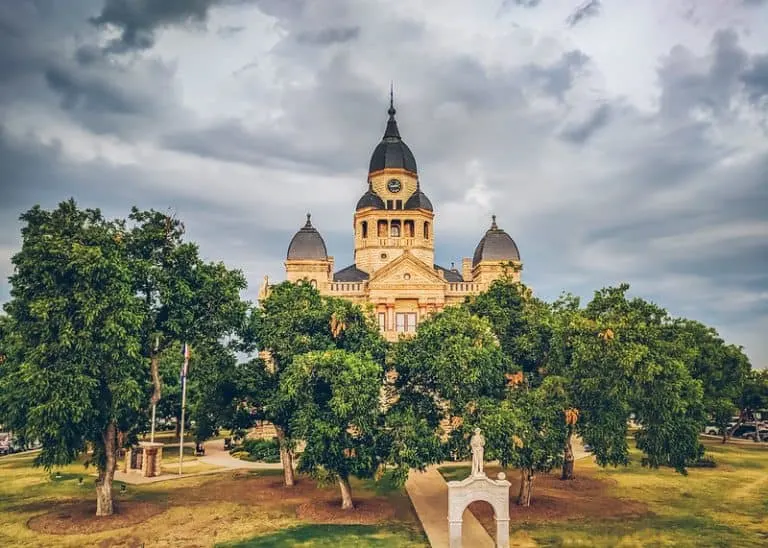 Driving distance from Dallas: One hour (40 miles)
Denton is just a one hour drive from Dallas, making it an easy day trip. Spend the morning hiking Fisherman Trail along the creek's edge at the Clear Creek National Heritage Center just outside of downtown Denton. When the tummies start rumbling or you've had enough sun, head into town for a picnic and a mural hunt.
The lively Denton Downtown Square is anchored by the courthouse green, where families like to picnic with ice cream or a burger from one of the nearby, local restaurants.
This small town's character shines through in the murals that grace the walls of many buildings around town. Get a complete list of the murals in Denton from Discover Denton.
Pilot Point, Texas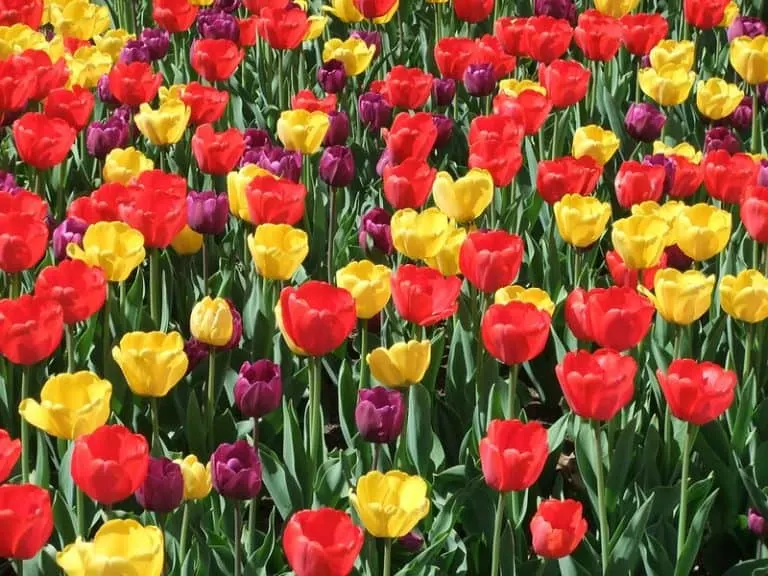 Driving distance from Dallas: One hour (50 miles)
Have you always dreamed of a family photo in front of thousands of tulips, but haven't ever made it to Holland? You're in luck! The Texas Tulip Farm is a little piece of Holland just outside of Dallas.
It has tens of varieties of U-pick tulips in bloom during the early spring. Tour this photographer's paradise with your family to create the ultimate gift for yourself AND the grandparents. Of course, take a bouquet home with you to welcome spring in a big way.
A little less beautiful perhaps, but no less fun for the family is the Sharkarosa Wildlife Ranch. It's a hands-on wildlife experience with alpaca, camels, zebras, American black bears, and many more species roaming the land.
Catch as many of the 20 animal talks made throughout the day as you like. Delight your littles with some free time in the petting zoo or a miniature pony ride.
Want to splurge? Book a private animal encounter with a lemur, two-toed sloth, a variety of reptiles, or an adorable skunk.
First Monday Canton Flea Market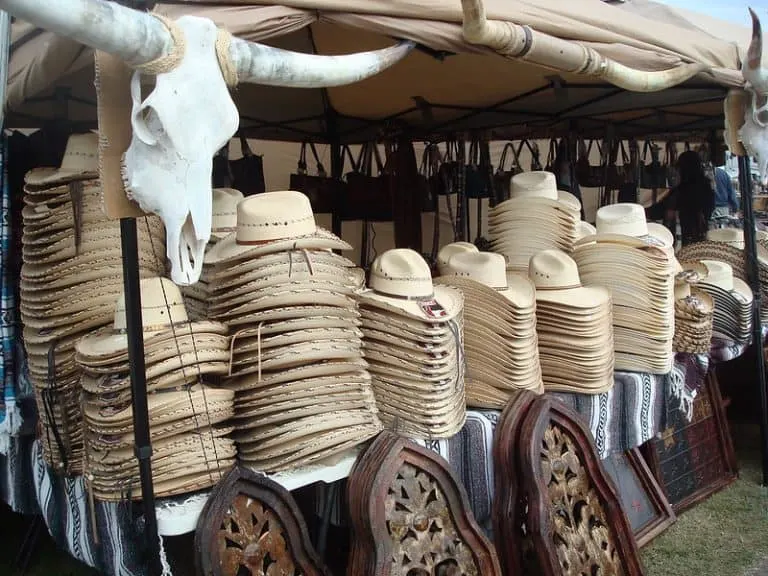 Driving distance from Dallas: One hour (60 miles)
Calling all makers, collectors, wanna-be-interior designers, entrepreneurs, thrifters, and hagglers! This is your mecca. The world's largest flea market is an hour east of Dallas in Canton, Texas.
It takes place year round, the weekend before the first Monday of every month. You are bound to find something unique from one of the 5,000+ vendors selling everything from hats and t-shirts, to furniture, jewelry, light fixtures, and antique toys.
Even if you don't want to buy a thing, nosh on a funnel cake or a corndog and just take it all in. You never know, maybe your kids will get inspired to hone their crafting skills and set up a booth of their own.
Granbury, Texas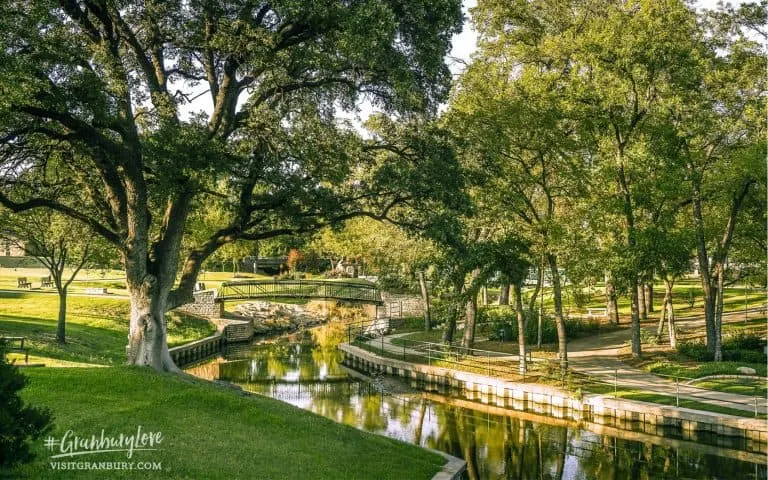 Driving distance from Dallas: 90 minutes (69.4 miles)
Granbury has been USA Today's Best Historic Small Town in America more than once! Historic Granbury Square is bustling with shops, restaurants, and museums.
Think your kids might be curious to see the inside of a real jail built in 1885? You can tour the Hood County Jail Museum.
When the kids have had their fill of history and shopping, set them loose at City Beach Park on Lake Granbury. Swim, kayak, and play in the sand and splash park.
Shanley Park is also a great option when the kids need to run around and you don't have a swimsuit or change of clothes. The best part is that both parks are within walking distance of the square!
After you've worked up an appetite, dine at one of several restaurants on the square that are Granbury Foodie Trail participants. Wrap up the day with a movie at the Brazos Drive-in Theater or a Ghosts and Legends Tour of the square.
Where can I go 2 hours from Dallas?
These nest four destinations are two hours or less from Dallas:
Glen Rose, Texas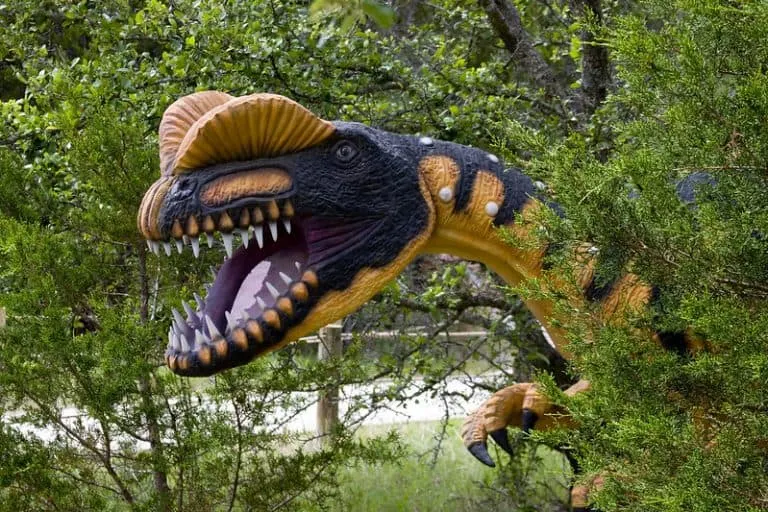 Driving distance from Dallas: 90 minutes (75 miles)
Start your day in Historic Downtown Glen Rose with breakfast at the Green Pickle. Art and history lovers may want to walk over to Barnard's Mill and Art Museum to appreciate some American Indian art and artifacts before heading to Heritage Park.
From Heritage Park, take the Glen Rose Paluxy River Walk down to Big Rocks Park. The kids will love climbing all the big rocks that line the river while you soak in the shallow water.
Animal lovers will want to head just outside of town to see real dinosaur footprints at Dinosaur Valley State Park, life-size dinosaur statues at Dinosaur World, and real African savannah animals at Fossil Rim Wildlife Center. Fossil Rim has been named USA Today's best safari park in the country.
Waco, Texas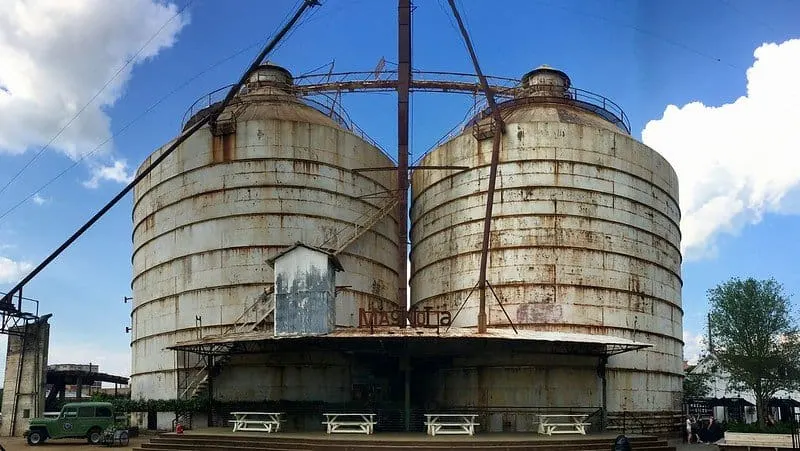 Driving distance from Dallas: 90 minutes (96 miles)
Lucky for a whole lot of Texans, Waco is halfway between Austin and Dallas, so it's a great day trip from both.
Waco is probably best known as the home of Baylor University and Magnolia Market.
Magnolia Market is a Fixer Upper lover's dream day trip! It's the brainchild of Chip and Joanna Gaines and it aims to make shopping for home décor a family event. Kids can be enticed by a large green to run around, a garden to explore, and of course, local food trucks for delicious snacks.
We've got lots more details on a day trip to Waco in our Top 10 Day Trips from Austin post and our Things to Do in Waco including Magnolia Market post.
Tyler, Texas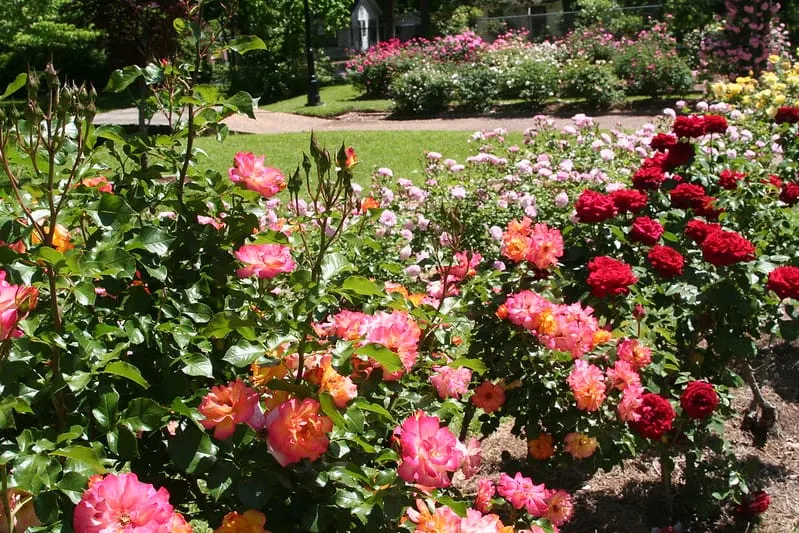 Driving distance from Dallas: Almost two hours (98 miles)
Take a day trip to Tyler in October and you aren't going to believe you are still in Texas!
Reason number one: this is officially East Texas, which is a whole different ballgame (are the trees taller here or what?). Reason number two: Tyler is the Rose Capital of America. Peak rose blooms are in October during the annual Texas Rose Festival.
Don't worry if you can't make it in October though. The Tyler Rose Garden is open year round and the Azalea and Spring Flower Trail it at its best during the second half of March and early April. The Red Dirt BBQ and Music Festival follows that up in May.
Start your day off right with some rose coffee at the Foundry Coffee House and end it with the Rose City IPA by True Vine Brewing Company. It's not all roses around here though, but in a good way!
Kids will enjoy time at the Caldwell Zoo, Discovery Science Place, the butterfly garden at Children's Park, and the planetarium at the Center for Earth and Space Science Education. Oh, and swimming in Lake Tyler. Remember that rose coffee? Get two, you're gonna need it to keep up.
Lake Murray State Park, Oklahoma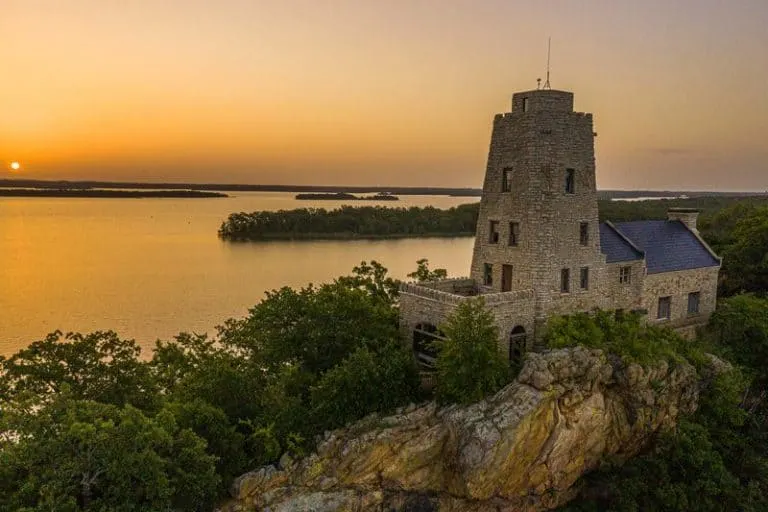 Driving distance from Dallas: Two Hours (about 100 miles)
Lake Murray State Park is Oklahoma's largest state park. With over 12,000 acres of forest surrounding the lake, outdoor adventure makes this one of the great day trips from Dallas.
Hike the trails and swim in the lake? For sure. But also rent a paddle boat, kayak, or water trampoline at Lake Murray Water Sports and Mini Golf. Book a trail ride or hayride with Lake Murray Riding Stables. Need something low key? Take a guided cruise around the lake on a pontoon boat.
Don't miss a visit the Lake Murray Nature Center to gain access to Tucker Tower. The 360 degree view of the lake from Tucker Tower is one of the best views in Oklahoma. Bring your camera!
Feeling like a day trip isn't gonna cut it? Book a campsite, rustic cabin, or a room with a lake view at the Lake Murray Lodge.