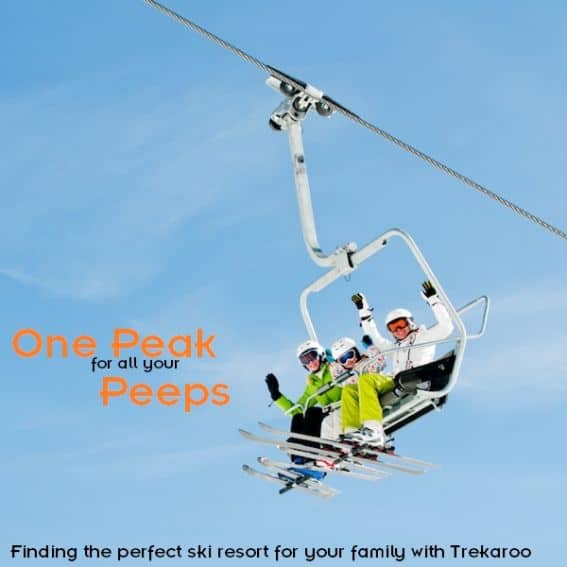 Last week we introduced you to five families in search of the best ski resort for their individual families as we began our One Peak for all your Peeps ski series.
This week, we're diving into our best picks for each of our five skiing families. Each family experienced their most personalized resort and are back to share their thoughts. We'd still love to hear your recommendations. Plus, by recommending a resort to one or more of our families, you can enter to win an amazing prize pack full of ski gear for you and your little ones. Head here for all the details or read on to discover Trekaroo's best rated resort for the Anderson Family.
The Anderson Family's Utah Ski Resort Pick
Location: Huntsville, UT
Closest Town: Ogden, UT
Closest Major Airport: Salt Lake City International Airport
Why this peak is perfect for these peeps:
1.Convenience.Parents lugging gear while grasping kids' hands will love the simplicity of a resort without an overrun base village. Likewise, Snowbasin offers one of the quickest lot-to-lift experiences. Park the car, hop on the free parking lot shuttle, and you'll be dropped off within steps of the gondola. At Snowbasin, there is no traipsing around in awkward ski boots in search of equipment rentals, lessons, and child care. The equipment rentals, lessons, and child care are all adjacent to each other, and in the same building! Okay, so a lack of a base village with ski-in ski-out lodging may deter visitors who prefer a large après-ski scene. But that's another reason we love Snowbasin: fewer visitors equate to shorter lift lines – another convenience for us tike-toting skiers.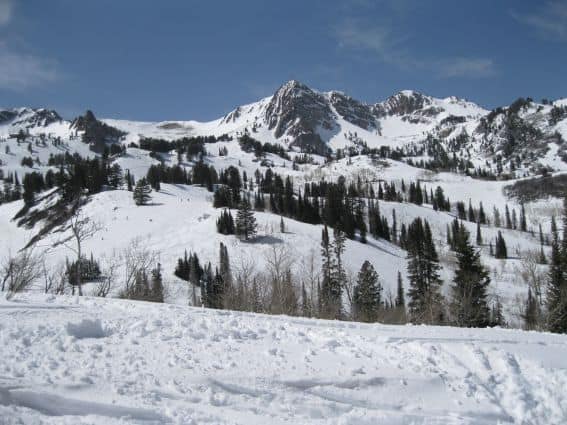 2. Luxury. Luxury abounds throughout Snowbasin's lodges, restaurants, and grounds. Picture exotic wood, plush carpets, Italian marble, and bronze crystalline chandeliers – and that's just the restrooms! In fact, Snowbasin's Earls Lodge possesses a top 5 spot on the 2011 list of America's Best Restrooms. Who knew there was such a thing? Outside of the opulent restrooms lie inviting stone fireplaces, lavish décor, and awe-inspiring views of Mt. Ogden. No wonder my husband often opts for sipping hot cocoa around a cozy Snowbasin fireplace. Visiting a Snowbasin day lodge is like relaxing at a 5-star resort property, without the 5-star resort price tag. Snowbasin was lavishly developed for the 2002 Winter Olympics. The Olympic crowds have come and gone, but the luxury at Snowbasin definitely remains!
3. Beginning Ski Lessons and Deals. Snowbasin offers a tremendous program for beginning skiers ages 7 to adult: the Learn to Earn Program. For less than $40, beginning skiers are outfitted with rental equipment, given a day lift pass, and provided a group lesson. The Learn to Earn Program is a great value, and an ideal way to expose kids to skiing, test their desire to learn more, and allow them to practice new skills. The best part about this program – as soon as participants complete three lessons, and a Snowsport Recreation session, they earn a free Snowbasin season pass! Instructors are amazing, and groups are kept small. In fact, my – year-olds "group" consisted of only 2 other kids. She completed her first lesson and skied away like a pre-Olympian.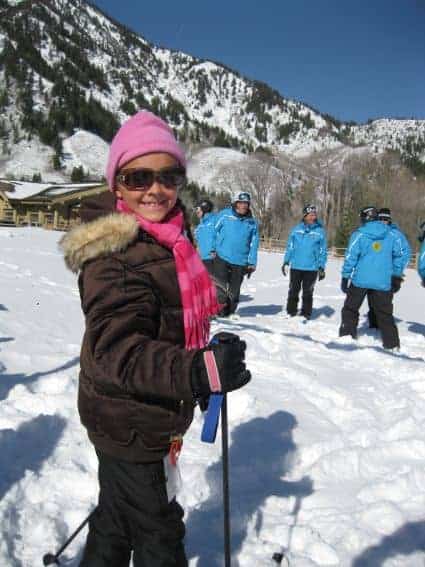 4. Varied Terrain. With over 3,000 skiable acres of varied terrain, each family member is guaranteed to find a slope that matches their abilities at Snowbasin. Thrill seekers can soar down the 2002 Olympic downhill course plummeting 2,900 feet in 2 miles. Whereas beginning and intermediate skiers can glide along open bowls and manicured runs. We love that Snowbasin offers considerable lift pass discounts for beginning and intermediate skiers who choose to stick with the easier Littlecat and Becker lift slopes. These two lifts are ideal for my kids' abilities, yet still challenge them to test technique and skill. And of course, we all love the fun for all ages tubing hill at Snowbasin!
Read more reviews of Snowbasin Resort

Runner-up peaks:
Canyons Resort, Park City, UT. Check out kid-friendly reviews.
Alta Ski Resort, Little Cottonwood Canyon, UT. Read kid-friendly tips & tricks.
__________
Got Suggestions on other resorts? Recommend and Win Ski Gear!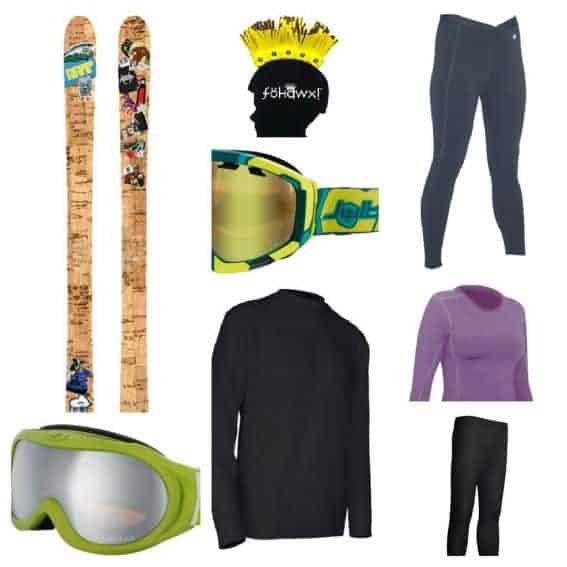 Enter to win great ski gear from our sponsors Julbo, Polarmax, Fohawx, and RAMP.
Make recommendations for any our 5 ski families or share about this One Peak for All Your Peeps ski planning series to enter.
Read the entire One Peak for all your Peeps ski series:
One Peak for all your Peeps: A Week of Ski Trip Planning with Trekaroo!
One Peak for all your Peeps Ski Gear Giveaway
One Peak for all your Peeps: Keystone Resort
One Peak for all your Peeps: Northstar California Resort
One Peak for all your Peeps: Snowbasin Resort
One Peak for all your Peeps: Smuggler's Notch
One Peak for all your Peeps: Berkshire East
This series is sponsored by Northstar California and Mountain Reservations, with gear giveaways from RAMP Sports, Polarmax, Julbo, and Fohawx.
Follow this series: #OnePeak on twitter | One Peak on Pinterest
Travel with kids to: CA |CO | DC| FL | HI | IL |MA | NC | NJ | NY | OR| PA| TN | TX | UT | VA | WA