Last Updated on
Trekaroo generates revenue from purchases made through links to our partner brands.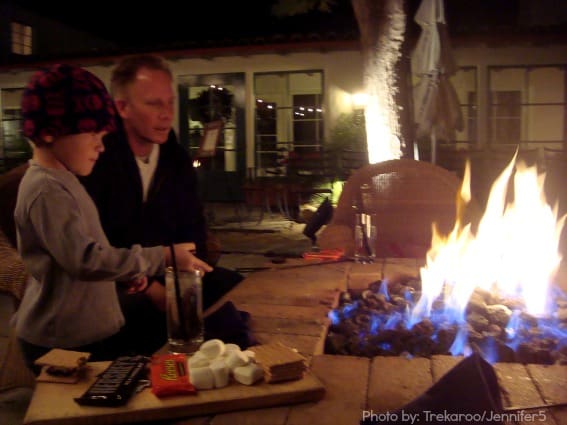 If you told me a week ago that it is possible to get away with my 5-year old in tow for a relaxing overnight getaway, I wouldn't have believed it. But, after a night in Ojai, California, I am now a believer! You can relax in Ojai, California with kids.
We stayed at the Ojai Valley Inn and Spa, which is located 35 miles south of Santa Barbara. The beautiful property includes an 18-hole golf course, tennis courts, four heated swimming pools, and a world renowned spa. Our visit in December allowed us to enjoy activities that are part of their Serenity Season. My son enjoyed making s'mores around the fire, creating a gingerbread house, and mailing a letter to Santa. We arrived at our spacious room via golf cart, which was a real hit with my son. The room was inviting with its cozy fireplace and enormous bathtub. Plus the bungalow style rooms shared few common walls easing my concern of annoying other guests of the resort. Outdoors was just as wonderful as the indoors, and the wide open spaces and many paths made it easy to burn Kindergartner energy.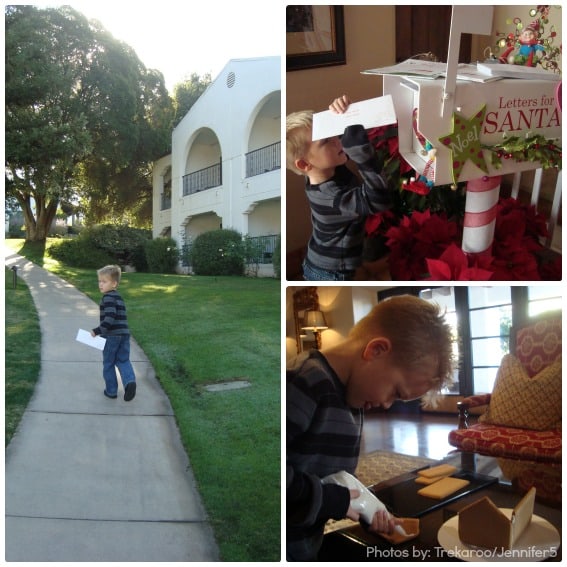 Do you feel the stress melting away from my description? Well, did I mention the wonderful lavender scented shampoo, soaps, and mini candles in the room, outstanding water pressure in the shower, and lush bath robes with slippers? I could go on and on. I'm getting relaxed just talking about all the greatness at this resort. During our short stay, I honestly feel we just began to enjoy everything the resort has to offer. On my list for our next trip is a visit to the spa for me while my son enjoys the onsite Camp Ojai!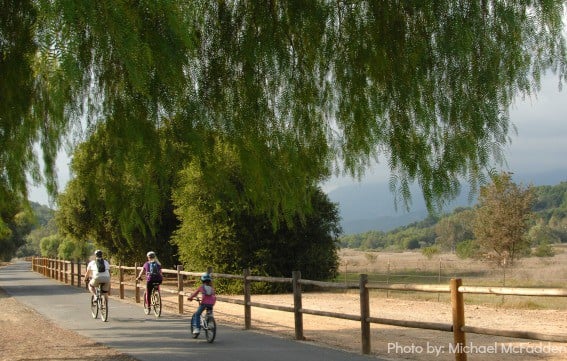 I would be remiss if I didn't mention the wonderful small town of Ojai located just steps from the Ojai Valley Inn and Spa. It boasts beautiful oak trees, small shops, and yummy restaurants. Hop on the Ojai Trolley for $1 per person and easily travel through town. Enjoy the playground and picnic grounds at Libbey Park and don't miss the Ojai Sound Arch, a unique interactive sculpture that lets you hear melodic sounds, similar to a xylophone. Families will enjoy riding along a portion of the bike path and walking path which makes it way through Ojai and eventually to Ventura. Take a holiday trail ride with one of the riding companies through the hills of Ojai or see the production of Miracle on 34th Street at the Ojai Center for the Arts. If you are visiting in the summer, be sure to visit Lake Casitas Water Adventure for water slides and a lazy river, or celebrate music at the annual Ojai Music Festival at Libbey Bowl. Lake Casitas offers families outdoor adventures with fishing, kayaking, boat rentals, and camping. Enjoy farm life and pick fresh Pixie tangerines or bundles of sweet smelling lavender.
 In a nutshell, don't miss magnificent Ojai, it's close enough for a quick trip, yet far enough to truly qualify as a get away!