California's Bay Area has so many amazing cities to visit and Oakland, a city of diverse cultures, is one of its great family destinations. Throughout Oakland, located just across the Oakland Bay Bridge from San Francisco, there are lots of family-friendly attractions to check out. These are some Trekaroo-approved favorites for Oakland with Kids.
Look for current hotel deals in Oakland
Oakland- In the Middle of the Bay-Area Action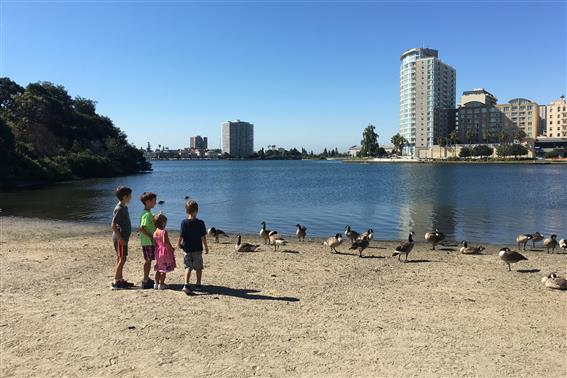 Photo by Tiffany Vaughn
Start off an Oakland day with a stroll around Lake Merritt. This tidal lagoon offers almost 3 ½ miles of walking trails around its perimeter, with views of boaters, birds, and the surrounding buildings. Kids will likely also enjoy the playground and nature center. Also on the lake is Children's Fairyland, a storybook-themed amusement park specifically for preschoolers. Plan your day around the puppet show here; it should not be missed.
Photo by Flickr/Allie_Caulfield
If you are looking for a little bit of culture, head over to Oakland Museum of California. The interactive nature of this museum keeps little ones engaged as they experience art and California history. Don't forget to take a break in the grassy courtyard to have a snack and visit the Koi fish.
Getting Away from the Hustle and Bustle
Photo by Tiffany Vaughn
To get away from the hustle and bustle of the city, take a drive out to Redwood Regional Park, located on the northern end of the city. Enjoy the views of Oakland set against the bay in the refreshing aroma of redwoods. The park provides a variety of trails for all levels of hikers. While you're in the area, head over to Chabot Space and Science Center. Anyone who has any interest in space (and what kid doesn't) will have a blast there. There is even a room just for preschoolers to explore.
Check for hotel availability in Oakland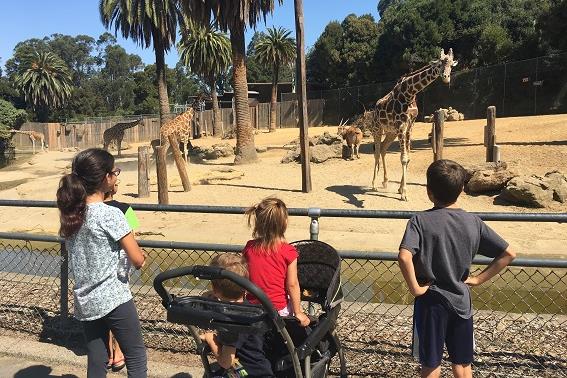 Photo by Tiffany Vaughn
When you are feeling a little wild, it's time for the Oakland Zoo. The spacious animal enclosures provide plenty of angles to view the animals, even when they are feeling a little shy. The new gondola take visitors up the hill for great views of the bay (and coming soon, more animals). And of course, don't miss the children's zoo, where kids can get into the animal action hopping on lily pads and sliding down trees.
Where to Eat in Oakland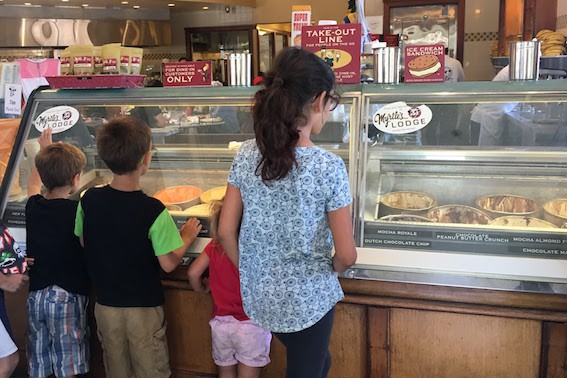 Photo by Tiffany Vaughn
For a nostalgic treat, check out Fenton's Creamery; your kids will recognize it from Disney-Pixar's Up!. They offer creamy confections made right in the store. You can even watch ice cream and cookies being made through a store window. In addition to treats, they also serve up classic diner fare, which gets almost as many rave reviews as their ice cream.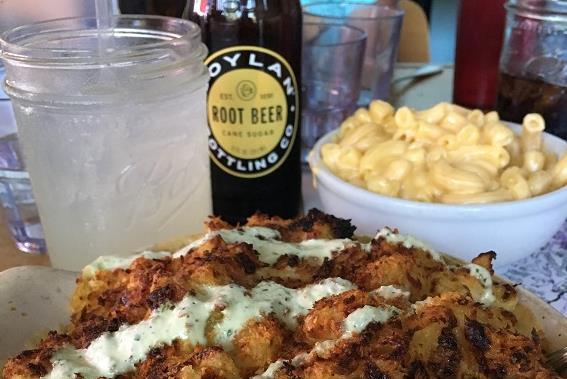 Photo by Tiffany Vaughn
Families will also love Homeroom, a mac & cheese joint with infinite pasta options, homemade limeade, signature desserts, and much more. The decor is fun and inviting, but if the kids don't want to sit still, don't worry, you can always get your custom mac and cheese to-go.
Look for the best hotel prices in Oakland
Where to Stay in Oakland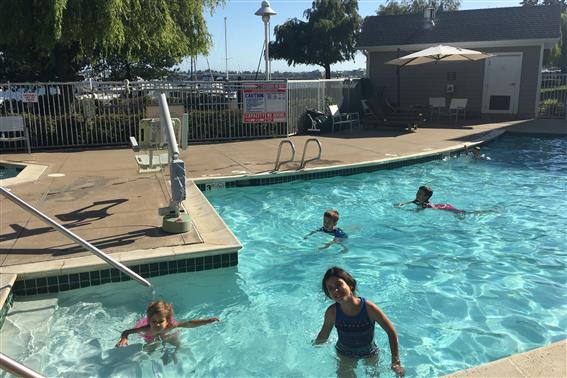 Photo by Tiffany Vaughn
Right on the waterfront is a Homewood Suites by Hilton, a chain Trekaroo families love for its all-suite rooms, free breakfasts, and free weekday dinners. What makes this location especially great is the close freeway access on one side and beautiful bay views on the other. The San Francisco Bay trail runs right behind the hotel and is a great way to burn off some energy at the end of the day.
Thanks to Visit Oakland for setting up a hosted itinerary for Tiffany Vaughn and her family.
Featured image by: Bigstock/peterzayda
Lead Image by Shutterstock