As a child I had always wanted to go see the Nutcracker, but my parents weren't the type to take me to the ballet so my dream continued on into adulthood. As a child, I also lived along the California coast where more people celebrate impending winter by surfing the big waves that appear along the coastline than going to watch the Sugar Plum Fairy dancing upon a stage; there simply weren't many opportunities to watch ballet.
So, upon moving to Washington DC, a metropolitan area with a plethora of Nutcracker performances, I decided that I must take my children to see The Washington Ballet's Nutcracker at the Warner Theater just off Pennsylvania Avenue. I waited until my son was a five year old kindergartner and my daughter a six year old first grader, and I purchased tickets to a matinee performance on Christmas Eve fulfilling my childhood dream.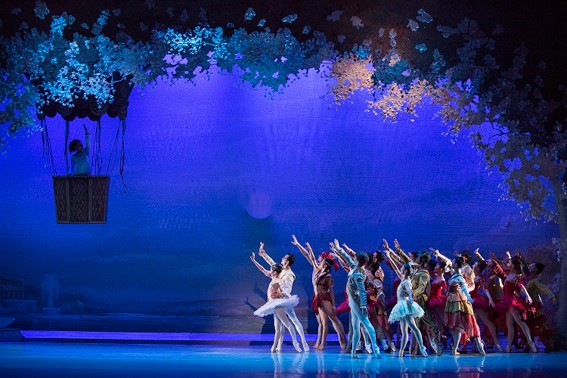 So, how did it go? Quite well. My son had been to his sister's ballet performances before, and they had both been to various full length and kid-friendly theatrical shows. My daughter, a ballet dancer herself, was mesmerized by the dancers throughout the entire show; my son loved the first half, but then he did get quite restless during the last 30 minutes of the performance. I'm not sure that they'll remember it, but I will. Hopefully, we'll have the opportunity to go again sometime.
Featured Images Above Courtesy of the Washington Ballet Theo Kossenas
Here's a Few Tips to Help your Kids Enjoy their First Nutcracker Experience
Remind the Kids that Men Dance Too — And They Jump so High!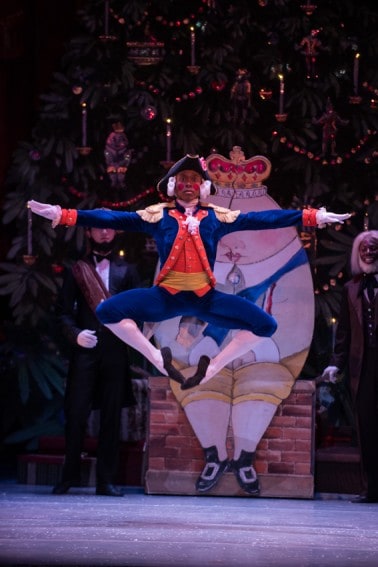 Photo Courtesy of the Washington Ballet Theo Kossenas
My five year old boy was totally convinced that the ballet would be all about girls running around on stage in pretty pink dresses. Obviously, this is not the case. In many productions it's the male dancers that really steal the show with their huge leaps and fast spinning turns. My little boy was thrilled to watch the men bound in high leaps across the stage. I almost convinced him to become a dancer that day — almost.
Read a Picture Book to Learn the Story of the Nutcracker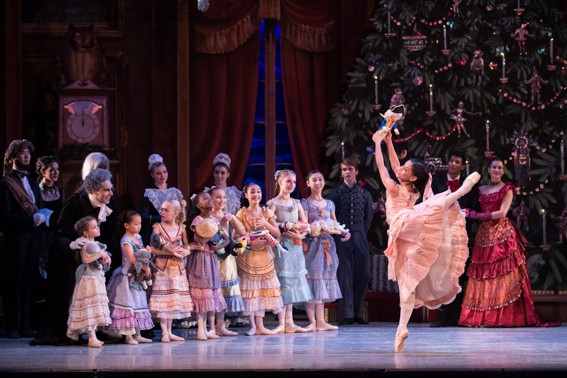 Photo Courtesy of the Washington Ballet Theo Kossenas
Age age six, one of my daughter's favorite picture books was "Ella Bella Ballerina and the Nutcracker." Like the entire series of Ella Bella Ballerina books, this one does an excellent job of introducing the story of the Nutcracker to children so that they will be familiar with the characters when they go to see the ballet. It's beautifully illustrated and a true keepsake. I recommend giving it to your children a week or so before the ballet so that you can read it several times before the big day.
Of course, there are other books out there that tell the story of the Nutcracker, many of which are likely available at your local library. It doesn't really matter how you introduce your children to the storyline; it is just important that you do. You might also want to let the kids know that there won't be any talking or dialogue at the ballet to help them understand the story; the dancers will be too busy dancing for that!
Prepare Ahead of Time and Make the Day Special with a Fancy Dress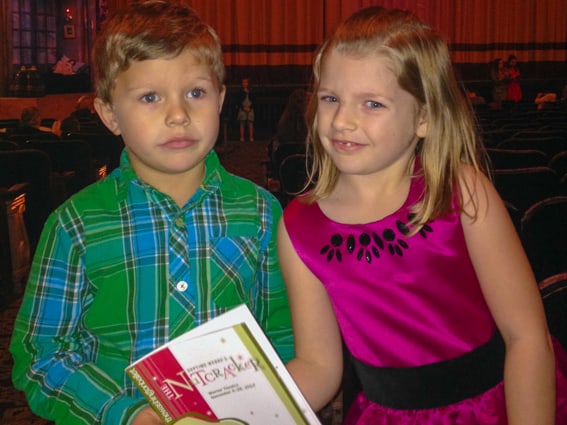 Photo by Melissa Moore
It's so much fun to get dressed-up and go to see a special performance. Little girls really excited for this special event when they get to pick out a fancy dress. Also consider going out to buy a special Nutcracker Christmas ornament to go on your Christmas tree so that you'll always remember your first Nutcracker experience. We still remember the year that my daughter first danced in a local Nutcracker performance because each year we tell the story when we put that ornament up on the tree; the memory fades but we'll never forget.
Go Local and Pick an Age Appropriate Performance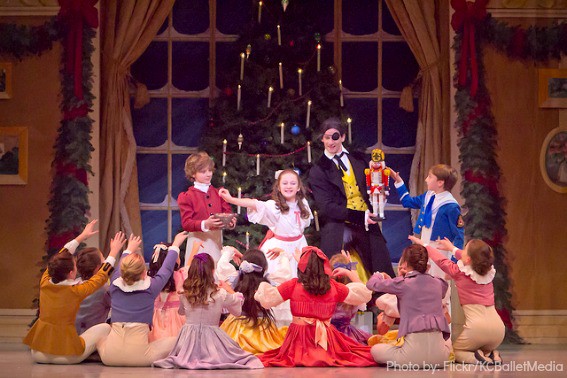 Maybe this isn't the year to go see the big production in the city. There are all sorts of Nutcracker performances out there geared to families with preschoolers and tots. There are Nutcracker teas where budding ballerinas can have cookies and apple juice with the Sugar Plum Fairy before or after the performance. Look to see what sorts of performances your local ballet studios offer for families.
RELATED: Find Nutcracker performances near you in Southern California or in Philadelphia
Purchase Appropriate Seats for the Performance and Grab a Booster Seat for Little Ones
When I make arrangements to take my children to the theater or the ballet, I always try to purchase my tickets early enough so that we can the best seats possible for us within our budget. If you've never been to the theater before it can be difficult to know which seats will best suit your family. I often find that the front row of the balcony is a great place for kids to sit because it's like they have a front row seat looking down from above. (Though on occasion the railing is so high that this is not an ideal seat.) The second row of the balcony is also a great choice for the same reasons. My kids hate to sit next to strangers, so we often like to be seated on the end of a row. Don't forget that theaters often have booster seats available for younger kids.
What Sort of Preparation Goes into a Large Professional Production of the Nutcracker?
A Behind the Scenes Look with Michelle Brennan's Family (from 2010)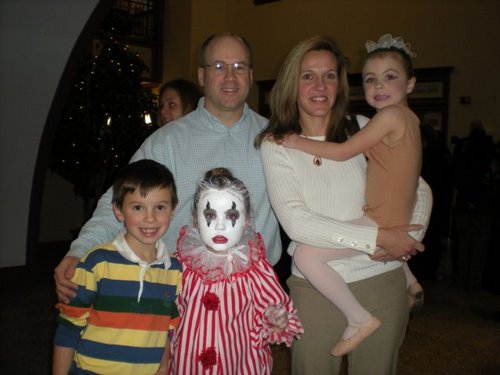 Photo courtesy of Michelle Brennan
It All Begins with an Audition…
Starting on what is usually a very hot September day, some 60 plus aspiring ballerinas and ballet danseurs (the boys), ages 3 though teen, begin the audition process for Ballet Theater Company's : The Nutcracker. It is hard to imagine as we start this process that there may well be snow on the ground and Christmas lights on the trees when we finish. This is the third year my family has been involved and the excitement for both myself and my daughters has not diminished.
Let the Rehearsals Begin!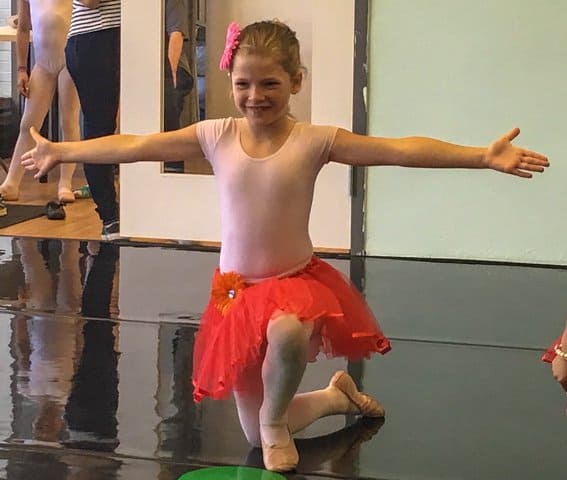 Photo by Melissa Moore
In late September comes the mail with notification of your part and rehearsal schedule. Come October, the rehearsals begin. This year, my 9 year old daughter Natalie has 2 roles; one as a Baker in the Land of Sweets and the other as a Junior Party Girl in the opening scene where we are introduced to Clara and the Nutcracker. My 6 year old daughter Lauren is cast as an Angel with 9 other "angels". There are roles for every gender and age, including parents who waltz during the party scene, boys that play soldiers and Fritz' friends, and the most coveted role of Clara. The children work very hard every weekend to learn their choreography, and in the process, find out what it is like to be in a large professional stage production. During the last few weekends leading up to the performance, rehearsals are 4 or more hours long. The children need stamina and interest but there is not one child there, even down to the smallest 3 or 4 year old. that does not make it work.
Hair, Make-up and Costumes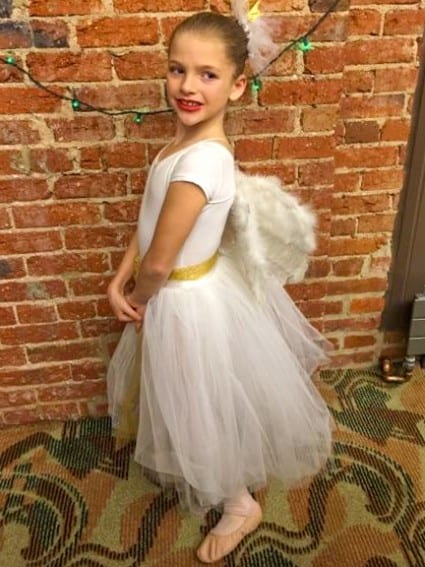 Photo by Melissa Moore
As the production dates draws near we have serious rehearsals in front of us. On Monday we had a 4 hour technical rehearsal at the theater and Tuesday is our dress rehearsal. I say "we" because parents play an important role in the production. We are the back stage quick change artists, the makeup and hair stylists, chaperones, and overall green room organizers. During the production, we keep the children busy until they are "on" and direct them when they are off. The production begins on Wednesday the 15th with an outreach performance. During this event many children from surrounding disadvantaged areas are invited to experience the magic of theater and the ballet during the season of giving.
Why We Dance the Nutcracker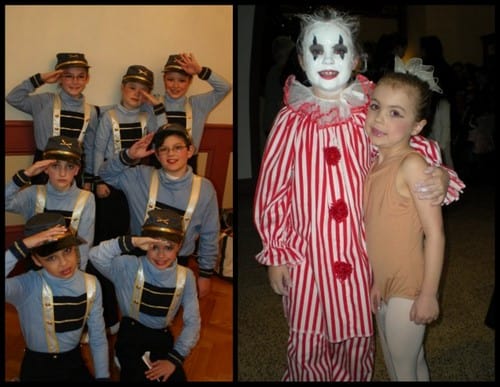 Photo Courtesy of Michelle Brennan
In addition to being in the production and loving every minute of the beautiful costumes, challenging choreography, and exposure to professional dancers, my girls have experienced and learned so much more. They have been afforded the opportunity of seeing a commitment through even when it interfered with playing goalie for a soccer team. They have made several good friends, some of which they met in years past and due to distance, only get to see through this activity. They have been mentored by older child dancers with more experience through a mentor program designed by their dance company. They have seen the service parents have provided to stage a professional production. Finally, they have learned to love the stage. They feel confident performing, getting up in front of a group, and sharing the stage with true professionals.
This year, I am particularly proud of my youngest daughter Lauren. Last year, she had just turned 5 during the rehearsal phase of the show. She was fine on stage and led her group marvelously but backstage she was a complete mess. She cried at every opportunity and was always looking for Mom. Although she has been studying ballet for 3 years, she said she would never dance in the Nutcracker again. This year when announcement of the audition date came, I had her brother ask her if she wanted to audition again… I did not want there to be undue pressure from me. She responded with an adamant yes and has not looked back. She goes to her rehearsals every week even when she is tired and takes it very seriously. I was peeking during one rehearsal and found her quieting another student who might have been losing focus. I can only hope that the tech/dress rehearsals and the performances go as well as the rest of the process has thus far gone.
Thanks to Michelle Brennan for sharing her story with Trekaroo back in 2010!