Did you know that Trekaroo has an Instagram account?
This November, we invite you to join in a fun photo challenge with Trekaroo.  Follow along or jump in the action with Trekaroo as we Instagram our November using the following themes as a guide.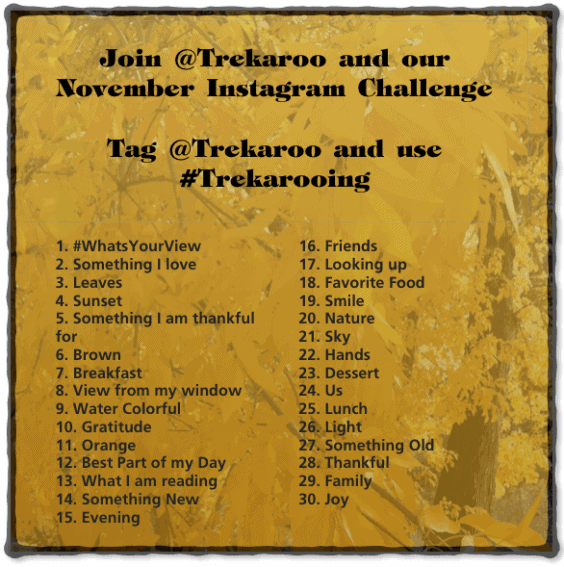 Don't worry if you miss a few days or if you are starting a bit late; this no pressure game is all about having fun. Explore with other Trekaroo families across the globe and get a glimpse at the fun and community behind Trekaroo.
How to Join the November Instagram Challenge
It's easy, free, and fun to join our Instagram challenge.
Step One: Join Instagram.  (The app is free, but does require an Android or IOS operating system.)
Step Two: Post your daily themed photo.  Tag your friends, make your own caption, but be sure to add #trekarooing to your post.  We'd also love for you to tag @trekaroo, but it isn't required.
Step Three: Get your friends in on the fun.  Share our Instagram Challenge Photo (save the image above from your phone) with your Instagram followers so they can join in the festive, fall photo fun.  (phew!)
Get Famous… Well, Sort Of 
Each day Trekaroo will repost a few of our favorite shots on our own Instagram feed.  Your awesome photo could forever be immortalized on Instagram and Twitter!
In December, we'll post a blog article with our favorite shots from the entire month.  We might even throw in a few surprises to these great photographers, so join in the fun!
Follow @Trekaroo on Instagram
Throughout the year, we feature some of our current picturesque views, fun family activities, and even behind-the-scenes looks into the fun family here at Trekaroo on our Instagram account.  Follow us today to see where we are heading.
Be sure to tag your own photos with #trekarooing and we might repost your amazing shot!
Here's a peek into the most recent #trekarooing Instagram posts: