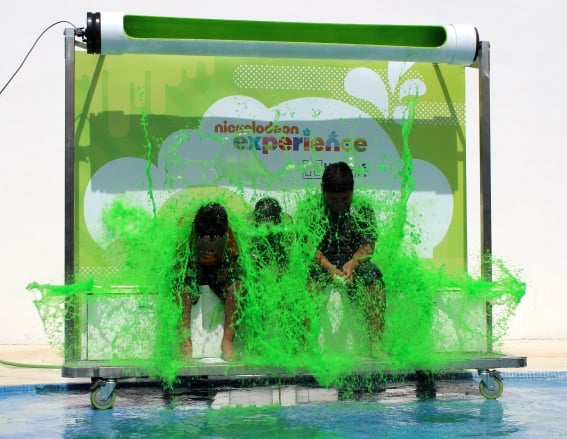 When I read about the Nickelodeon Experience at Azul Hotels by Karisma, I knew I had to go. My six-year-old LOVES him some Nickelodeon! As do I. Azul Hotels live and breathe Nickelodeon through its kids and teen clubs, splash parks, movie nights with popcorn, family-friendly suites, Pack & Play for infants and toddlers, My Gym's Children Fitness Center, and nightly entertainment. Read on to discover our favorite Nickelodeon-themed adventures at Azul Sensatori Mexico in the Riviera Maya. 
Note: Although this article focuses on Azul Sensatori Mexico in the Riviera Maya, the experience is also available at Azul Beach Hotel. This May, Nickelodeon will open it's first-ever international hotel property, the all-new Nickelodeon Hotels and Resorts Punta Cana, which will also have its very own Nickelodeon experience. 
The Nickelodeon Experience
Character Breakfasts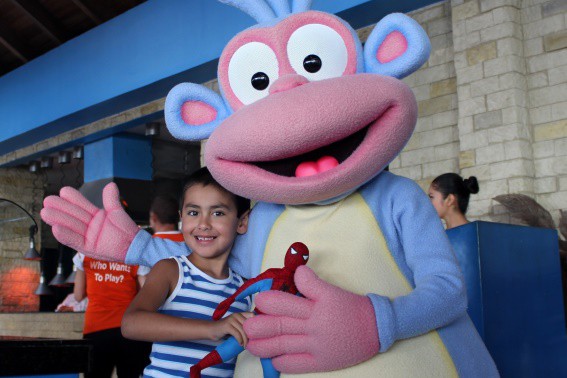 Photo by Tina Buell
If I could swing it in daily life, every breakfast would be a character breakfast. What a great way to start the day, and with SpongeBob no less! Breaking bread with Mr. Pants was quite the honor; my son and I are HUGE fans. We also visited with Dora the Explorer and her best friend, Boots, based on the popular characters from Nick Jr. For dinner, kids can enjoy a slice of pizza with their favorite pizza-loving pals from Teenage Mutant Ninja Turtles.
Walk The Orange Carpet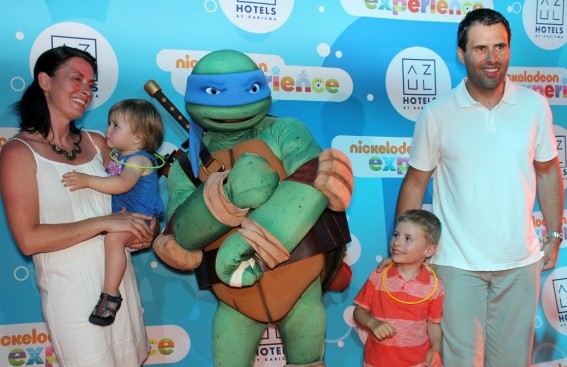 Photo by Tina Buell
As the sun sets, Azul turns up the heat on the Roof Garden with the Nickelodeon Orange Carpet event! Similar to the Oscars in Hollywood, except instead of walking the Red Carpet, your favorite Nickelodeon characters hit the Orange Carpet. The crowd goes crazy! OMG, it's so much fun. There's a dance stage, music, a disco ball, character celebrities, swooning kids clambering for pictures behind the velvet ropes of the Fan Experience, and a full bar for mom and dad. Best part? This happens every night. Same time, same place.
Splash Park Slimulator Party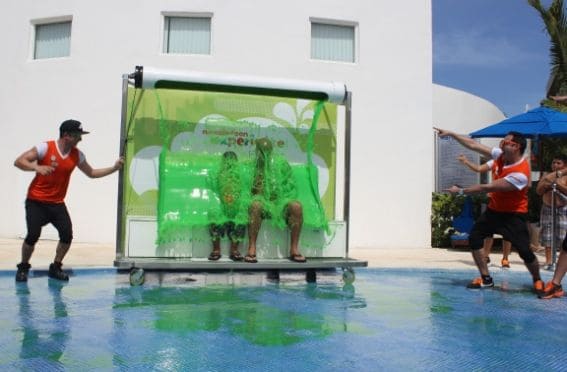 Photo by Tina Buell
The Slimulator Party is an unforgettable experience where brave families volunteer to get slimed, and boy do they ever. This Kodak moment occurs on a specially devised bench, resting beneath a trough of slime that's released over the heads of those sitting below it. It's extreme Nickelodeon coolness at its best. Held at the Splash Park, it's half swim party, half dance party. Nay Nay the day away, but don't forget your video camera. Your friends in the office aren't going to believe this one!
Visit the Playhouse & Toy Library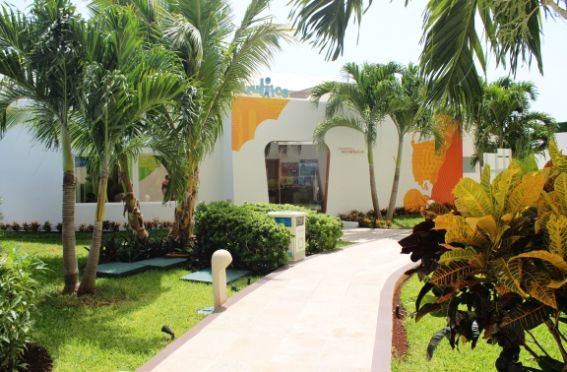 Photo by Tina Buell
Azulitos Playhouse by Nickelodeon is for kids aged six months to 12 years. Inside, there's a LEGO room, a video game area with comfy chairs, attentive and friendly staff with a full itinerary of fun, and an entire library of Nickelodeon toys that kids can check out and return at their leisure. You read that right, no need to bring along toys, you can simply check them out at the Nick Toy Lending Library!
Other Great Nickelodeon Extras
At check-in, children receive iPads loaded with SpongeBob games while parents learn the deets on the Nickelodeon Concierge (schedule a private family sliming, parents?), the Toy Lending Library, Nick Knack Packs, themed amenities, Azulitos Playhouse by Nickelodeon, and character interactions with Dora the Explorer, SpongeBob Square Pants and The Teenage Mutant Ninja Turtles.
Travel Tips & Planning Details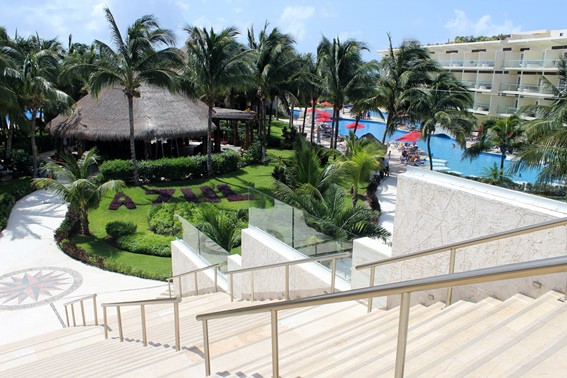 Getting There. Azul Sensatori Mexico is reached by flying into Cancun, typically less than a 5 hour flight from anywhere in the continental United States. Airfare changes daily, but I paid around $800 for two roundtrip tickets through United Airlines. My airport transfers were arranged through Lomas Travel, who actually picked us up in a party limo. My son partied all the way down to the resort with a Spiderman and Hulk doll under flashing disco lights. It was priceless.
Resort Information. Located along the Mexican Caribbean in beautiful Bahia Petempich in Riviera Maya Azul Sensatori Mexico boasts 435 suites, three pools, and seven restaurants. Their included Baby Amenities package makes it easy to travel with little ones, and a trip to the Azulitos Spa will benefit parents with kids of any age. In addition to the Nickelodeon Experience, older kids and teens can enjoy the included Extreme Breeze Kids Club, yoga on the beach, cooking classes, and more.
All-Inclusive Details. Azul Hotels and Resorts bill themselves as "Gourmet Inclusive" meaning the food they serve is above and beyond what you would expect to find at a typical all-inclusive resort. Though the name is confusing, rest assured the resort is indeed an all-inclusive, except with gourmet food and beverage offerings, hence the term Gourmet Inclusive. Enjoy gourmet meals served a la carte, premium alcoholic and non-alcoholic beverages, and 24-hour room service. All-inclusive rates also include non-motorized water sports gear, live music and shows, taxes, and gratuities. Note: some Nickelodeon experiences, including the slime events, Nick Nack Packs, and character breakfasts, are offered at an additional cost.
Visiting Cancun and the Riviera Maya
If you venture outside of the resort, there's so much to do in Cancun and the Riviera Maya. Click here to learn more Cancun And Riviera Maya With Kids. From Xel-Ha and Xcaret, the natural aquarium and archaeological parks, to visiting the Mayan ruins of Talum, there is something for everyone.